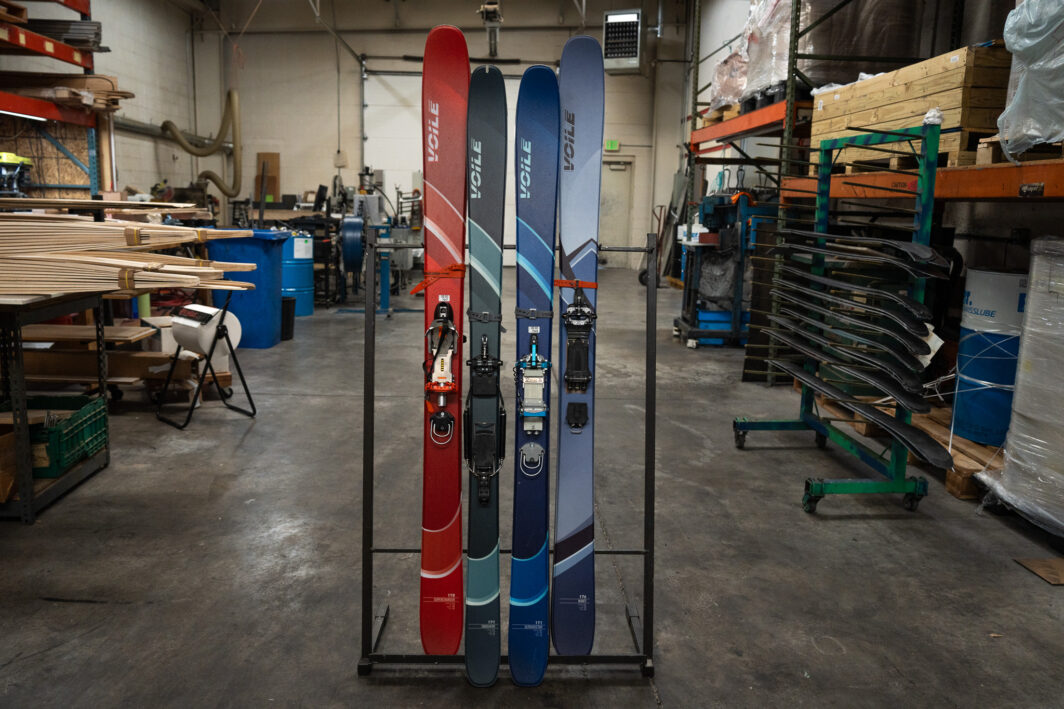 What NTN Setup is Right For You? Voile Recommended Ski and Binding Pairings
Today we're going to take a look at some of our favorite NTN setups we've been on recently and see which one is right for you. It's important to note that we've found all of the more touring-focused NTN bindings in this article work well with all of these skis. There isn't a combination you can go wrong with. You can find all of the skis and bindings in this article here on our website or at the Voile Retail Store in Salt Lake City, UT.
With that being said, let's dive into which of these pairings we particularly enjoyed riding this past season.
Endeavor – Voile TTS Transit
Whether you're hot-lapping your local powder stash, sneaking in a quick post-work lap, or ticking off a convoluted big-mountain objective, this setup will have you covered.
This setup is one we're particularly excited about as both the ski and the binding are geared towards weight savings and versatility in the backcountry. First, let's talk about what makes the Endeavor such a great ski for Telemark.
The Voile Endeavor

The Endeavor features the same shape and profile as The Voile Objective paired with a damp poplar wood core to make it telemark-binding compatible and one heck of a downhill performer. While we have the Endeavor categorized as a "Mountaineering" ski, we've found that it's just as comfortable lapping your local low-angle powder bowl as it is descending from big-mountain peaks in the Eastern Sierra.
The Endeavor is still remarkably lightweight despite the damp poplar core. The early-rise tip always finds its way to the top (despite the mid-80mm waist width), even when the snow is DEEP. The Endeavor has all the qualities needed to make easy work of long approaches, variable conditions, and every type of fun that might manifest throughout a season.
The Voile TTS Transit
While we wouldn't hesitate to put The TTS Transit on any of the other skis mentioned in this article, we find that the ability to remove the heel assembly while touring, pin toe efficiency, and ultralight design make this binding pair exceptionally well with The Endeavor. When it comes to the descent, we'd be remiss if we didn't bring up the adjustability with the three different activity positions for you to choose from. This feature allows you to truly dial in the binding to best match your style of turn. Whether you like the more classic "neutral" 75mm feel (closest position to the toe piece), a more "active" NTN feel (furthest position from the toe piece), or something in between, there's a setting for you with the TTS.
Why They Work Well Together
Last Winter when we were in the final phases of testing both the TTS Transit and the Endeavor, we found that this was the most natural pairing as a versatile, efficient, narrow-waisted touring setup. On days with a longer approach, we'd often find ourselves removing the heel assembly of the TTS Transit and throwing it in the pack. Once we'd get to the top of our line we'd throw it back on during the transition to bootpack or transition to descent (depending on the line). Every situation in which you'd want a mid-80mm waisted ski, The Endeavor excelled. While it's not designed as a powder boat, we were also surprised at how well it floated in Wasatch powder. If efficiency, durability, and narrow skis are your thing, you're going to want to check out this setup.
Key Words: Light, Stable, Maneuverable, Efficient.
SuperCharger – 22 Designs Outlaw X
When the terrain is just as demanding as the skier and counting grams is less of a concern, this hard-charging setup truly shines.
This setup is for the telemark skier who enjoys a good tour but doesn't want to make any compromises in the name of weight savings. Let's first take a look at some key characteristics of the SuperCharger skis.
The Voile SuperCharger

The SuperCharger has been a mainstay in the Voile lineup since its inception and is best known for its ability to charge through variable conditions and float effortlessly in powder. The mid-100mm waist makes it quite versatile in all snow conditions. While the SuperCharger remains lightweight for the purpose of ski touring, it's commonly spotted in liftlines and mogul fields. With a damp poplar wood core, a single layer of carbon fiberglass, and cap construction, this ski is light in the skin track and strong on the descent. The shape of the SuperCharger makes it favor a more traditional "edge-to-edge" style of skiing. It's a directional ski that likes to be driven while maintaining easy turn initiation.
The 22 Designs Outlaw X
We'd categorize the Outlaw X as the "do-it-all" binding from our friends over at 22 Designs. While this binding tours well, we've found it really shines riding inbounds due to its strength and suspension. It isn't as lightweight as the TTS Transit, Lynx, or Meidjo 3.0, but most people reaching for this binding are willing to take the weight penalty for the downhill strength and lateral stability. It's durable, active, and features two climbing bails for when the skin track gets steep. We've found that this binding works best as a hybrid resort/backcountry setup for hard-charging and shorter tours.
Why They Work Well Together
The SuperCharger is a ski that likes to carve edge-to-edge and be driven on the descent. It's designed for the backcountry but has enough oomph to hang in variable inbounds terrain. The Outlaw X is a binding that's geared towards skiing hard and fast while maintaining stability. It can handle any conditions you may find at your local resort or in the backcountry. Put these two together and you have yourself an active, damp, and stable "do-it-all" setup. For any and all days from the backcountry to the resort.
Key Words: Damp, Freeride, Charge, Carve.
UltraVector – 22 Designs Lynx
For the touring-focused skier who wants no compromises when it comes to downhill and uphill performance, say hello to your new daily driver.
This setup features a lot of the same characteristics of the SuperCharger and Outlaw X pairing from above but with more of a true lightweight backcountry focus.
The Voile UltraVector

It's important to note that The UltraVector features the same shape, profile, and construction as the SuperCharger but in a narrower (therefore more lightweight) package. It's able to retain the same float and strength as the SuperCharger while being more nimble due to the mid-90mm waist width. This ski can cut its way through trees and chutes with ease all while having a reliable tail that you can lean into. We've seen the UltraVector used as a hybrid resort/backcountry ski similar to the SuperCharger, but we think it really shines as a backcountry daily driver.
The 22 Designs Lynx
The Lynx is 22 Designs' lightweight touring-specific NTN binding. It features an adjustable preload, a composite flex plate, tech-toes, and two climbing bails. This binding is still capable of smooth and powerful turns but it isn't geared for inbounds skiing the same way the Outlaw X is. We think this binding works great for any and all styles of telemark ski touring.
Why They Work Well Together
This setup is equipped to take on any conditions or terrain that you may encounter in the backcountry. The ski is damp enough to carve confidently in frozen spring conditions but it can still float on deep days with the early-rise tip. The Lynx is a binding that we feel confident bringing along for dawn patrols, spring objectives, and everything in between. No matter what the tour is, you'll be set with this combination. The blue on blue doesn't look too shabby either.
Key Words: Stable, Versatile, Light, Carve.
Manti – InWild Meidjo 3.0
This versatile touring setup pairs best with a skier who has a playful style and wants an intuitive and maneuverable ride that can mesh well with any style of terrain.
Similar to the UltraVector and Lynx pairing, we like this setup as a "do it all" backcountry daily driver. What makes this setup different is the shape and width of the Manti paired with the innovative release feature of the Meidjo 3.0.
The Voile Manti

The Manti has made a name for itself within the Voile lineup by combining the characteristics of our hard-charging directional skis and our surfy V-series. The early-rise tip (Inspired by the SuperCharger) allows this ski to float incredibly well and easily engage turns. The gradual tail rocker (Inspired by the V8) gives you the ability to smear out the end of your turns or keep the tail engaged for a round, short-radius carve. With a mid-100mm waist width, The Manti is ready to take on any snow conditions. The poplar core makes this ski quite damp for when the conditions are less than ideal, and the camber gives you plenty of stability when riding at speed. If you like a versatile ski that allows you to match your style of skiing to the terrain and conditions you're in, this could be the ski for you.
The InWild Meidjo 3.0
The Meidjo 3.0 from InWild Outdoor is their latest take on the innovative telemark binding that backcountry users have come to know and love over the years. This binding falls into the same weight class as the TTS Transit (With the heel assembly attached) and the Lynx making it a solid alternative as a lightweight touring binding. The feature that makes this binding stand out is the adjustable lateral release. This feature alone drives people to use this binding in the resort as well as the backcountry (although we prefer it on the skin track). The Meidjo 3.0 also contains all of the classic features you'd come to expect with a touring binding such as two climbing bails, spring adjustment, and tech-toe climbing efficiency.
Why They Work Well Together
Once again, this is a setup that prioritizes versatility and is made for those looking for a backcountry daily driver. This mid-100mm waist of the Manti and easy-to-ski shape make this one great for tree skiing and big open bowls. The releasability of the Meidjo 3.0 also makes this option compelling for those who prioritize safety features. We also wouldn't hesitate to take this setup to the local ski hill for some pure downhill fun.
Key Words: Versatile, Playful, Surf, Stable.
So, What NTN Setup is Right For You?
We hope that this article can help give you a better idea of what each of these ski and binding options are geared for. While we've found these particular pairings to work quite well, we can recommend almost any of these bindings on any of these skis. It's just a matter of finding what ski and binding combination has the features that set you up to have the most fun in the backcountry.
If you have any questions about any of these models of ski or binding, feel free to reach out at info@voile or give us a call at 801-973-8622. Thanks for tuning in!