Hut Trips: How to, Heuristics, and Having Fun
Hut trips…
This simple term evokes mental images of endless deep powder runs, quality time spent with friends, eating excellent home-cooked food, and living a life of backcountry simplicity solely centered around what skiing dreams are made of.   Of course, this is likely the general idea of what all of us are hoping for when we drop $1,000-5,000 on a ski vacation. Unfortunately, this is not a guarantee. Budget concerns, challenging group dynamics, bad weather, poor planning, and lack of research are all common things that can lead to less-than-ideal hut trips. 
Having been a part of the whole spectrum of hut experiences from outstanding to 'never again', weeklong Heli flight taxi to total brute force walk-in, I thought it might be useful to compile some thoughts and direction for both the first timer and the seasoned veteran. No matter your previous experience level on 'hut trips', I aim to offer up some content everyone can ponder. This blog is structured to address 'unguided' and 'uncatered' hut trips since they pose more challenges for the participants.  Hiring Guides and Cooks for any hut trip is almost always a surefire way to maximize fun and minimize risk and complication (highly recommended, even guides like hiring guides).  The challenge though, is that Guides and Cooks also add substantial cost. 
Because of this, many of these points are taken directly from the guiding world and adapted to the recreational user. Feel free to leave your tips and thoughts in the comment section to help build this body of information on how to make your hut trip a success!
Find Your Budget, Destination, and Platform
The simplest (and commonly most expensive) 'hut trips' to book are ones organized, packaged, and sold just as that: a backcountry skiing hut. These usually come with extensive beta, Guides for hire, Cooks for hire, and a Custodian that helps to keep the rowdy patrons in line enough to clean up the mess at the end of the stay. For the budget-minded, there are some low-cost options that still provide a similar experience to the standard hut trip profile, but with potentially lower cost. Below, I have structured some typical and atypical categories and platforms that loosely correlate to a typical budget level (high to low)
Packaged deals, Fly-in
The ultimate Hut experience that Canada has figured out better than most.  Huts with 'Golden Alpine Holidays', or 'Alpine Club of Canada' are the flagship gold standard of hut tripping.  Advanced booking required; up to 2 years out!!! Expect large people capacity, a lot of information available, and common skin tracks likely already established.
Packaged deals, tour (or snowmobile) in
The 'younger sibling' of the platform above. Most common in the lower 48 of the US. Requires significant (up to 1.5 years) time out on booking. Still quite a bit of information on snowpack, and common ski runs, and likely centered around really good skiing.   
Forest Service cabin
A lot of places across the US don't have too many options for actual structured hut skiing.  Forest Service cabins are common, affordable, and easy venues to book throughout the winter. I live in SW Montana, and there are way more options to rent forest service cabins than there are for actual hut skiing.  The challenge comes with knowing if and where good skiing is close to the cabin. Having a snowmobile in these situations helps tremendously. Also, a nose for treasure hunting with low reward might be necessary.  Nonetheless, quality time with friends and tasty food are still top-notch.
First come, First serve
Extremely common in places like New Zealand, and somewhat common throughout the US.  The Bomber Traverse huts in AK,  Grey Knob, and Harvard Cabins in NH are a few places that come to mind that fully embrace the FCFS spirit.  The ski Hostels along Canada's Icefield Parkway also embrace a similar spirit. Expect to share your space with other skiers and enthusiasts. This can be a blessing in disguise… share information, beta, and discuss the finer points of gravy on French fries.  
DIY wall tent, camper
Are you having a hard time booking a hut? Are you too late in the season to book a stay? Create your own hut experience! I have had a number of friends in the last few years get excited about towing (mostly on snowmobiles) their lightweight wall tent and titanium wood stove into the backcountry, and creating their dream hut location wherever access allows.  Additionally, parking your camper with a squad of friends at a remote trailhead for a week has proven to be a great way to 'hut trip'.  The US Forest Service generally allows camping in one spot for a 14-day period.  In essence, you can leave your dream hut set up in your secret location for multiple weekend excursions to powder Shangri-La.
Find your crew
One thing that I have run into frequently on hut trips is how challenging group decision-making and dynamics can be. Since it is cheaper to go on trips with a large number of people to dilute the cost, the more the merrier, right? Well, that might not always be the case. Avalanche incident research shows consistently that larger touring groups are more likely to encounter heuristic traps, and are more likely to become involved in an avalanche incident. Just because you are in a group that all conveniently had the same time off from work, and you are friends that occasionally ski together, doesn't mean you are the dream team of ten that all want to ski the same objectives, with the same risk tolerance, and the same level of fitness.
I have seen many times before that the simple solution is "We'll just split up into smaller groups." That rarely happens well, and usually, less experienced folks have a hard time branching out on their own. The large touring amoeba then falls into patterns of poor travel habits, lack of logical terrain progression, and confusion about where people are going and stopping.
Tuning personal expectations from the start is important. More experienced skiers may have to back off more aggressive objectives to be inclusive of their less experienced teammates. Invite people on your trip carefully; consider the number of people and what your ambitions are. Understand that your best friends might be challenging hut trip partners. They can still be your best friends, and you can still invite them, just remember to adjust expectations. Regardless of how it all shakes out, here are some tips and tricks to be the most proactive maximizer of fun and safety.
Pregame research
YOU, yes YOU! Be the one to do the MOST research possible on the snowpack, the terrain, and recent conditions at the location you plan to go. Look for a 'run map' file to download on your mapping software of choice, email hut owners or guides to get information on terrain that is getting skied, and which has been actively avoided. Come up with some tour plans ahead of time to figure out how long it will take for your typical day out. Check out Caltopo.com or Google Earth to geek out on useful maps of our destination of choice.
Use a logical progression of terrain selection
Figuring out what will be your 'daily driver' is essential. This would be a run that is accessible and skiable in all snowpack and visibility conditions. Generally, this is a low slope-angle tree run on the shady half of the compass (aspects that face WNW through N through E in the northern hemisphere). Best practice would be to start your trip with mellow or conservative terrain choices and build (or not, if conditions dictate) your confidence to step out into more aggressive terrain throughout the trip.
Use clear communication
Before you leave for the day communicate with each other where you are going, with a Plan A, B, and C.  While in the field use radios to talk to each other and talk to the other groups.  Additionally, have the capability to talk to local repeaters, SAR teams, or rescue helicopters if those channels are available. Simple FRS radios are great for most people in the group but having at least one VHF/UHF radio in the group that is programmed to the necessary outside channels could be the best way to get weather forecasts, avalanche information, and activate rescue. Baofeng has an affordable option that has proven to be good enough for my professional guiding use.  You are on your own finding a friend that can help you program it…
Set skin tracks in logical, safe locations
When possible, create a network of skin tracks that don't interrupt quality fall lines.  Set user-friendly tracks that access multiple different locations and runs.  Slowly building your skin track network throughout the week will afford the best balance of travel efficiently and dilute trail breaking a little bit each day.  Also, it is nice to be a Guide that comes into a hut for a week of work, and sees that the previous group was thoughtful in their track setting 😉
Always be someone who has an opinion and encourage others to have one as well
Whether you are right or wrong, having some opinion about where you want to ski is better than being ambivalent.  Generally, folks have a hard time speaking up in a group, especially when they are on vacation.  Cultivating a culture of opinions is important. You can always change your opinion based on solid objective reasoning from other members of your group, but make sure you are vocal to some extent.
Maintain or acquire WFR or WFA
Having some familiarity with Wilderness First Aid is an important addition to your team as a whole.  Try to make sure that at least someone in your squad is literate in backcountry emergency medicine.
Again, split up into smaller groups if feasible
Talk ahead of time about how you might split your groups up, and be as specific as possible.  If you are the one that is most prepared, you are going to feel more comfortable skiing regardless of who might choose to be in your group.
Divide chores and responsibilities
Taking the time to plan ahead on who is going to cook, do dishes, and even start the sauna each night is a great way to keep chores equitable. Additionally, knowing what everyone else is making for dinner will help eliminate enchiladas every night for a week straight. Don't forget to plan appetizers and desserts. Consider setting up a Google shared drive where others can add to it. A Google shared drive page is also a great place to upload a packing list.
Pack the Essential and specialized Hut Trip gear
While on a hut trip, some gear might be obvious since it is what you take with you every day you go backcountry skiing, and some might be less obvious and niche. I have compiled a list of gear that might be helpful for these atypical trips, with considerations for overnight stays. Obviously, some of these will be specific to fly-in trips where weight is less of a concern.
Solar panel, battery bank
Charge your most useful navigation tool, camera, and general Swiss army knife every night just like you normally would.  If others forgot their charging plan, you might have the most valuable bargaining chip on the trip. I like Anker panels and battery banks.
Ear plugs, sleep mask
You never know who might be sawing logs or staying up all night finishing the end of their book.  On that topic, if you like reading at night, try to use a headlamp with a red light feature, so as to be polite to your hut mates. 
Extra set of skis (and skins) that fit as many boots as possible.
 I am a telemark skier, so I am constantly at risk of not being able to use the backup skis commonly packed on hut trips.  For that reason, I try to have a robust repair kit or use boots that have both a tech toe and and tech heel and go AT if necessary.
Rescue sled/emergency shelter + rope
This is something that I ski with every day as a Guide. Recreational parties should probably ski with these more, especially free riders skiing big mountain terrain. Having some way of extricating an injured skier is a must in remote terrain. Apocalypse gear has the lightest offering on the market right now, and might even be small enough that you actually carry it with you. Function before fashion and Alpine Threadworks also have good offerings. A good companion to this piece of gear is a small rope to help with lowering or dragging the sled/person back to definitive warmth (ie the hut). Petzl's 30m RAD line, Beal's 30 m backup line, or simply a 100' of 5-6mm nylon cord could do the trick.
Robust first aid kit
In addition to your standard FAK, consider bringing some resources that can restock what you might burn through in a week, or heavier items like an epi-pen or suture kit if you happen to be an ER doctor.
Ski pulk
For the walk-in huts across the Intermountain West. Sometimes it makes sense to use a sled for the ultra-heavy first day of tromping.  After pulling my fair share of sleds while guiding Denali, I tend to use the big pack/little pack method (put a ski-pack into or on the outside of a larger expedition pack) on these types of hut trips, but none-the-less, worth knowing where to source one could be important. Also, see HMG's offering for a pack that has a high volume for the walk-in and is compressible for daily skiing. 
Hut footwear
Having some sort of footwear to put on in the hut that is not ski boots is almost essential.  Glerups with a rubber sole are the pinnacle of hut footwear. They are warm, they have an antimicrobial blend of wool and silk that mitigates smell, they are designed to be worn sockless, and they have enough grip to walk outside in the middle of the night to go pee.  Crocs sorta work too…
Bring the right mindset
As with all backcountry skiing, there are a lot of elements that are out of your control on hut trips. In general, take advantage of all the things that are in your control. Pack tasty food that will be fun to cook. Bring simple games for evening activities and entertainment (pass the pigs, anyone?).  Be proactive in planning.  If you book a fancy destination, don't fear the upfront cost; there will be plenty of friends ready to set work aside and make themselves available for a cool trip to a new destination. Invite people you actually want to spend time with in an enclosed space and on the skin track. Lastly, remember that skiing is supposed to be fun. Make sure your hut trip is fun. The rest will fall into place.  
---
About The Author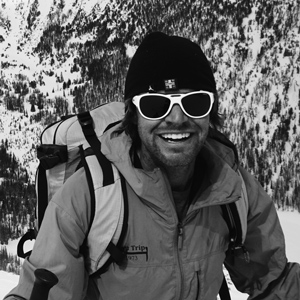 Ty Guarino
---
---
Ty is a career Mountain Guide and Ski Patroller currently working for Exum Mountain Guides, Beartooth Mountain Guides, and Bridger Bowl Ski Patrol. He is an AMGA Certified Ski and Rock Guide, and plans to take his last exam next September to complete his IFMGA accreditation. Originally from southern New Hampshire, Ty developed his passion for Backcountry skiing on the eastern flanks of Mt Washington in New Hampshire's Presidential range. Currently Residing in Bozeman Montana, Ty skis as much as possible in and around the greater Yellowstone ecosystem. Although Bridger Bowl is his home mountain, Ty likes to explore other skiing venues including Alaska, South America, New Zealand, and New England.