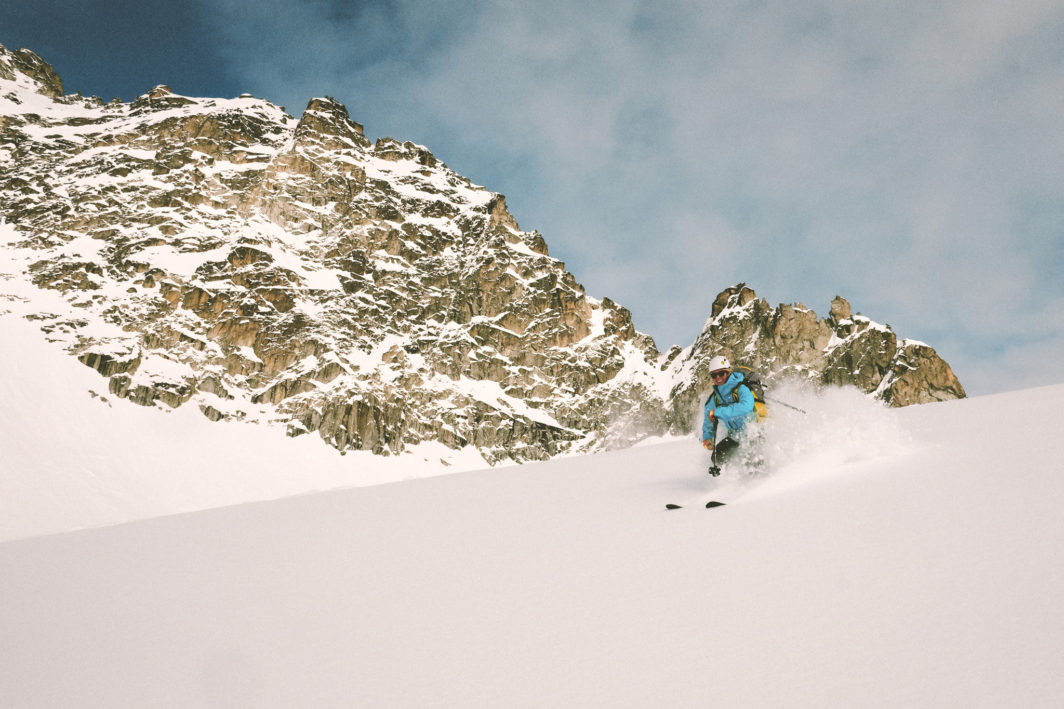 Voile Women's Backcountry Skis and Splitboards
In an industry historically dominated by men, female skiers worldwide have been making strides to level the playfield. There have always been badass lady shredders, but their accomplishment sometimes drown in a sea of ski-bro testosterone. Not only are there some serious female rippers pioneering mountaineering ascents and big mountain lines, but the influence they bring to the industry is important for a myriad of reasons. Here at Voile, we are progressive when it comes to evolving our products and changing the industry. Women's backcountry skis and splitboards have been a part of Voile's history for a long time. We know women are moving mountains… and shredding them too.
GIRL GANGS MOVING MOUNTAINS
If you haven't experienced the energy of a "girl gang" while skiing, then you're missing out. And if you have, then you know this can be a pretty magical blend of stoke, empowerment, and support. Intense mountain terrain can feel hostile and daunting. Similar to today's world, it's easy to feel as though you've been hit by an avalanche of hostility and negativity when you flip on the news. Problems are broadcast in ways that make solutions seem impossible, much like a mountain that appears too challenging to ski.
But why are the attributes of stoke, empowerment, and support so important in mountain environments? Because these characteristics will help change the world. When we feel supported by our communities we feel capable of achieving results and  we become more passionate about solving problems. The world has underestimated this about women — we are brave and strong and capable. Whether we are scoping lines in unfamiliar zones, leading the bootpack brigade, or dropping into a spicy chute, we know how to charge. Women's backcountry skis and splitboards allow us to tap into these superpowers, thereby moving mountains in our communities.
SHINK IT AND PINK IT – NO THANKS
Despite this, many in the industry don't take women in the mountains seriously. You're probably all too familiar with the "shrink it and pink it" approach that many outdoor brands take when it comes to replicating versions of men's gear, often compromising the quality.
Here at Voile, that has never been our approach. We know first-hand not to mess with a backcountry babe. Nor are we afraid to admit to our fair share of ass-kickings, both on the skin track and slope. We recognize your drive and strength. We understand you demand respect and results no less than the men. That's why when you ski a "w" labeled Voile ski or splitboard, you can count on award-winning performance, both on the climb and descent. At Voile, we believe in innovation and equality. Our women's backcountry skis and splitboards are no different.
PIONEERING AND ENGINEERING: WOMEN'S BACKCOUNTRY SKIS & SPLITBOARDS
In fact, here is a tidbit of Voile history for you. The Voile Women's SuperCharger ski wasn't just a tweaked version of the men's — the women's version came first. This idea came from listening to feedback from our female Voile friends. They wanted a more playful, faster-turning ski that could still handle the big mountain terrain they loved. So we created it!
This ski inspired our entire line of Charger and Vector skis: yes, both the men's and women's versions. Just one small example of moving mountains in the industry. This isn't a women's ski that came about as an afterthought. It is the genesis. The Women's HyperCharger continues the evolution by sharing the same shape and profile. This ski eats up switchbacks on the climb, deftly navigates tight trees, shreds open bowls and charges down big mountain lines. Again, the Women's HyperCharger was so good, we made a men's version.
As with our other women's specific products, there is no compromise in construction and performance. We've created the same award-winning designs offered in shorter sizes, with the same attention to detail we provide every ski in our line. Our topsheets aren't plastered with glitter and butterflies, so if you're a short guy or LGBTQ individual looking to upgrade your gear, we promise the same Voile values: performance, reliability, durability, and lightweight construction.
Click here to explore our women's backcountry skis and splitboards, or find a dealer near you. It's time to get your hands on a pair, get into the mountains, and let your stoke and strength radiate through your community. Get on with moving mountains!
VOILE WOMEN'S BACKCOUNTRY SKI & SPLITBOARD AMBASSADORS
Check out our entire ambassador team here: The V-Team
---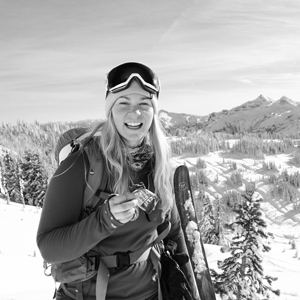 Brooke Jackson
---
---
Brooke Jackson (she/her) is the founder of Wandering Trails Media, a media creation agency where she utilizes her storytelling skills to uplift the voices of others. Oftentimes, Brooke is behind the camera as a Photographer and Producer, yet is also known to scribble the occasion written feature. Outside of her professional endeavors, she is a volunteer with Olympic Mountain Rescue, as well as the Kitsap County Search Dogs with her Field Retriever, Eva.
---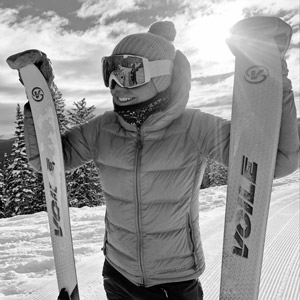 ---
---
A Jill of all trades and a master at none, Ann is a weekend warrior and backcountry bon vivant who lives to hike, run, ride, paddle but mostly ski in the mountains of western Colorado.
Ann lives in Carbondale, Colorado, from which she aims to explore as much of the wild and beautiful places of her local geography as possible. She loves to begin her day with a backcountry dawn patrol, watching the sunrise from a local summit and then sliding into work wiping the powder from her grinning face. The weekends are spent skiing deep into the Elk Mountains, where devising new routes and truly connecting with nature, returning with memories, pictures and words with which to inspire others, are what makes her tick.
---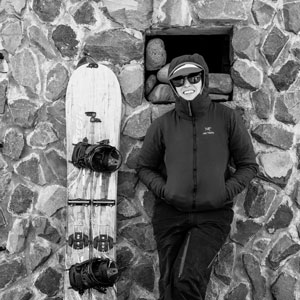 Jen Girardi
---
---
Jen grew up in the shadows of the Coast Mountain Range in Vancouver, Canada, and fell in love with exploring in the backyard mountains at an early age. It wasn't long before she was found herself traveling in the mountains on a splitboard. Now based in Whistler, B.C. Jen can be found discovering new lines or sharing her passion for the mountains as a coach. In the summer months, Jen can be found hanging out in the mountains rock climbing or flying south, chasing snow and adventures in Chile and Argentina.
---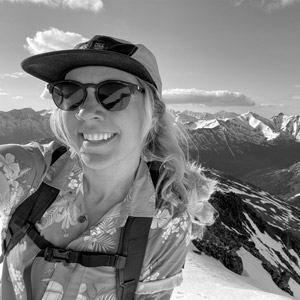 ---
---
Emily Sullivan is a photographer and writer focused on outdoor recreation, environmental wellness, and relationships between humans and landscapes.
An obsessive backcountry skier, she lives for winter, logging big vert on light skis, and traversing wild landscapes. Her current objectives include ski mountaineering in the Alaska Range, Wrangell Mountains, and Arctic Refuge.
Emily is both an athlete and a community organizer for land issues in Alaska's Arctic. She sits on the board of directors for the Alaska Avalanche School and serves as a Denali Rescue Volunteer. She lives, works, and skis on Dena'ina Ełnena, now known as Southcentral Alaska.
---
---
---
Living each moment to it's fullest has lead Shaun on this wild journey. From NY to Colorado to now Utah, she has spent over a decade chasing her dreams. Shaun's passion for skiing is what has been the engine behind her actions. First as a big mountain competitive skier, then sponsored pro, to now avalanche educator, guide, and business owner. It is even how she and her husband, Weston D met. Now living in Park City with their two dogs and daughter, Shaun continues to pursue her dreams whether as a big mountain skier, web series co-creator, AIARE avalanche instructor, backcountry and cat ski guide or owner of a wellness guiding company, Inspired Summit Adventures. She began this journey with nothing more than a dream of becoming a professional skier not sure where it would lead, but today finds herself humbly sitting amongst many of her heroes living the dream.
---
The Voile Women's HyperDrifter Ski boasts a mighty shovel, our early-rise camber profile, and a long-running length in our ultra-lightweight paulownia and carbon-weave construction. These all contribute to its astonishing capability when breaking trail, and — along with its impressive overall width — make the experienced backcountry skier's deepest powder dreams come true.
---
The Voile Women's HyperCharger is a women's backcountry ski that: eats up switchbacks on the climb, deftly navigates the tightest trees, shreds open bowls and charges down big mountain lines. The Women's HyperCharger is so good, we made a men's version.
---
The Voile Women's SuperCharger ski has a flat tail, tightened turning radius, and a rounder flex mean more responsive, intuitive turns. Meaning it's fast in tight, technical terrain, but still holds its own when carving big bowl turns or carving hardpack. And with a detuned version of our hybrid rocker, it blows through crud and floats like a powder god (or powder goddess, as it were).
---
The Voile Women's HyperVector has our Early-Rise Camber profile — with its longer running length and flattened tail — which provides excellent edge stability. Its early-rise tip makes it a more-than-capable powder ski and the turning radius allow quick and easy edge transitions. Thanks to the paulownia wood core and carbon fiber construction, the Women's HyperVector weighs less than five pounds per pair. The overall weight; combined with the relatively slim dimensions makes the Women's HyperVector one of our best touring/ climbing skis in our line.
---
The Voile Women's UltraVector is a light-weight ski designed for long-distance touring (à la its progenitor, the Vector) with the hard-charging, hard-carving powers of the Women's Supercharger. A softer flex and deeper sidecut provide agile and energetic turn initiation, and its relatively narrow dimensions mean it's better equipped to make those turns in tighter places. It's still a ski that will hold an edge with ease, whether moving nimbly through trees, sending an icy couloir, or cutting a line through the hardpack.
---
The Voile Women's WSP is light enough to climb uphill with speed thanks to its Paulownia wood core, carbon-fiberglass construction. It has a rockered tip, yet is stable enough to ski downhill without embarrassment. And most importantly, stay in one piece. The Voilé WSP is manufactured in a single length of 150cm, the minimum length allowed for females by the ISMF in SkiMo racing.
---
The Voile Women's Spartan Ascent shares the same shape and camber profile as the original Spartan, but with a construction recipe similar to the Revelator. The results speak for themselves: a playful splitboard that's over a pound lighter than its predecessor, the Spartan.
---
The Voile Women's Revelator Splitboard's paulownia wood core reduces the overall weight of the board without compromising strength and performance. Carbon fiberglass layers and a longish camber area make for very efficient skinning on the way up and increased stability on the way down. And of course, the board's large, early-rise nose and tapered tail make deep powder riding seem virtually effortless. Its relative width, robust flex, long camber area, early-rise nose, and tapered tail all let the Women's Revelator not only keep up with the boys, but shred the sickest of lines, to boot.
---