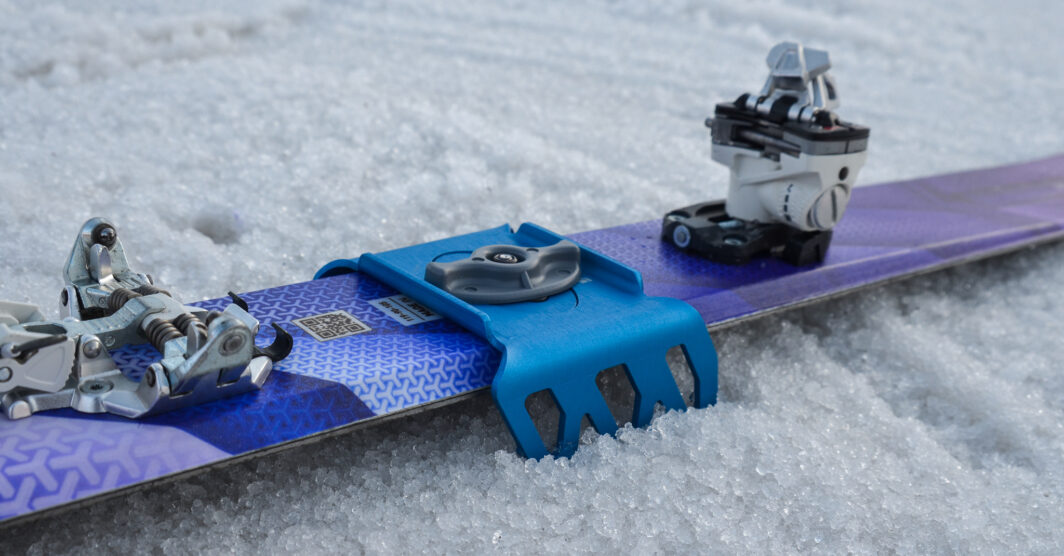 Voile Splitboard & Ski Crampons
Spring touring has arrived! If you're like us, you're itching to go for bigger objectives after what felt like a long season of avoiding nasty PWLs. With the change of the seasons comes a change in your backcountry kit. Enter ski crampons and splitboard crampons.
What are splitboard & ski crampons:
Essentially the same idea as boot crampons, but they attach to your ski/splitboard or binding. This metal-toothed tool gives you the extra purchase into the snow surface (think traction) with each step. There are many different splitboard and ski crampons out there. We will break down the difference between a fixed ski crampon (Voile Style) compared to a pivoting ski crampon, talk about our splitboard crampons, and see what our ambassadors have to say.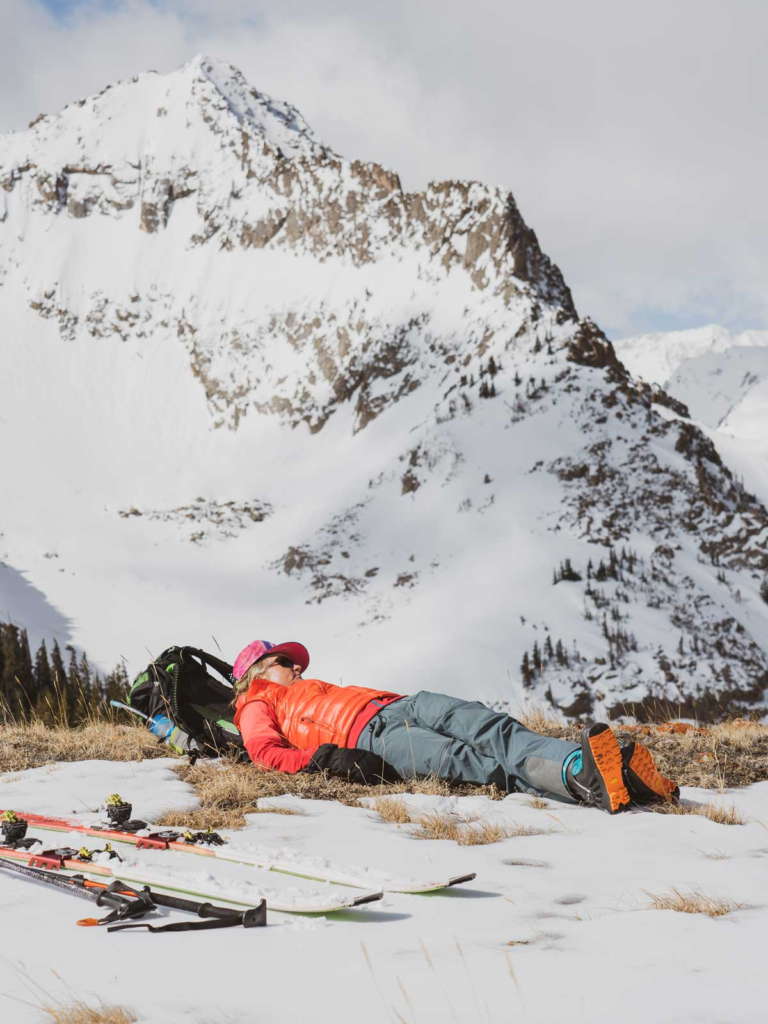 Where, when, why to use splitboard & ski crampons:
This one is subjective to the user. Typically, ski/board crampons don't make it out of the gear garage until springtime when snowpacks are subject to the daily temperature swings causing the snow to slush up during the day and (hopefully) refreeze at night- thus metaphorizing into that sweet, sweet corn. Ski/board crampons are helpful during those wee hours of the morning when the snow is still in its frozen form.
Firm, icy snow surfaces or skin tracks can turn into a flail fest with just skins. Popping on your ski/board crampons can help make this travel smooth and slip-free. Depending on your route, objective, snowpack and personal preference, you may just skin until you transition to booting (with boot crampons) and skip the ski/board crampons. On other tours, you'll be glad to have the extra help.
On another note, splitboarders tend to benefit from splitboard crampons sooner on a tour than skiers due to the fact that split skinning is trickier to navigate and has less edge control than ski skinning.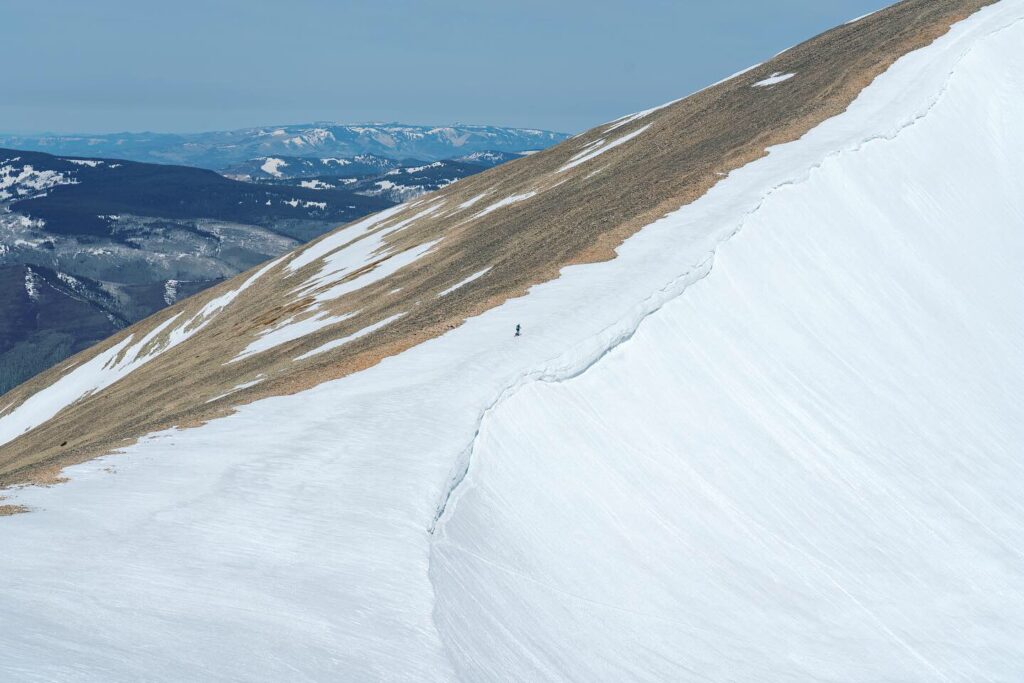 How to use ski crampons:
There are numerous ski crampons out there and figuring out binding + ski crampon compatibility can be a complicated mess. Luckily, our friends at Skimo Co created a compatibility chart. Here's where Voile's Universal Ski Crampons really shine- they can be used on almost any ski + binding. All you have to do is mount the ski crampon disk to your ski. Then your ski can be ready to take a ski crampon at any moment. With Voile's Universal Ski Crampons, you can put on / take off your crampon without taking your ski off.
Tap photo to expand.
How to use splitboard crampons:
Unlike our ski crampons that require mounting a disk on your ski, Voile splitboard crampons will attach directly to your binding. Another perk with Voile Spliboard bindings is that you can choose to have the crampon in free mode or locked (fixed) to the bottom of your binding, simply by twisting the locking mechanism. You can put on / take off Voile splitboard crampons as well as swap from free mode to lock mode, all while your feet are attached to the board.
Voile splitboard crampons will only work with their corresponding Voile splitboard bindings (i.e. Speed Rail Crampons with Speed Rail binding, Light Rail Crampons with Light Rail Bindings.) If you are using Splitboard Hardware for Standard Bindings, you will want the Voile Splitboard Crampon. We do not yet have a crampon for the Light Speed Bindings but are currently working on the design.
Fixed vs pivot style Ski crampons
There are advantages and disadvantages to both styles of ski crampons: fixed or pivoting. It really comes down to personal preference, but here are some factors to consider.
| Fixed Ski Crampons | Pivot Ski Crampons |
| --- | --- |
| PROS | PROS |
| Universal compatibility (with mounted disk) | Better "glide" while skinning |
| Better purchase into surface | |
| Easy to put on/ take off | |
| Work with Voile telemark bindings | |
| CONS | CONS |
| Requires mounting disk to ski | Does not provide as deep of purchase when heel risers are up |
| Drags when skining (harder to glide) | Not as easy to install on the go (especially if binds are prone to icing up) |
Hover over image for more information.
Who's using what?
Our ambassadors share their opinions on ski or splitboard crampons and weigh in on fixed versus pivot style crampons.
Expert knowledge from Ann Driggers
I am a huge fan of the fixed Voile ski crampons and have used them for over a decade. Honestly I don't understand why anyone would use the pivot style as when your heels are up they are worthless. And 90% of the time my heels are up as I am climbing a steep icy slope or skintrack. The only time where a pivot style might have the upper hand is on a traverse but that is much less likely scenario than climbing.
Of course the downside to the fixed is that they can catch and drag a bit when you are moving your feet but that is really not a significant issue in my opinion especially as the pros (they actually work!) easily outweigh the con.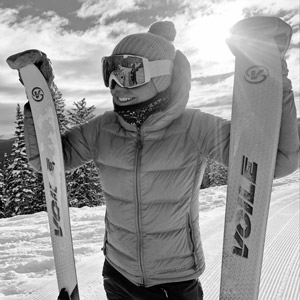 ---
---
A Jill of all trades and a master at none, Ann is a weekend warrior and backcountry bon vivant who lives to hike, run, ride, paddle but mostly ski in the mountains of western Colorado.
Ann lives in Carbondale, Colorado, from which she aims to explore as much of the wild and beautiful places of her local geography as possible. She loves to begin her day with a backcountry dawn patrol, watching the sunrise from a local summit and then sliding into work wiping the powder from her grinning face. The weekends are spent skiing deep into the Elk Mountains, where devising new routes and truly connecting with nature, returning with memories, pictures and words with which to inspire others, are what makes her tick.
Expert knowledge from Nick D'Alessio
Ski crampons are the most underrated and under-used tool for spring backcountry skiing.
Boot crampons don't work well when you are traveling over melt-freeze crusts. Boot crampons and ski crampons have a totally different applications.
One thing people need to realize when using ski crampons is that they can comfortably get you out onto "slide for life" slopes. You need to understand your terrain exposure and have the ability to stop yourself immediately if you slip or pop a ski off while skinning. I'm not really a big fan of the Whippet ski pole anymore however ski crampons and the Whippet do go well together for spring melt-freeze conditions, however, a well-practiced ski pole self-arrest can save you in a slip.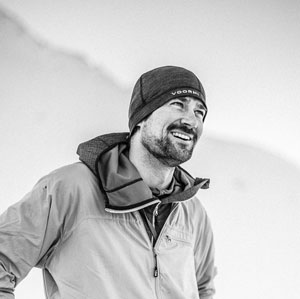 ---
---
Born and raised in New Hampshire, Nick began climbing and skiing mountains as soon as he could walk. His drive for wild places brought him to Alaska in 2007 and he never left. As an AMGA Certified Ski Guide, Nick teaches avalanche courses, guides backcountry skiing and ski mountaineering trips all over Alaska's great mountain ranges. His career has become his lifestyle and he wouldn't have it any other way. When not working, Nick is taking his enthusiasm deeper into the hills and rivers on personal trips. Nick loves to share his knowledge about safe mountain travel and looks forward to sharing his passion for the mountains with you.
Expert knowledge from Aaron Diamond
I don't find one style [fixed vs pivoting] to be more useful.
I think splitboarders will find themselves using crampons sooner and more often due to the issues like lack of edge control while skinning. Check out Aaron's blog, Spring Touring, for more tips relating to springtime touring gear, avalanche hazards and corn timing.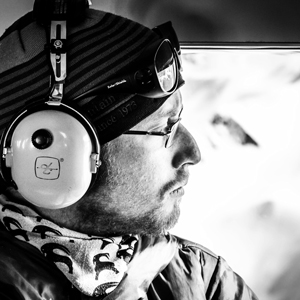 Aaron Diamond
---
---
Aaron Diamond is an AMGA Certified Splitboard Guide and avalanche educator based in Jackson, Wyoming. He guides year round for Exum Mountain Guides and has guided technical ski and snowboard descents on various Teton summits including the Grand Teton, Middle, Teton, Nez Perce, and Mt Moran. In the summer months Aaron works as an alpine climbing guide on Denali and throughout the Greater Yellowstone Ecosystem. He is alway psyched to share his backyard with experienced and new backcountry travelers
In his free time Aaron enjoys spending time in the splitboarding in the Tetons, or exploring the lesser known areas of the Alaska Range with his friends. He has first descents in the Tetons, Andes, and Alaska Range, including unrepeated splitboard descents of the Ramen Route on Mt Hunter (14,573ft), Mt Foraker's Sultana Ridge (17,400ft), The Fat Calf Couloir on Pico Polaco (5995m) and the SE Face of the Gilkey Tower (12,320ft).
Expert knowledge from Cindi Grant
For me, crampons have been one of those tools that when I need them, there is nothing better. When I don't need them, there is nothing more space-consuming. The hardest part about using splitboard crampons is deciphering when to bring them and when to bring boot crampons. It comes down to accent terrain choice. Straight up a chute or open ridge, for example.
When I do use them, I prefer splitboard crampons fixed to my binding so I don't experience as much resistance in my stride. On a good spring mission when the alpine snow is rock solid, a ski crampon is an essential tool. Every time I use them, I've got my fingers crossed that by the time I'm ready to descend, the sun has softened that rock-solid snow.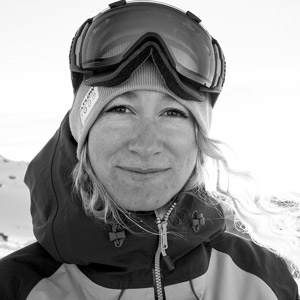 ---
---
Cindi is a professional splitboarder, mountain guide, writer, yoga teacher, and Wasatch native with a feverish passion for connecting with nature. As a young girl, Cindi Lou met her life partner Zach and dedicated her life to living fully through snowboarding. With a couple decades of backcountry experience and various guiding certifications her passion is to inspire others to experience a reconnection with the natural world. She resides in a ride in/out backcountry cabin, she and her husband Zach built. It is a simple shed roof home that is completely snowbound, has world class touring from the doorstep, a yoga studio, mountain spring water system, and is filled with natural light. When she is not at home, she loves splitboard expeditions and exploring remote mountain ranges.
Expert knowledge from Ben Zavora
I use ski crampons when we have diurnal freeze/thaw cycles to make approaches more efficient. The trick to bringing crampons is making sure that everyone in your group has them, because if some folks don't, it will be difficult for everyone to stay together on the same route and climbing speed. I have never found much use for fixed ski crampons. If I am in a situation where I would want a fixed ski crampon, I typically will transition to a boot crampon. One trick I have done over the years is to add a spacer to my ski crampons so they get a better purchase when using them with heel risers.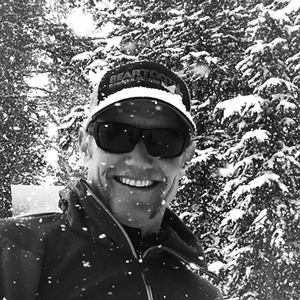 ---
---
Ben Zavora is an AMGA Certified Ski Guide and owner of Beartooth Powder Guides in Cooke City. Ben has been extensively exploring the backcountry of Montana, Idaho and California for the last 24 years and his enthusiasm for Powder skiing and Ski Mountaineering just seems to grow stronger each year. The goal of Ben and his guides at Beartooth Powder Guides in Cooke City, Montana is to "Create a socially significant business that encourages people to get outdoors and appreciate the beauty of the mountains, while sharing our enthusiasm and love for the wild places of Montana."
Expert knowledge from Zach Grant
I love the reassurance the Voile Light Rail Crampon gives me in spring time on big objectives where an early start is necessary. They give me peace of mind that I won't slide for life down the mountain. I prefer the fixed to binding setting so you can still have the efficiency of walk mode.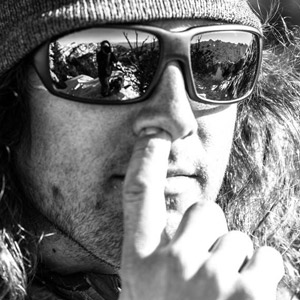 ---
---
Zach Grant has dedicated his life to splitboarding and his family. As proven by his longtime relationship, backcountry cabin in Utah's Wasatch mountains, daily touring, and months spent on splitboard expeditions. He grew up in the Northern Wasatch Range of Utah and met his wife Cindi while snowboarding at age 15. Passion driven, hard working, and determined- he has built his dreams from humble beginnings. In the winter he is a professional snowboarder by day and a snow-cat operator by night. In the summer he runs adult tonka toys for the US Forest service. When he is not charging big mountains he enjoys gardening, woodworking, fishing, biking, backpacking, and living in his snowbound dream cabin.
Mind the width!
With both ski crampons and splitboard crampons, you want to make sure the width of your crampons is wide enough to fit over the waist of your ski or splitboard half. A bit of extra space is totally fine, but you do not what your crampon to be too wide, as this will make is easier to unintentionally snag your pants, twigs, opposite ski/board half and potentially trip.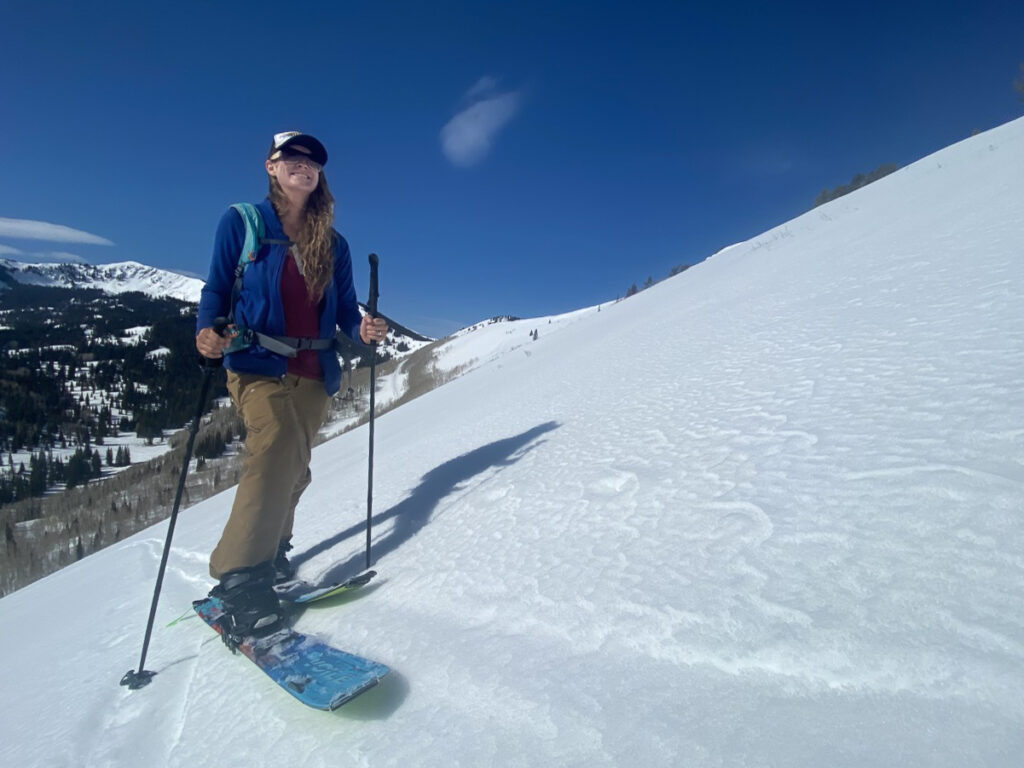 Questions?
Have a question? Leave us a comment or contact us.