Introducing seven new members to the V-Team
Photo Courtesy of Iain Kuo.
If you've been following along on social media you'd know that we've spent this fall searching for seven new members to join us as V-Team ambassadors for the 21/22 season. While the V-Team has always been open to people from all backgrounds, this year we made the conscious effort to invite underrepresented folx to apply such as women, BIPOC, and non-Binary individuals to help represent Voile. After filtering through many incredible applications, we found a few that truly stood out. With that, we couldn't be more excited to introduce you to the seven newest members of the V-Team! To help you get to know them better, we asked each of our new ambassadors to answer a few questions.
Here's what they have to say…
---
Photographer and Splitboarder, Abby Crisostomo
What inspires you to pursue recreation and/or profession in the backcountry?
What inspires me is shredding powder in the community with other People of the Global Majority and/or other LGBTQIA2S+ people. Experiencing a sense of community while sharing stories on the skin track or beautiful expressions of joy while in a cloud of powder is truly magical.
What has you most excited about being a part of the V-Team?
I've loved Voile since I started splitboarding with a Voile Split Kit. Voile has always been a big part of my backcountry experience. Whether it's my skins, Voile Straps, 3-pin bindings, or my Hyper V-Tail Splitboard. I really love the durability and reliability of Voile and generally, I'm always within arms reach of a Voile Strap. I'm super stoked to be on the V-Team.
If you could spend a day in the backcountry with absolutely anyone, who would it be?
That would be my lovely partner in love and adventure, Hana. From long backcountry tours with questionably low snow conditions to regular morning dawn patrols at the local spot, they are always down for an adventure.
---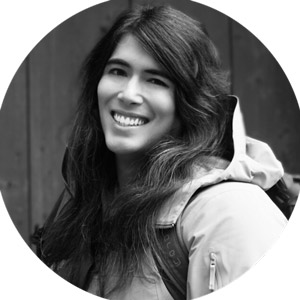 Location: On occupied Abenaki land in so-called 'vermont'
---
---
Abby Crisostomo (she/her) is a passionate splitboarder and photographer based on occupied Abenaki land in the northern reaches of so-called 'vermont'. She was raised in N'dakinna (also known as 'new england') and has been in love with snowboarding ever since making her first turns at Whaleback mountain during her elementary school's after school program.
Abby rediscovered her love for hiking and exploring in college and when she learned about splitboarding a new passion began. Now, during the snowy months she can be found waking up before the sunrise and searching for fresh tracks on her splitboard. Her passion for powder, photography, and adventure are always growing and on a snow day you can be sure that she and her friends/subjects are somewhere deep in the white room.
When not splitboarding Abby spends her time building community as a co-founder of Unlikely Riders (@unlikelyriders) - a 'vermont' BIPOC Collective mobilizing community to find healing with the mountains while claiming space in the snow sports industry & culture, and as a board member of Vermont Pride Rides (@prideridesvt), an LGBTQIA+ mountain bike club, she also works to protect the planet from climate change as a professional fundraiser.
---
Educator and Skier, Aidain Goldie-Ahumada
What inspires you to pursue recreation and/or profession in the backcountry?
I have a professional background in ecology which came from an interest in the interconnected ways the natural world works. Being a well-rounded mountain athlete forces you to be present and intimately connected to an ever-changing environment. Backcountry skiing represents the elegant union of many different parts of my life. I came to the sport with an interest in science, climbing, downhill skiing, running, and slogs of endurance. Backcountry skiing has a little bit of everything. It engages many different parts of your body and mind while taking you to beautiful, remote places.
What has you most excited about being a part of the V-Team?
The obvious answer is the skis. Voile is without a doubt making the best backcountry skis on the market. Also, there are not many companies in the ski industry that I truly feel are upholding inclusive values in the sport. Voile might be a small company, but it is one of those rare companies that are actually doing the work. I feel a sense of pride in representing the brand for more than just the product.
If you could spend a day in the backcountry with absolutely anyone, who would it be?
There is a very good possibility that I developed a love for winter and snow from our childhood dog, Tachi. A Yellow Lab that taught me how to explore aimlessly off trails, stop to observe interesting things, and how to plow through deep snow with determination. I never got the chance to ski with her before she passed and I would really welcome that opportunity.
---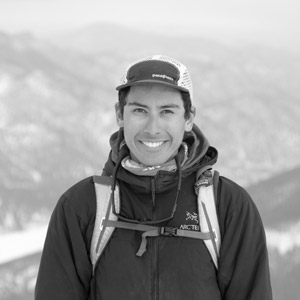 Location: Traditional lands of the Núu-agha-tʉvʉ-pʉ̱ (Ute) tribe in the Rocky Mountains
---
---
Born in Chile, Aidan (he/him/his) spent much of his childhood living in South America before immigrating to the United States where he lives today. In the latter half of his childhood, Aidan called the mountains of Colorado home and grew exploring his rugged backyard peaks through the lens of backcountry skiing and skyrunning. He is now settled in the Roaring Fork Valley where he works as a Physics teacher to best support his community through equitable and intentional education practices.
Aidan teaches, climbs, and backcountry skis on the traditional lands of the Núu-agha-tʉvʉ-pʉ̱ (Ute) tribe in the Rocky Mountains. When not teaching, Aidan feels most at home in cold winter environments with something sharp strapped to his feet. Whether it is a pair of skis or crampons, Aidan is on a continual search for aesthetic climbs and descents in our Rocky Mountains, continually shaping his mountain ethic to instill pedagogical values of environmental justice, equity, and cultural relevance.
---
Tele and Alpine Skier, Garrett Schlag
What inspires you to pursue recreation and/or profession in the backcountry?
I love spending time interacting with and noticing things about local ecosystems. Spending time backcountry skiing is my favorite way to do that. There's also the added bonus of sharing time with beloved backcountry partners and making turns along the way.
What has you most excited about being a part of the V-Team?
I appreciate being involved with a core Utah brand like Voile. The skis I get to ski on say "Made In Utah, USA". In many ways, I am as well. I deeply appreciate the Voile team's genuine efforts over the years to support skiers and riders of diverse identities because of their perspectives.
If you could spend a day in the backcountry with absolutely anyone, who would it be?
Courtney Barnett. She's one of my favorite musicians and I adore her style of guitar-playing, singing, and, most of all, songwriting. Since I enjoy so many of the things she notices about the world that she decides to include in her lyrics, I am curious to know what small details she would notice about a day out on skis.
---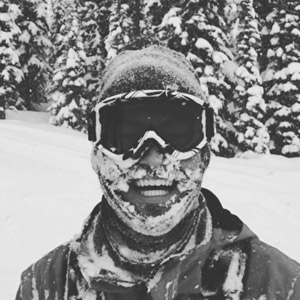 ---
---
わたしのなまえはまさるです!
Garry comes from a family of five skiers with a strong identity as such, and has opted for fun in this lifetime. They moved from Salt Lake City to Leadville to work as an outdoor educator and teach math and science. They now wear many hats at the Galena Mountain Projects store in Leadville.
Garry splits their time between alpine and telemark skiing and believes backcountry touring is an essential way for them to cultivate connections with places and people. Garry has an eclectic results list from a podium finish in the Taos Extreme Freeride Championships as a junior, to a top ten finish in Leadville's Championship Ski Joring, and already a lifetime's worth of laugh lines.
An eager writer, Garry views language as an artform through which to wax poetic, inform and affirm others, and articulate truth to power. Garry also loves trail running, mountain biking, floating down rivers, hanging out with their cat Gnome, and curating Grateful Dead compilations.
---
Photographer and Ski Mountaineer, Iain Kuo
What inspires you to pursue recreation and/or profession in the backcountry?
A simple sense of adventure is what first drew me into the backcountry. I love exploring new places and derive deep satisfaction from pushing my mental and physical limits. The idea of earning my turns while accessing difficult-to-reach ski mountaineering terrain really excites me. Over time I have come to learn more about the profound positive effects that spending prolonged time out in the wilderness can impart. This includes patience, kindness, a calm mind, and a free spirit.
What has you most excited about being a part of the V-Team?
The company's focus on innovation and making the best possible backcountry ski gear aligns perfectly with the goals I hope to pursue in the mountains. Voile has demonstrated a real commitment towards making the backcountry environment accessible to everyone with initiatives like their Scholarship for Women and BIPOC Backcountry Scholarship. The V-Team includes people I look up to for their accomplishments both inside and outside of the ski world. I can't wait to meet and learn from my new teammates. On top of that, they choose to manufacture Voile products locally, care about the environment we play in, and prioritize quality over profit. It really seems like an amazing culture, and I couldn't be more excited to be a part of it!
If you could spend a day in the backcountry with absolutely anyone, who would it be?
My mind runs to the legendary alpinists and ski mountaineers of the past and present. It would be pretty cool to spend a day touring with someone like Sylvain Saudan, Andreas Fransson, or Hans Kammerlander. Upon reflection, however, I think I would simply choose to spend a day in the backcountry with my partner Kira or my mother Michelle. Both of them are just getting into ski touring, and it would be really fun to go explore some new places and spend time in the mountains with them. In the end, we only get a finite amount of time to spend with the people we love. I'd like to maximize that time as best I can.
---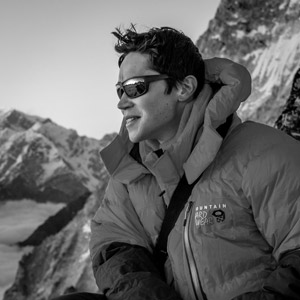 Location: Jackson Hole, WY
---
---
Iain Kuo is a ski mountaineer and professional photographer based in Jackson Hole, Wyoming. After quickly becoming disillusioned with a career in finance, Iain left New York City with a one-way ticket westward and has never looked back. Since embracing his passion for the mountains, he has climbed, skied, and photographed expeditions in places such as Patagonia, Nepal, Kyrgyzstan, and Alaska.

When not traveling or working behind the lens, Iain can be found exploring the wild landscape of the Teton Range and planning for the next adventure. He also enjoys running, hiking, rock climbing, backpacking, and most activities that involve spending time in nature with all others who share a love for the great outdoors. Iain lives with his girlfriend Kira, who skis faster than him, and their cat Teddy the Tiger, whom he's mildly allergic to but loves anyways.
---
Activist and Skier, Jade Begay
What inspires you to pursue recreation and/or profession in the backcountry?
I've been skiing my entire life, however, a majority of this has been at ski areas and while that has been fun, I am now looking for a different challenge and to evolve my relationship with skiing. It's also important to me to build a more intimate relationship with the snow and the winter season as the seasons and elements become more unpredictable due to climate change. I want to savor these elements while I can and be closely connected with them, studying their patterns and formations. I also love the concept of backcountry skiing because it gives me agency to ski and explores on my own time. I don't have to think about lines at the lift or black-out dates on my ski pass, as long as there's snow and safe conditions, I can get out there when I want and need.
What has you most excited about being a part of the V-Team?
When joining any team I always look at the culture – what do they value? What are their principles? Here at Voile, there are a few things that stand out and draw me to the team. We value locally and US-made products – this aligns with my values as an environmental justice advocate and someone who appreciates quality over quantity. Voile values access to backcountry – I mean, being the innovators of the Splitboard is a testament to this as well as Voile's new programs to make gear and backcountry more accessible to the BIPOC community. No matter where I go, I am accessing, how is this place/team/business/institution/whatever building a culture of inclusion, and here at Voile, there are concrete strategies for doing so.
If you could spend a day in the backcountry with absolutely anyonem who would it be?
My late grandfather. We would skin up Sisnaajini, the eastern sacred Mountain to our People.
---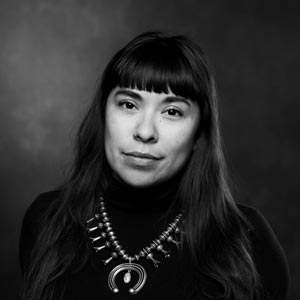 ---
---
Jade Begay, Diné and Tesuque Pueblo, is an Indigenous rights and climate justice advocate, organizer, and filmmaker. Jade has partnered with an array of prominent environmental and climate organizations as well as with Tribal Nations and communities from the Arctic to the Amazon to develop strategies, create stories, and build campaigns to mobilize engagement and impact around issues like climate change, Indigenous self determination, and environmental justice. Jade is the Climate Justice Campaign Director at NDN Collective and serves on the board of Amazon Watch and Native Conservancy. In 2021, Jade was appointed by President Joe Biden to serve on the first White House Environmental Justice Advisory Council.
Work stuff aside, Jade identifies strongly as a winter person, in fact, Jade comes from the "Winter Clan" of her Tesuque Pueblo Tribe. It's among the glittering snow, the icicles on pine trees, and climbing her sacred Mountains in the high desert that Jade feels most herself and most at peace.
---
Avalanche Forecaster and Splitboard Guide, Jennifer Godbout
What inspires you to pursue recreation and/or profession in the backcountry?
What inspires me to pursue recreating and working professionally in the backcountry is I don't know what I would do instead. I love the freedom and being in the moment. Where nothing else exists, I tune in to what I am doing and be can be fully present. I think it is when I am at my best…definitely my happiest!
What has you most excited about being a part of the V-Team?
I'm most excited about collaborating with the V-Team towards the common goal of sharing our passion for the outdoors with people. When you hear about what someone else is up to, you can encourage them and support them, which inspires your own adventures in turn.
If you could spend a day in the backcountry with absolutely anyone, who would it be?
If you could spend a day in the backcountry with absolutely anyone it would be Craig Kelly. I would love to experience following him down some big mountain lines and making some big surfy turns, for the fun of it.
---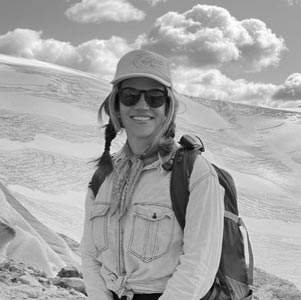 ---
---
Jen would like to acknowledge that she lives, works and explores in the shared unceded territory of the Squamish Nation and Lil'wat Nation.

Jennifer Godbout (she/her), known to many by her nickname Jibber, is a backcountry splitboard guide, avalanche forecaster and educator, based out Whistler, BC. Transitioning from competitor, to coach, to becoming a guide seemed a natural progression to avoid any chance of working indoors.

Jen enjoys being of service in her community as a search and rescue volunteer and mentoring the next generation of snow scientists and big mountain riders. The irony of the childhood nickname Jibber is not lost on her.

The biggest challenge she is currently undertaking is having the courage (defined as telling her whole story with her whole heart) to tell her stories of failures, resilience and perseverance in becoming an avalanche professional and guide. Sharing the lessons she has learnt and continues to learn about leadership, risk management and communication. Of all the things, dropping into this level of exposure scares her the most!
---
Big Mountain Tele Skier, Mike Russell ('Tele Mike')
What inspires you to pursue recreation and/or profession in the backcountry?
When I first came to Colorado, the mountains crushed me into silent unbreathing awe. The backcountry has become my church and my spiritual practice ceremony. I would rather be in the mountains thinking about God than in church thinking about skiing the mountains.
What has you most excited about being a part of the V-Team?
With Voile, I look forward to creating a connection. I love connecting with ALL people in the backcountry community. It is a place where I tend to find my soul tribe. I'm looking forward to growing my backcountry soul tribe with Voile and other V-Team members. As a person of color, I have a unique opportunity to promote diversity and take ownership towards getting more people of color into the backcountry. I'm excited about connecting with these underrepresented communities. To provide physical well-being, mental health, and inner peace through backcountry skiing while overcoming generational fears of open spaces.
If you could spend a day in the backcountry with absolutely anyone, who would it be?
That's an easy question to answer. I love skiing the backcountry with my 14-year-old son Jaden. have gone from having him chase me up the skin track to me chasing him up the skin track and making my drag-footed Tele turns to keep up with his 14-year-old soccer player legs!
---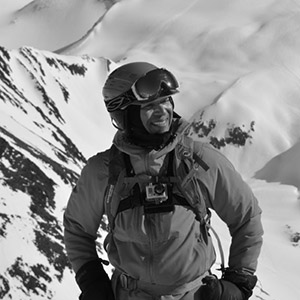 Mike Russell ("Tele Mike")
---
---
"Tele Mike" Russell has never seen a snowcapped mountain that he did not want to climb and ski. Fierce and soulful, Tele Mike is a big mountain Telemark Skier who is passionate about climbing technical routes and skiing exposed backcountry mountain descents on a global scale.

Tele Mike finds gratitude in guiding and showing anyone how to access the beauty of the mountain in a way that is safe, connected, empowering, and accessible, regardless of ability levels. His ultimate motivation is to amplify ALL voices in the backcountry ski community regardless of an individual's labels or demographics. And due to his African and Native American heritage, Tele Mike has meticulously curated countless mountain experiences for BIPOC communities which provides positive mountain experiences to underrepresented groups, in an effort to bring about sustained physical and mental wellbeing, and inner peace, while overcoming generational fears of open spaces.

Tele Mike also loves to use his artistry to create short cinematic heartfelt mountain adventure films to show people of color that there are other people adventuring in the mountains who look like them, enjoying safe open spaces.
---