New V-Team Captain invites underrepresented skiers and splitboarders to apply
A note from Voile — Announcing Emily Sullivan as V-Team Captain!
We are thrilled to announce that Emily Sullivan—a three year veteran of the V-Team—has stepped into the role of Ambassador Team Manager. We approached her with the idea some months ago, having witnessed the level of presence, clarity, and thoughtfulness that she embodies in her participation. She's already been an active force here both publicly and behind the scenes, and we've felt continually emboldened by her input. We are grateful, in fact, that these qualities seem to be characteristic of the V-Team members—and we're grateful to have this opportunity to lift up one of these members in a new capacity as Voile grows and engages more actively in the initiatives that feel important to us. Emily stands out as an engaged and optimistic participant in the outdoors, and we are proud to have her representing us on the V-Team.

The post written below was provided by Emily following our first few conversations in her official capacity as the team captain. We hope that any who read it will recognize a sincere hope to embolden underrepresented members of our community to step forward and claim their voice and presence in these outdoor spaces that we find so much fulfillment in. We also hope that you will join us in welcoming Emily into this new role as we seek to celebrate both community and individuality in the world around us.
There are countless athlete and ambassador teams in the ski industry, but V-team is different in many ways. It could be argued that Voile's motto says it all: "Simple. Solid. Backcountry." Our singular focus is backcountry travel; V-team members are tourers at heart. Whether maintaining mental health, building fitness, ticking off objectives, or seeking the simple pleasure of meadow skipping, the V-team is a community of highly motivated mountain people. We appreciate the beauty of a well-set skin track and we have pro tips galore, but we also love sitting on a hard-earned summit and taking in the view. We enjoy the memories we share from the trailhead to the tailgate as much as each surfy pow turn. We are humans first, athletes second.
Since joining the V-team in 2018, I've been pleased to share meaningful perspectives with our audience—from articles on Climate Change to Women in the Mountains, Voile has always had my back in holding conversations that matter. When team member Brooke Jackson brought the idea of a women's scholarship forward in 2019, Voile ran with it. In 2020, Voile created an additional BIPOC scholarship for underrepresented backcountry users. I have stayed on Voile's roster for four years and counting because this brand values its athletes, our ideas, and our community, while aiming to use its platform for good.
So as we build our 2021/2022 ambassador roster, we are making an effort to seek out athletes who feel the same. And as I step into the role of V-Team manager, I'm excited to help shape the future of this community. Our current roster is composed of many strong pow-slayers, a number of guides, some fantastic photographers, and respected community members who are invested in sharing their knowledge. We are represented by a spectrum of splitboarders, speedsuit skimo racers, meadow-skippers, and spicy ski mountaineers. But our team could, and should, be more representative of diverse identities and perspectives within skiing.
As a woman, I recognize the barriers of entry women and non-binary backcountry users encounter in the backcountry, as well as the judgement and gatekeeping that many face on social media. I also know that these experiences are exponentially elevated for trans, non-binary, and women of color. It can be intimidating to throw your name in a hat when you don't see people who look like you represented in a space. So it was no surprise to me that the vast majority of V-team applicants (89%!) are male. But, as was said in our recent social media posts, we want to be very clear that ALL backcountry users are welcome here.
As we assess applications for our 21/22 team, we are keeping an eye out for authenticity, community value, and new perspectives. And we have a few spaces we'd love to fill with women or non-binary skiers. On our application page, you can learn more about what being on the V-team entails. As a long-time V-team athlete, I can assure that you will be supported in your time at Voile. We want to empower our athletes to have the best experiences in and out of the mountains; we have your back! If you have questions about the V-team, feel free to drop me a line at vteam(at)voile.com, and we hope you will consider applying (here).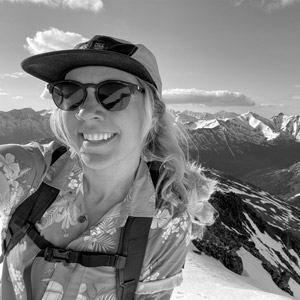 ---
---
Emily Sullivan is a photographer and writer focused on outdoor recreation, environmental wellness, and relationships between humans and landscapes.
An obsessive backcountry skier, she lives for winter, logging big vert on light skis, and traversing wild landscapes. Her current objectives include ski mountaineering in the Alaska Range, Wrangell Mountains, and Arctic Refuge.
Emily is both an athlete and a community organizer for land issues in Alaska's Arctic. She sits on the board of directors for the Alaska Avalanche School and serves as a Denali Rescue Volunteer. She lives, works, and skis on Dena'ina Ełnena, now known as Southcentral Alaska.