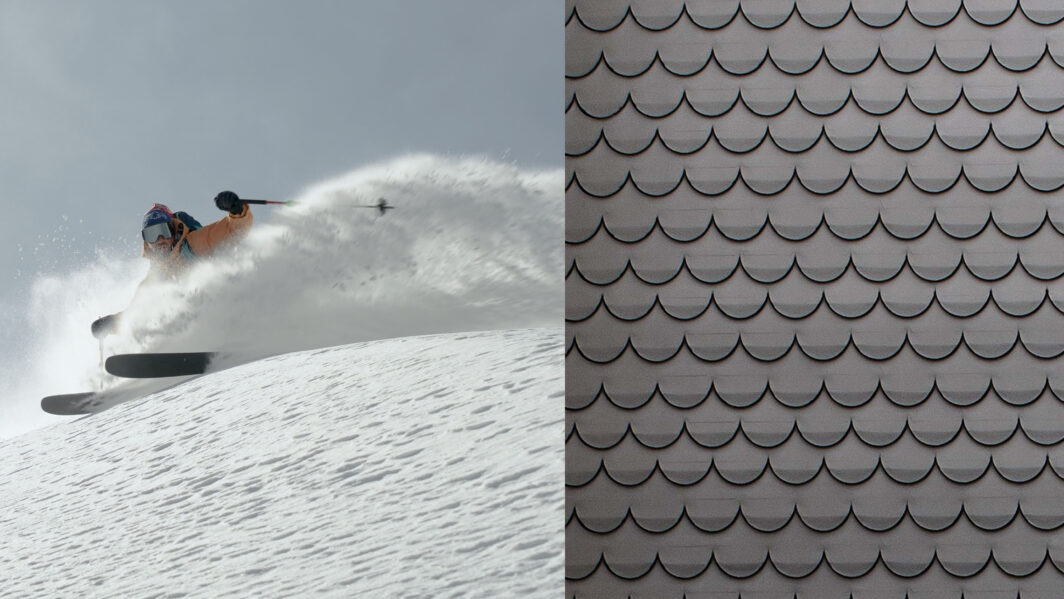 BC Ski Shootout: Which Scaled-base Ski Is Right For You
Today we're getting fishy and breaking down the differences in performance characteristics between the UltraVector BC, V6 BC, and Objective BC. If this is your first time looking into a Scale-based ski you probably have a lot of questions about how, when, and where to use them. You can find the answers to all of these questions in one of our previous blogs, "Everything You Need To Know About Scale-based Skis".
Now, with our BC skis, the performance differences come from the downhill riding characteristics and size. While we wouldn't hesitate to use any of these skis as a backcountry daily driver, we hope to distill the differences enough to help find which one of these skis is right for you. Here we have a full video breakdown (riding clips included) as well as a deep dive in written form below. Enjoy!
Scale-based Ski Characteristics
There are many, MANY design features and characteristics that go into a ski and affect the way it feels. So many in fact, that this topic almost warrants its entirely own blog/article/video. But lucky for you, a lot of the structural characteristics of Voile skis remain the same from ski to ski. All of our non-hyper skis (including the HyperVector BC and V6 BC) feature the same Aspen wood core and Single Carbon layup as pictured here.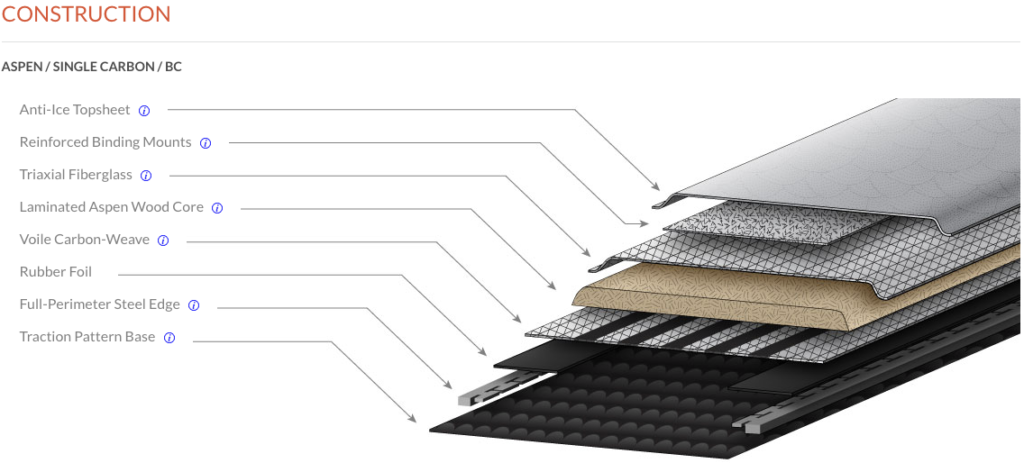 And our hyper skis (including the Objective BC) have a Paulownia wood core with a Double Carbon layup as pictured here.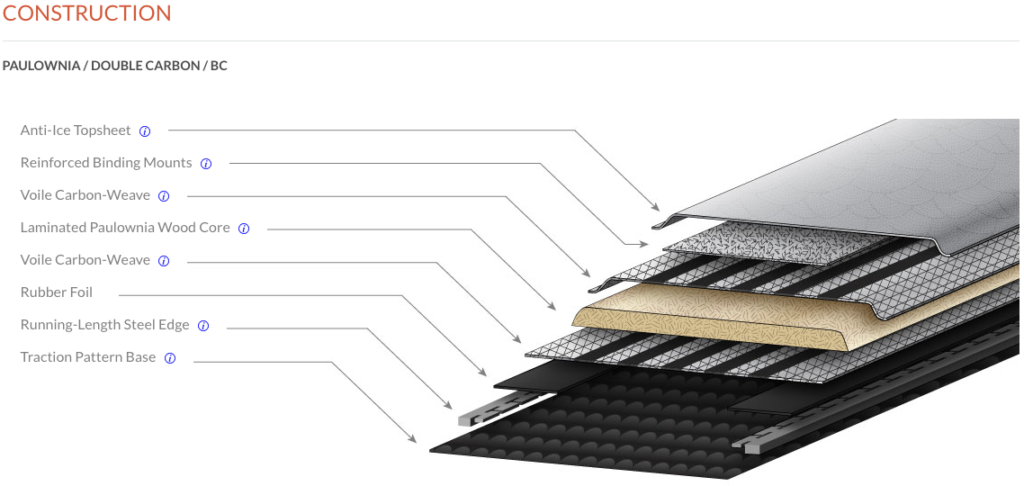 They all are designed to be backcountry-oriented, lightweight, directional, and float through powder like a dream. So, to help easily decipher the difference between these three skis, we're going to focus on the following defining characteristics (You'll notice that we aren't going particularly deep on the Camber and that's because we've already done it here).
Our focus characteristics
Waist width:
This is the width of the middle portion of the ski. This is the dimension that many people use to determine what conditions or terrain a ski is best suited for. Typically, the wider you go, the more powder or "freeride" oriented your ski is. That said, pairing width with a type of snow or terrain is subjective and truly comes down to personal preference.
Contact Points:
The contact point of a ski is what defines its turn radius and how long (or short) the ski feels. This is the point at which the edge of your ski is making contact with the snow. Ultimately, the true amount of the ski that's actually touching the snow when turning.
Taper:
This can technically be defined as the "reduction in width" at the tip and tail of a ski. Essentially, it's the shape that makes the widest point in the tip and tail of your ski. The taper that exists in the tip and tail is what helps determine our ski's contact points.
Now that we've set the stage, let's dive in on what the type of riding the UltraVector BC, V6 BC, and Objective BC thrive in and which ski is the right choice for you.
---
UltraVector BC

The UltraVector BC is cut from the same cloth as the Supercharger meaning it has a hard-working tail that likes to be rode edge to edge. This slimmed-down Supercharger features a 90-98mm waist and a generous amount of tip and tail taper. This makes turning in powder feel intuitive and stable. It has a more subdued rocker than the V-Series (V6 / V8) which pushes the contact points further apart and makes it feel stiffer than our other offerings.
With the addition of the scaled-base, this makes a terrific "go far and ride hard" ski. For example, we like to take these out when there are long gradual approaches to more committing lines. That said, this ski is friendly and forgiving enough that we wouldn't hesitate to take it meadow skipping or out on a more mellow day in the mountains. If you find yourself skiing variable terrain, and want all the glide you can get, but you like a ski that you can really lean into, look no further.
Key Words: Charge, Fast, Stable, Floaty.
---
V6 BC
The V-series has been a staple in the Voile ski lineup for 8 years now and the V6 BC remains one of our favorite daily powder skis. Featuring a 96-102mm waist (dependent on length), the V6 BC is best served as an "everyday powder ski." It can hang in the deepest snow, but very confidently handle days where you might see a variety of conditions.
The Hybrid Rocker in the tip and tail gives this ski the shortest distance between contact points. This is what creates its easy turn initiation and "surfy" feel. Pair the Hybrid Rocker with a round tip and tail taper, and you have a snappy feeling ski. These features allow you to easily pivot the V6 BC when riding in tight trees or maximizing your number of wiggles on a wide-open slope. If we could define this ski with one phrase it would be "It's easy to ski". If you're looking for something that's quick-turning and designed to surf, this is the right one for you.
Key Words: Pivot, Surfy, Forgiving, Snappy, Easy.
---
Objective BC

Chasing down big objectives has never been easier with the Objective BC. Coming in at 80-84mm underfoot with the same shape, camber, and taper as the Supercharger, this ski crushes faraway descents. Similar to the UltraVector BC, this ski comes with a generous amount of tip and tail taper making it float surprisingly well in powder for being a "skinny" ski.
With two layers of carbon, subdued rocker, and a Paulownia wood core, the Objective BC remains solid in steep, variable conditions. We like to take this ski out on our most ambitious days chasing down big lines in the backcountry. It's as light as Voile gets and is more than capable when descending. Some folks even enjoy using it as an "exploration" ski for walking through the woods or fitness laps. No matter how you use it, this ski is light, efficient, and dependable.
Key Words: Light, Stable, Responsive.
---
What Scale-based Ski Is Right For You?
If you've made it this far we can assume you're looking into a pair of Scale-based skis which probably means you prioritize efficiency. The Objective BC is going to be the most efficient ski in this lineup for moving through the mountains as quickly as possible. If you want a ski that's forgiving and surfy in trees or powder, you might pair up well with the V6 BC. Last, if you want a ski you can really lean into and charge on in the backcountry, you'll get along best with the UltraVector BC.
If you have any other questions feel free to reach out via Social Media or at info@voile.com. Cheers!
*If you're looking to save even more weight we make a HyperVector BC and Hyper V6 BC. Our Hyper skis offerings shave roughly 1lb per pair.