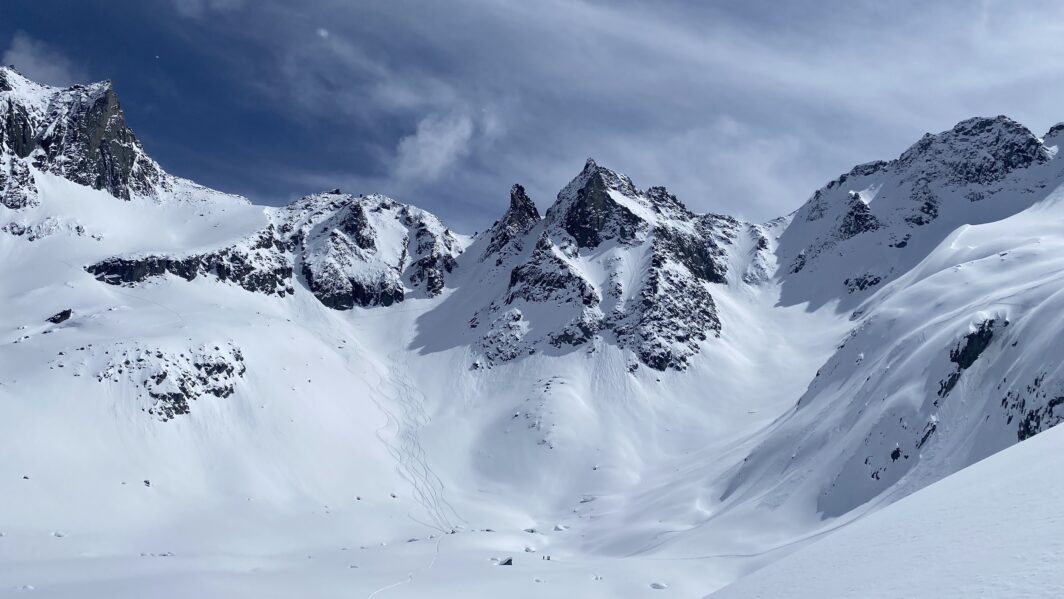 14 Fairies in a Meadow: A Fairy Meadows Hut Trip Report
They say that only the unluckiest of people come to Fairy Meadows Hut and don't ski powder. We dreamed of a week of snow that would turn into sun. We were lucky and our dreams came true.
The Heli Ride In
The helicopter soars over the final ridge and drops down into a glacial valley. Trees race by outside the windows. Those of us with the best cameras and pre-established-through-Google-Earth senses of place snap photos of our soon-to-be go-to zones. All of a sudden, there is the hut, the landing zone the pilot spoke about, and bundled up people lying across duffels, shred planks, and various bags and boxes.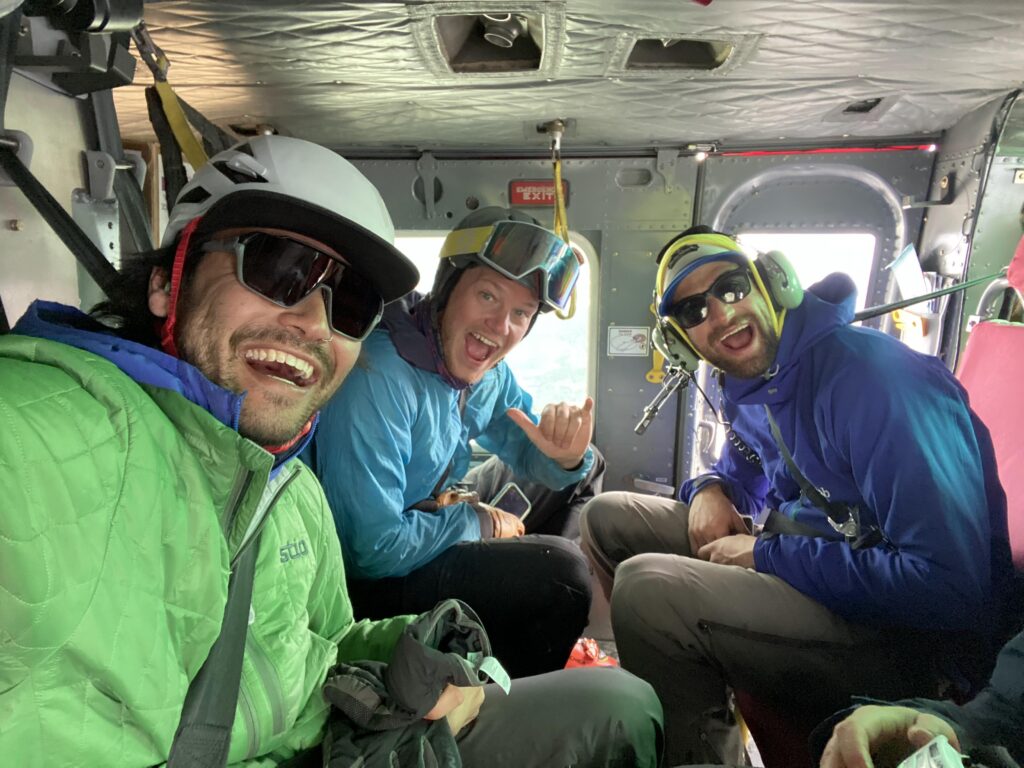 We land, undo our belts, open doors, and begin unloading from every nook and cranny of the bird carefully and efficiently under the roar of the motor. The outgoing group is ready to pass our gear out to a pile of its own as we start passing back gear from their pile to load while the majority of their passenger's board. A hand signal from the ground tells the pilot that the exchange is done and the helicopter disappears as quickly as it appeared. For a moment, all is silent again at the Fairy Meadows LZ.
The moment passes and the air is filled with ecstatic yelping and universal yipping brought on by the fact that we just got dropped by a helicopter at a BC hut for the week to ski and party with our friends. We introduce ourselves to the outgoing group members still waiting for the second heli shuttle and commence our conditions interrogation. "We skied everything," they said through, and this may be me retrospectively projecting, the toothy grins of skiers who are trying to play it cool about a life-changing week of steep and deep powder skiing. A second helicopter pilot calls in their approach and soon we are unloading incoming passengers and loading outgoing passengers and items again. The helicopter takes off and flies away again, leaving us in paradise. We would not see it for seven days.
Settling into the Fairy Meadows Hut
Day Zero, we moved our skis and boards, bags, food, kegs, packs, and bodies into the hut and started settling. We scoped the water system (gathered from a glacial creek, heated for dishes on the wood stove), sauna (wood stove heated, surrounded by snow for cold shocks), kitchen, living areas, and our upstairs shared bedroom where we laid out sleeping bags, pillows, and costume bags for the week. After a supremely busy morning of shuffling gear, helicopter briefings, flights, and more shuffling of gear, we figured it was going to get dark soon. We then geared up for a short lay-of-the-land tour before sunset, ascending through breaking clouds into a wide moraine.
Setting Goals with the Group
Our group was a collection of college friends and their mutual friends. I fell into the latter category and thus gained a handful of awesome new friends by accepting an invite on this trip. We came from varied backgrounds of skiing and snowboarding and we all set realistic personal and group goals for the week considering ability, conditions, and our friendships, old and budding. These goals ranged from dream descents and routes in the area to games played in the hut and the duration of time spent in the sauna (and at what temperature).
Everyone was psyched at the stunning surroundings, and we collectively realized that despite the dynamic morning and overcast conditions, the day still held many hours of light in our new northern location. So, we just kept skinning to just below Friendship Col and a stark, dark metamorphic rock feature I began calling "the fin". Clouds got thicker and we all decided to flip it and head back to get cozy for our first evening in the hut. Folks split up and skied different lines with varying degrees of geological visual cues in the flat light. Vertigo was experienced and persevered through with laughs and snow-covered butts.
Powder and forest pillows were skied back down to the hut. My friend Claire and I eventually got the sauna stove cooking as per the chore board while dinner was made ready. Thus began a seven-day streak of going to bed well-fed, relaxed, happy skiers and splitboarders excited for the day to come.
Day One in Paradise
Day one is Lindsay's birthday! Without saying as much, we all donned tutus and similar costumes for a day of tree skiing in fog and snow. Everyone was doing that thing where you try to strategize a day-to-day plan that allows you to ski as much powder as possible without getting too tired to ski more powder at any point in the week. In two groups we skied pillows for hours in trees just below the hut. These would prove to be our most visited areas throughout the week and a most beautiful echo chamber for our powder and pillow-popping hollers, informative and degenerate radio chatter, and excited skin track conversations. We ate lunch on a moraine and skied til overcast dusk before heading back to where the sauna and birthday party awaited. 
New Friends in Fairy Meadows
Just as I sat down after hanging up my skins by the fire, a splitboarder cruised down the slope outside the hut porch. Coop, our resident splitboarder, however, was sitting next to me. Two more riders followed–one skier and one more splitboarder. We heard from the heli pilot that a group was attempting a 14-day Selkirks traverse and we packed in a cache for them. Well, here they were! Erik, Mike, and Dan (or "our international boys," as we would come to call them as each was of a different nationality) came in from the storm to something they did not expect to encounter.
The international boys were coming off a harrowing morning of route-finding and decision-making with Mike suffering from snow-blindness to a hut full of Americans pushing hearty drinks and hot food on them. We were deeply interested in their travels and plans and eager for them to join in the birthday festivities–a far cry from the anti-social occupants they encountered in other huts along their route. After some coaxing, they found the energy to join for a few celebrity rounds of extreme charades and were persuaded to do their first-ever keg stands once the birthday girl had her turn. They made their beds in half of the common area and we all slept deeply.
An Unlimited Powder Situation
Day two was cloudy and snowing again, so we went out to ski refilled trees. The international boys desired a rest day at the hut and took it upon themselves to gather water and do dishes after breakfast so the rest of us could ski powder together. Through gaps in the trees on the skin track, we saw our little home in the valley. We lapped trees and popped pillows like there was no tomorrow. I loved skiing my HyperChargers for their lightness while touring all day, their float in deep snow, and the confidence and stability they gave me pushing my limits in the air off of cliffs and pillows.
Day three we skied Canadian style, meaning we party-skied everything all at once. Before that, though, we bid farewell to our international boys. After a relaxing morning playing the Ecologies card game and gathering water from the creek, we began skiing slopes just above the hut. We would time our descents to patches of sunlight peeking through the clouds. We painted every panel visible from the hut with figure eights and overlapping tracks galore. Even as dinner was set to be served, a final sucker hole inspired a costume-clad lap with headlamps on. With so much pillow and hut-side skiing under our belts already, we wondered if and when the alpine might allow us safe entry.
Into the Alpine
Our first day of sun was on day four, and the getting was great. Our wishes for alpine days were answered. I was in a group of four who skied the Houdini main couloir. Throughout the ascent, we assessed snowpack, vocalized observations, checked in with comfort levels, and proceeded with stoke and caution. 90% of the way up we encountered some wind slabbing and decided to transition and ski an epic 1.5k ft. of steep powder. At the bottom of the curtain below, I heard my friend Nathan yell excitedly into the radio from our transition point in the couloir. Moments later his actual yell reached us where we stood. It felt great to ski something that felt substantially steep and push our comfort levels all while communicating clearly and openly, and to make the decision to transition and ski when and where we did.
The rest of the day we spent traversing back across the alpine watching our friends ski every possible line on Gog and Friendship areas. We finished the day with a fun lap through the Elevator Shaft shot through the lower trees. The sunshine stayed for the rest of our days here. On this night Benny, the delightful man responsible for all of our delicious meals, prepared a highlight dinner of empanadas from a friend of his in Golden, BC.
A Change of Pace
Most of the group was excited to interact with a glacier on day five. After so many days of skiing hard and partying in the hut, this fairy needed some alone time, and we needed a booter. Feeling stoked on jumping in a way that made me feel 19 again, I spent the bulk of the day scoping for a perfect spot and digging. Major criteria for the booter was: a mostly north-facing powder landing and visibility from the hut porch. I packed out an area to harvest building blocks from, smoothed out a platform, and began sidestepping the inrun. There was also ample time to just sit and look at the peaks and glaciers around me. I left the booter to set up overnight and the glacier skiers returned with excitement.
Our final full day was beautiful.
We set out at dawn to ski a hut classic loop. Up we went to climb over Friendship Col, traverse around Sentinel Peak on the Gothics glacier, and ski back down toward the hut over Pioneer Pass. The Gothics glacier terrain looked like a moonscape. The glacial ice on Pioneer Pass was strikingly blue. The skiing was, of course, cold powder, and we regrouped periodically on our way down to rejoice and take photos. The sun-affected snow lower down stuck to some of our bases, and the Voile CamLock 2 Carbon Ski Pole scraper had its time to shine while scraping off globbed-up skis. This loop was a culmination and celebration of all the goals we set individually and together–breathtaking sunrise alpine touring, steep col booting, glacier traversing, bergschrund hopping, pillow popping, and Canadian-style meadow skiing.
After some afternoon power napping it was time to actually hit the booter I built. I headed up there with a few others who wanted to hang out at the booter. We played music and danced. Nathan hiked up in Crocs. I scratched that ever-present itch to bump a shifty-three and threw in a few daffies and spread eagles off of pillows below on my way back to the hut. The rest of the crew up there took turns hitting the booter and Nathan recorded the first Croc descent of the slope behind the hut! We spent our final night in the hut together finishing what was left of the whisky and arguing over the best middle school dance songs of our youths.
The Last Morning in Fairy Meadows
On the final morning, we did a rapid cleaning and packing blitz. After the final dishes were scrubbed and floors swept we went for a final ski, Canadian-style, on the one slope we left untouched behind the hut. Everyone shared a gratitude, we thanked this fantastic place for the conditions we encountered and reflected that most everyone had reached some goal set at the start of the week. We skied together down to the LZ and the pilot radioed in to confirm his arrival time.
We facilitated the same switch-out workflow as the outgoing group did when we arrived, only we made no attempt to play it cool about the week we just had together. The incoming group had been on many hut trips like this before. Their arrival in this magical place seemed somewhat casual, which was confusing to us. Maybe their excitement was tampered by the visibility of our turns on every slope in sight. Who is to say? The flight out was filled with excitement at once again being in a helicopter flying through the Selkirks, and calmness at knowing a life highlight was coming to a close.
We arrived at the helipad to word from the international boys that they had completed their traverse! We sorted our gear, huddled and sang that one Vitamin C song, and hugged our farewells before driving to the nearest Tim Hortons along our routes home. A hut trip like this is the sort of adventure that takes a ton of planning. What happens on a trip like that, and the experiences and relationships that come about once at said hut cannot be planned for and is more in the realm of fairies in a meadow.
---
About The Author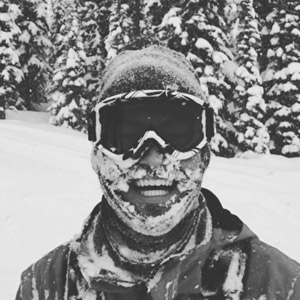 Location: Traditional Land of the Coast Salish, Duwamish people (Seattle, WA)
---
---
Garry's skiing career contains competitive moguls and big mountain skiing, filming park edits, alpine touring, ski joring, outdoor education expedition leading, ski patrolling, telemark skiing, and shop tech. They are eager to interact with volcanoes in, and get to know the Pacific Northwest after a lifetime of skiing in the American southwest.
In addition to skiing, Garry loves science education, the Grateful Dead extended universe, riding bikes, playing guitar, whitewater, and their cat Gnome.