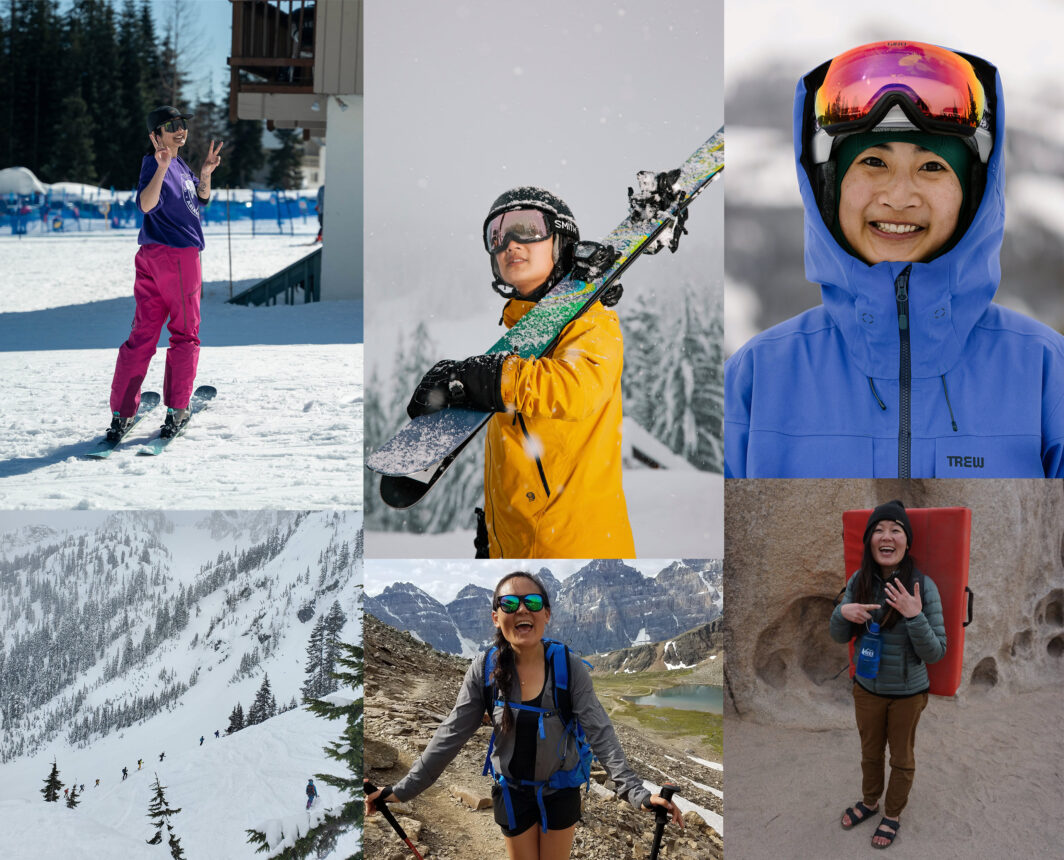 22/23 Wandering Trails Scholarship Recipients
Each year the most challenging part of running this scholarship is having to select recipients from a pool filled to the brim with incredible applications. This year is no different! It's truly amazing witnessing the bravery each athlete showed by sharing their stories with us.
We couldn't be more excited to announce Mai Li O'Keefe (Grand Prize) and Laura Wang (Runner-Up) as the recipients of the 22/23 Wandering Trails Scholarship for Women in the Backcountry. To all who participated in this scholarship, thank you for sharing your stories, thank you for trusting us to listen, and thank you for providing us with the inspiration to find our true selves in the outdoors while uplifting other people.
Continue reading to check out the winning essays…
---
Grand Prize: Mai Li O'Keefe
Portland, OR • Skier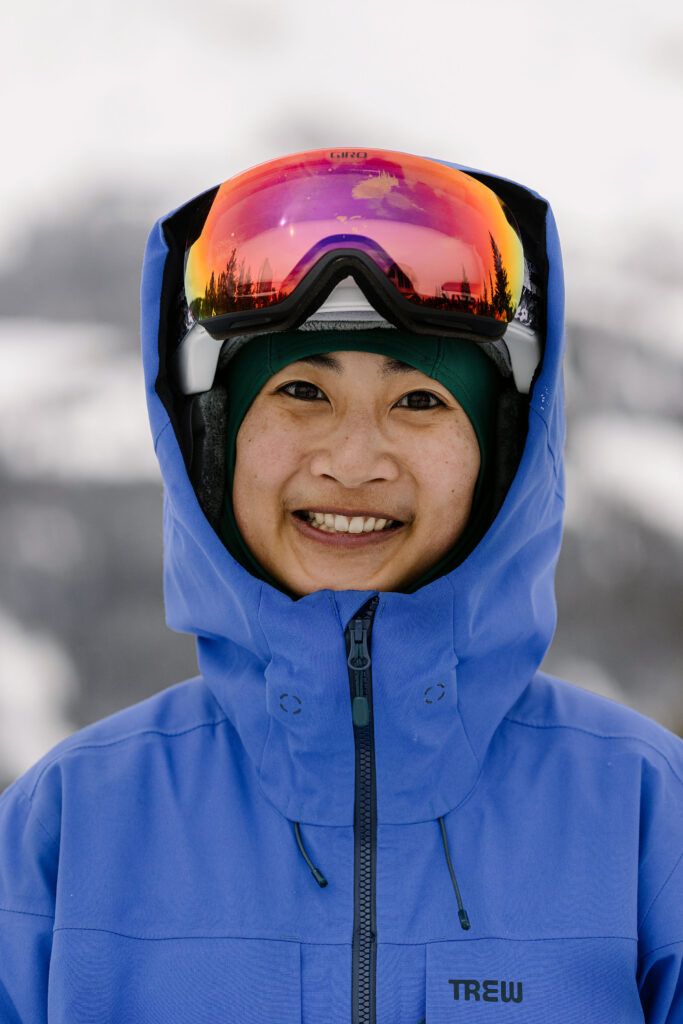 I'm a non-binary, AFAB (Assigned Female At Birth) Korean adoptee. I know very little about my roots or existence prior to my first flight at 3 months old. I am the only biological family I know, and I usually forget that a woman once carried me, that my body came from hers. Growing up in Wisconsin, I grew up without mirrors – I never saw myself in the people I could look up to. Women of color were nowhere to be found in my family, and there were very few in my hometown and the media I consumed.
Skiing never crossed my mind, and my family couldn't afford it anyway. When I moved to Switzerland for three years as a teenager because of my father's job, I didn't have a choice but to learn. The eight days I skied were on mandatory field trips, and they were filled with highs and lows. I wish I was more present to remember the wonder of the mountains. I do remember the otherness I felt in the hyper white, wealthy, and male dominated space more clearly though. It's something I've experienced more times than my days on the hill as an Asian femme-presentin person.
Over 15 years later, my relationship with skiing has completely transformed thanks to finding WTNB (Women, Trans, Non-Binary), BIPOC, and queer community – people I can see myself in. Throughout my reintroduction to skiing, I've had the honor of connecting with women, trans, and non-binary people that hold different intersections of identities and experiences. Skiing amplifies my gender euphoria and is one way I feel ownership of my body, but it is the community that has afforded me the safety to be myself. My body has felt phantom to me for most of my life, and many see my body as a woman's body. It has experienced similar change, pain, and growth to many other women. Even though I no longer identify as a woman, it's impossible to separate my woman-ness from my non-binary, Korean, adoptee, and skier identities. I am ready to take the leap from resort to the backcountry as my whole self.
Voile's support through their platform and scholarship enables me to:
Safely recreate with the necessary education, gear, and skills in the backcountry
Create more nuanced, intersectional mirrors within snow sports for women and non-binary people of color
Accelerate the disruption of patriarchy, whiteness, and colonialism within the ski industry by uplifting Open Slopes and other people/orgs we can bring with us
The barriers to snow sports, the same ones that strained my relationship to skiing, are undeniable. I am a proud co-founder and organizer for Open Slopes PDX, an equity-driven organization that drives spatial, cultural, and generational change within snow sports by connecting with BIPOC and 2SLGBTQ+ riders of all abilities. This winter, I received my PSIA level 1 certification through Women of Winter, my first experience in a women-centered space as a skier. I saw women taking care of each other – we encouraged, protected, and challenged each other. We created safety and empowerment for ourselves. As I gain access within the ski industry and backcountry, I will continue to extend that same access and care to others
The concept of "home" has always felt disorienting. Maybe home is not where you're from, but when you stop trying to run away from yourself. I continue to learn from my community made up of women, BIPOC, and queer friends, gaining more understanding for myself, my mothers, and other daughters. I want to deepen my connection to my home through skiing in the backcountry.
---
Runner-Up: Laura Wang
Bothell, WA • Skier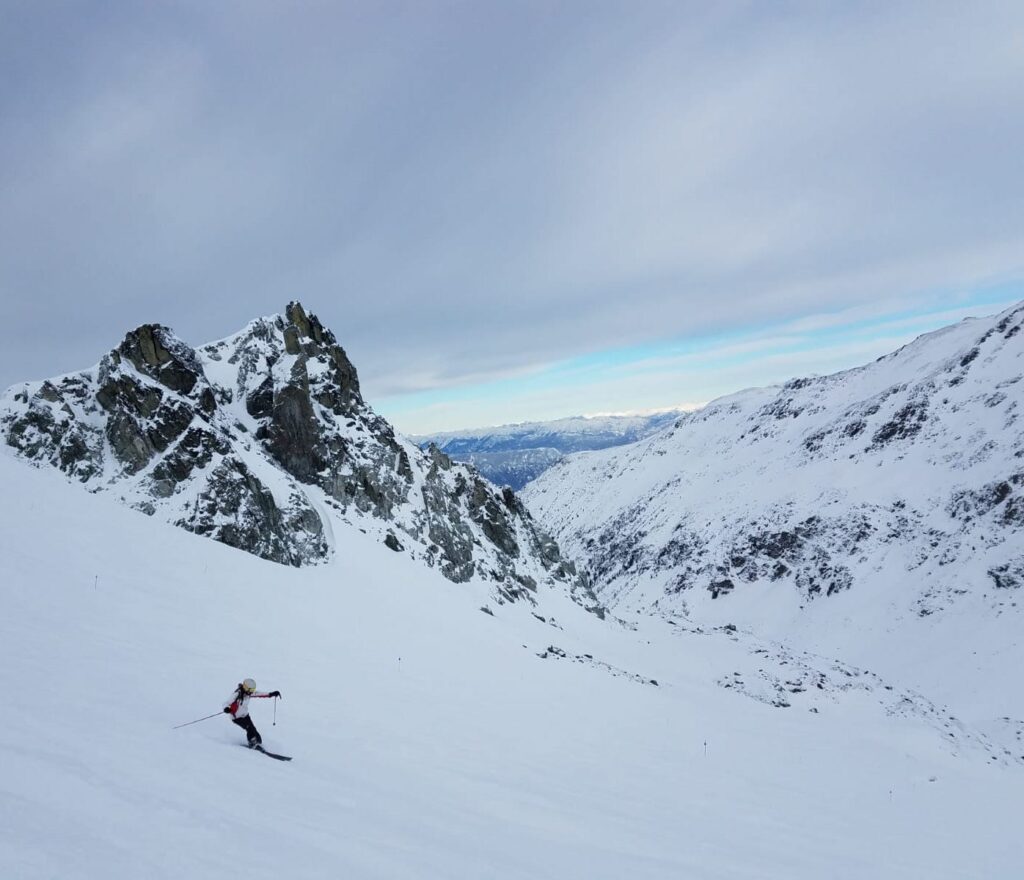 I like to believe in the concept of the inner self, outer self, and the complete version of you – and we're all striving for that authentic representation, for people to see us as we really are. In recent years, I have found that freeing expression among the mountains in the backcountry.
My outer self is an "achiever" – practical, giving, and efficient to a fault. I've worked and volunteered for climate-focused organizations for over a decade. I know how to get stuff done and solve complicated problems, often in rooms where I am the only female and person of color. The strengths of this version of me has taken me to the White House, to working in Samoa establishing new marine protected areas, to starting a new chapter of a climate nonprofit in California. There is no stopping or slowing down because the threat of climate change does not stop. This version of me carries the literal weight of the world on her shoulders.
My inner self, the conscious identity, yearns for the pure expressions of personality and joy that cannot be found in the spaces I work (where I feel bound by the pressures of solving our generation's existential climate crisis), but instead can be found in the wild and free spaces outside my doorstep in the PNW. This version of me embraces playfulness and hobbies, regardless of technical excellence – I may not be the most skilled at – well, anything, but I make time to watercolor in my sketchbook, try enthusiastically (and fall off) on boulder problems, and send two-foot "baby airs" rather than the steepest couloirs with a gigantic grin on my face.
The complete and authentic version of me is fully connected with the spaces I work so diligently to protect in my day job – unafraid to pair leadership and joy together. While newer to the backcountry compared to most Voile skiers, I have found this full expression most strongly in my experiences on backcountry trips so far – I am deliberate in my risk management process, and express my opinion in group decision-making. I am exploring beautiful places with diverse friends, fully experiencing and expressing joy as we choose our lines. My voice is clear, strong, and authentic, and not intimidated by an industry that can appear only for cis white men, often the loudest voices in the group. I am proud of my objectives, even if they aren't the tightest couloirs that Instagram well or the most challenging mountaineering routes that earn kudos on Strava.
With the Voile scholarship, I would upgrade my decade-old setup (Karhu skis that I've repaired with epoxy myself, heavy Dynafit bindings that keep pre-releasing, and discontinued Black Diamond boots) with the Voile women's Supercharger, to give me the confidence that my gear can keep up with my goals. I would like to further my education with an AIARE 2 course and continue practicing complex decision-making. With new gear, I would be confident enough to aim for objectives like Glacier Peak, and plan for multi-day hut trips with gear I know won't fail in consequential terrain. I would authentically share my experiences and observations with my community – not gatekeeping the spaces that belong to all of us, instead encouraging an expanded definition of what exploration and fun in the backcountry looks like – one that includes diverse faces, smiles, and snacks. As a recipient of the Wandering Trails scholarship, I hope to embody and further the hopes of Brooke Jackson and the Voile team in growing representation of women finding stoke and fulfillment in the backcountry.
---
The Voile Wandering Trails Scholarship for Women in the Backcountry Recipients were selected by the sum scores from the volunteer judge panel. The Voile Wandering Trails Scholarship for Women in the Backcountry Recipients consent to sharing their stories on the V Team blog and @voilemfg Instagram and Facebook. This scholarship is not endorsed or affiliated with Instagram.