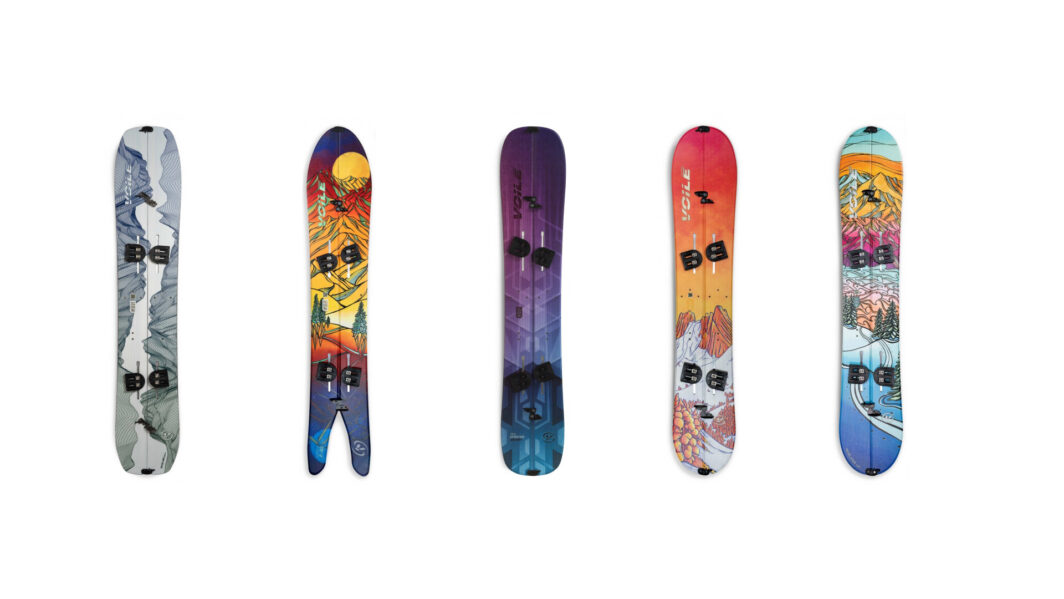 Voile Splitboard Shootout: Which Board is Right For You?
Here at Voile, we have 4 distinct Splitboard shapes in our lineup. Each one is geared toward a distinct feel and style of riding. Hence, there are a few notable characteristics in each board that help them specialize in these different categories. While there are riders out there who'd be comfortable with any of these boards as a daily driver, we want to try and match each one to its best-fit rider. Today we'll break them all down to help you decide which board is right for you.
Board Characteristics
There's a lot that goes into board design and we could spend a lot of time getting into the nitty-gritty. But, truth be told, most Voile boards share similar design elements with one another. For example, each Voile board is designed with backcountry efficiency in mind meaning they're all lightweight, directional, and float like a dream. Today we're going to focus on the following key characteristics and how they set each of our boards apart.
Our focus characteristics
Camber/Rocker Profile:
The camber of a snowboard determines a lot about how it rides. It impacts float, edge control, maneuverability, and even how the board grips while skinning. All Voile boards feature "traditional camber" underfoot to prioritize grip, stability, and control. Since all of our boards have camber, the differences within our lineup come down to the tip and tail rocker of our boards with some geared towards float and others geared towards complete stability.
Shape:
Within the Voile lineup, we have directional and directional twin-shaped boards. With that, a board's shape determines its turning radius which heavily impacts the way a board rides and the style of riding it's best suited for. We have boards optimized for powder, big mountain charging, and everything in between.
Flex:
The stiffness, or lack thereof, is known to be one of the most defining characteristics of how a board rides. This is also where we see personal preference heavily come into play. Most Voile Splitboards are built using Cap Construction which is known to add quite a bit of torsional stiffness to our boards. This is something that we see as critical for backcountry travel and riding. Additionally, it's pretty typical for those who like to make surfy turns, and slash their way down the mountain to like a softer board. Those who want to charge hard and value high-speed stability will like a stiffer board. If versatility is what you're after, you might want something in between.
Now that we've set the stage, let's dive in on what type of riding each Voile board thrives in and which one is right for you.
---
Revelator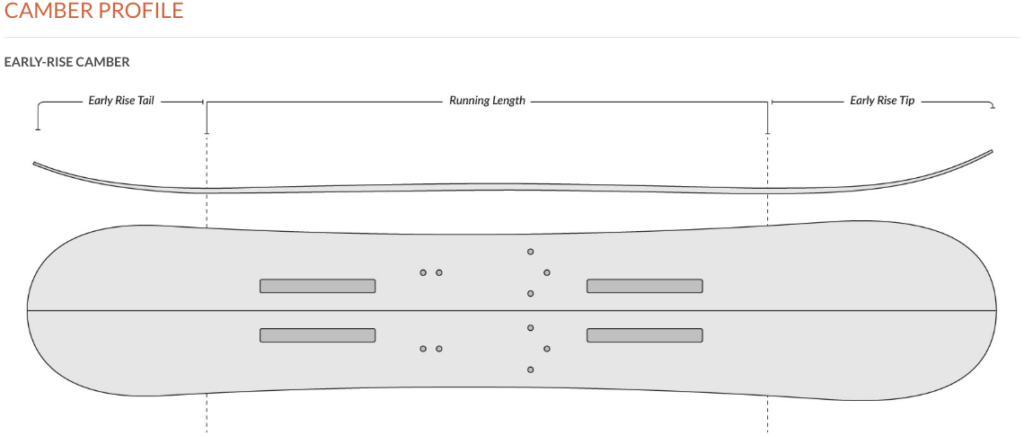 The Revelator is the longest-standing and most acclaimed board in the Voile lineup. This board comes in a 24.6-26.5cm waist width (dependent on length) and an early-rise tip and tail. The early-rise camber makes this an incredibly versatile board. The Revelator is best described as our "directional backcountry daily driver" with a knack for soft snow.
While the Revelator is a stiffer board, the heavily tapered shape allows it to remain forgiving and maneuverable. The stiff flex, longer turn-radius, and directional shape make this a board you can really lean into and carve around the backcountry on. If you're looking for a backcountry daily driver that you can really lean into, the Revelator should be at the top of your list.
*We also offer the Revelator BC which is the same board but with Traction Pattern Scales on the base of the board. You can find out more about Scale-based boards and skis here.
Key Words: Versatile, Stable, Float, Maneuverable.
Spartan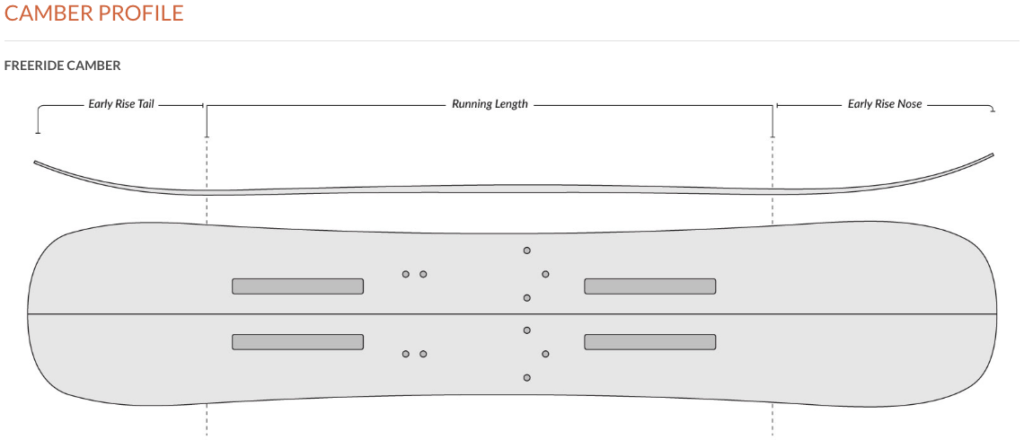 First, it's important we mention that the Spartan splitboard is offered in two separate builds. The classic "Spartan" and the "Spartan Ascent". Both boards feature the same dimensions, shape, camber, stance, etc… The difference between these two comes down to the construction which leads to differences in weight and therefore, price. We'll do a deeper dive into the construction differences between these two boards in a future blog post, but for now, just know that they have very similar riding characteristics and that we'll be focusing on the Spartan Ascent.
The Spartan Ascent is a lightweight "directional twin" made to take you far and still have a blast on the way down. If the Revelator is described as the directional daily driver, the Spartan Ascent is the playful daily driver. This board also finds itself on the stiff end of the spectrum, but with a shape that caters more towards a snappier, playful kind of ride. Compared to the Revelator, this board has a much shorter turn radius that caters to a more playful rider. If the Revelator is the carving board, the Spartan Ascent is the 'slarving' board.
If you're someone who finds themselves riding switch often and hitting every feature they can find, the Spartan Ascent is the right board for you.
Key Words: Playful, Float, Lively, Pivot, Surf.
Skyline
The Skyline started as a blank sheet design. It was created with one singular mission… design a split that rides like a solid. With that, the hard-charging, freeride-inspired Skyline was born.
This board sports a fat 26-27.9cm waist depending on length. That paired with two layers of carbon, and a continuous TPU sidewall makes for a stiff, damp ride. This is a directional board with Hardtail camber and a rockered nose to keep you on top while going Mach 10.
With the longest turning radius in the Voile lineup, paired with a stiff flex, the Skyline likes to drive a line and be ridden hard. If you're someone who likes a board that demands your attention and values stability over all other characteristics, then this is the board for you.
*The Skyline also features our latest and greatest Multi-Directional hooks to give you the feel of a solid board on a split.
Key Words: Charge, Stable, Freeride, Big Mountain, Beefy.
Hyper V-Tail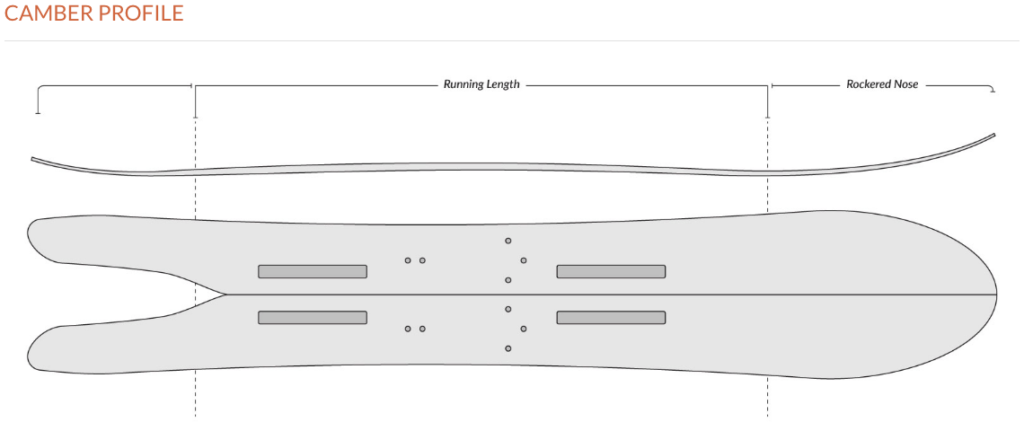 A truly unique board built specifically for unimaginably deep days. With a swallowtail and a rockered nose, the Hyper V-Tail rides much shorter than it appears. Don't hesitate to size up… the added length and long-running length will keep you on the surface making waves. The added surface area of this board also is known to make skinning through deep snow much easier.
This board has what we'd describe as a medium flex to help keep a smooth and controllable ride. The camber underfoot provides enough purchase to ride this board in variable conditions but… let's be real… this board was made for powder. If getting absolutely barreled is your thing, you should check out the Hyper V-Tail.
Key Words: Float, Surfy, Smooth.
---
Which Board is Right For You
Yes, that was a whole lot of jargon to throw at you in such a short amount of time. And truth be told, a truly deep dive would have potentially mind-numbing effects. But, the goal here is to tell you a little bit about how these splitboards feel on snow and why they feel that way. If we were to describe the best style of riding each board is meant for it would go like this…
| Board | Camber Profile | Best Fit Category |
| --- | --- | --- |
| Skyline | Hardtail Camber | Big Mountain / Freeride |
| Revelator | Early Rise Camber | Freeride / Powder / All Mountain |
| Spartan | Freeride Camber | All Mountain |
| Spartan Ascent | Freeride Camber | All Mountain / Freeride |
| Hyper V-Tail | Swallow Tail + Rockered Nose | Powder |
We hope that this blog was helpful and that you can make an informed decision on what board is right for you!