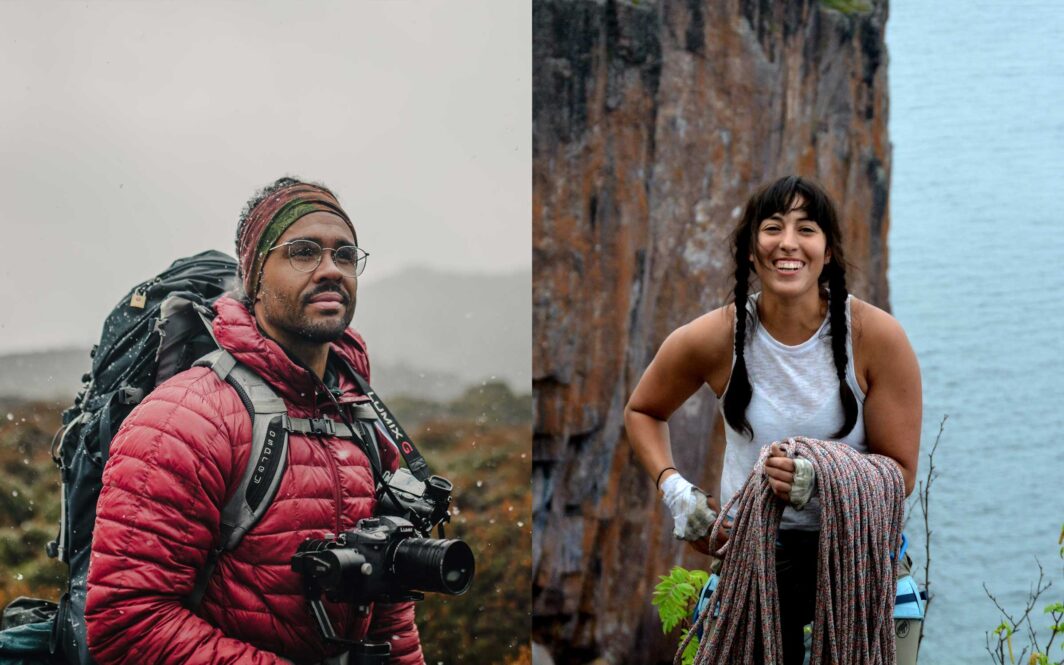 2021 BIPOC Backcountry Scholarship Recipients
First off, we'd like to give a big virtual round of applause to all who offered their time and effort to share their stories through these essays. Your participation in this scholarship has given us an opportunity to help work towards equal representation within the backcountry community. We'd also like to thank the BIPOC volunteers that helped judge all of the incredible entries we received. We'd be over our heads without them.
This Scholarship is a small step towards equal representation. We've learned a lot from reading these entries, and it's shown us both the number of steps that are ahead of us and why they're worth taking. Thank you for trusting us to hear you.
While it's been incredibly difficult narrowing it down to two winners, we're stoked to announce Ryan Wilkes (Grand Prize) and Janel Rieger (Runner-Up) as the recipients of the 2021 BIPOC Backcountry Scholarship!
Continue below to read the recipients winning essays…
---
Grand Prize: Ryan Wilkes (He/Him/His)
Calgary, AB • Black • Skier
As a Black filmmaker and adventurer, I recognize the importance of representation on both sides of the lens. Not only do we need more people of colour in the backcountry, but we also need BIPOC creatives who can document these adventures. As it stands, many stories of BIPOC adventurers are told by white folks whose lived experiences are vastly different than those of the subjects on the other end of the lens. The inherent disconnection between the BIPOC cast and white crew can lead to bias in the portrayal of the characters, whether intentional or not. Being seen and portrayed accurately is a key pillar in representation, and representation matters because it is very difficult to become what you cannot see clearly. If we want everyone to feel like they belong in the outdoors, we need more stories of BIPOC sending big walls and shredding the slopes, but we also need more stories of folks taking their first steps on a backcountry trail. I want to build a skillset that grants me the ability to tell the stories of BIPOC folks who are taking up space and finding joy in the backcountry. I already have the required filmmaking experience and adventurous mindset, and I am hoping to develop backcountry skiing skills this winter.
Although I was born and raised in the foothills of the Rockies, I rarely ventured into Alberta's mountains during the first 24 years of my life. My family was not an outdoorsy group, and I was rarely invited to join my friends who were already all experienced skiers, climbers, and hikers by the time they entered their teenage years. However, something changed when I moved to New Zealand in 2015 to pursue my Ph.D. By stepping into the unknown and leaving behind everything I had known in Canada, I was presented with a blank canvas on which I could recreate myself. I began exploring the backcountry of New Zealand and over the course of four years, I became an experienced backcountry hiker and even tried downhill skiing for the first time at the age of 26.
After experiencing my own transformation through exploring and immersing myself in the backcountry, I now have a desire to tell the stories of other BIPOC who are pushing boundaries in mountain and adventure sport. Whether it is someone from a marginalized community who is finding joy and a sense of belonging in the outdoors for the first time, or an accomplished BIPOC explorer on a mission to a first ascent, I want to be the one behind the camera.

On a surface level, receiving this scholarship will allow me to purchase a reliable set of backcountry ski gear that will last for years to come. More importantly, however, this scholarship will help me tell stories of BIPOC through a BIPOC lens, which is a take that is severely lacking in all alpine sports. There needs to be representation on both sides of the camera. We cannot keep having white filmmakers telling the stories of BIPOC experiences. Since returning to Canada in 2020, I have been working as a videographer and photographer with Colour The Trails. I want to be able to continue this important work during the winter months on backcountry ski missions and the only thing that I am limited by right now is access to equipment.
Thank you for considering my application, for creating this scholarship, and for giving someone the opportunity to experience the outdoors in a new way.

---
Runner-Up: Janel Rieger (She/Her/Hers)
Minneapolis, MN • Nahua Native-Mexican • Skier
The backcountry. This is a word was so was completely foreign to me until I was an adult. The backcountry and skiing to me describes a space that people like me didn't belong in. I grew up as Nahua native Mexican in a primarily white community in the Midwest. While other kids were playing outside and talking about their ski trips over the holiday, I was busy. My youth was spent being a translator for my Mom, working after school, and just trying to survive as a kid in what is known to be the least ethnically diverse city in America.
When I moved to Minneapolis, opportunities like climbing began to open up for me. I remember the first time I was in an outdoor space climbing. I looked around and it felt like I had this spotlight on me and it didn't feel so good. My journey into skiing and backcountry sports begins long after I found climbing but this moment became my gateway into my dream of alpinism and mentorship within my community. I decided my outdoor community needed more. I began by mentoring BIPOC climbers in my community. This sparked every bone of inspiration within me to do more. I began organizing BIPOC meet-ups and my local American Alpine BIPOC chapter was born shortly after this. We have since then created monthly meet-ups and climbing clinics to create community.
Here we are. My first experience in snow sports was ice climbing. I remember being so intimidated by ice climbing. I mean yeah climbing frozen water is scary but so was the ice community itself. The first day going to the local ice park, I looked around and saw tall white men, and well, they were not very welcoming. I heard as I was gearing up to do my first climb, I guess affirmative action has reached ice climbing now. I wanted to cry, leave, and hide. That was the moment I realized there is so much work that needs to be done in the snow sports community. So I strapped on my used crampons and for the first time, climbed ice. From the moment my ax was driven deep into the ice I knew this was going to be a long-term love. I became enthralled with researching alpinism, training, and learning everything I could to take the next step into alpinism. This past summer I used my training to climb Mt Baker and Mt Rainer successfully but began to realize there was a lot more to alpinism that I was not ready for.
As my dreams grew I realized skiing was the next step to becoming an alpinist. However, the times I went skiing at resorts I spent around $250 for skiing and ski rentals. I soon realized this was why I never even heard of the backcountry as a kid. I was surrounded by what seemed primarily white families and adults and they all kind of laughed as they saw me struggling to learn how to ski. This was not new to me as a BIPOC woman, so I persisted and since then have been able to ski locally a few times a month. This is where the Voile scholarship comes into the picture. My goal this year is to spend as much of my free time learning to ski with an aspiration to do my first backcountry ski tour at the end of the season. With my knowledge of skiing and alpinism, I want to begin mentoring aspiring BIPOC alpinists and skiers. However, skiing is incredibly expensive and as a Nahua native, a lot of my extra income still goes to my family in Mexico and back into my community that I mentor in rock and ice climbing. On teacher's salary, this does not amount to much money left over to buy a ski set up. This scholarship would allow me to have my own personal ski gear so I can focus on learning to become a skier and alpinist. This scholarship would allow me to develop my mentorship skills and pass on the knowledge of the snowy mountains to fellow BIPOC skiers and alpinists.
With the experience and knowledge I gain from pursuing skiing and alpinism I have big dreams of becoming a fully IFMGA certified guide. This scholarship would be a huge step on my journey in the ski and alpine guide disciplines. You see, in the backcountry spaces, there is still a large disparity of BIPOC women. The backcountry is dangerous, takes you to stunning places, and can be life-changing. This is why mentorship is so vital to our community. This is why I aim to change that disparity of BIPOC women in the backcountry. With the Voile scholarship, I can make my dreams of diverse and inclusive backcountry spaces a reality.