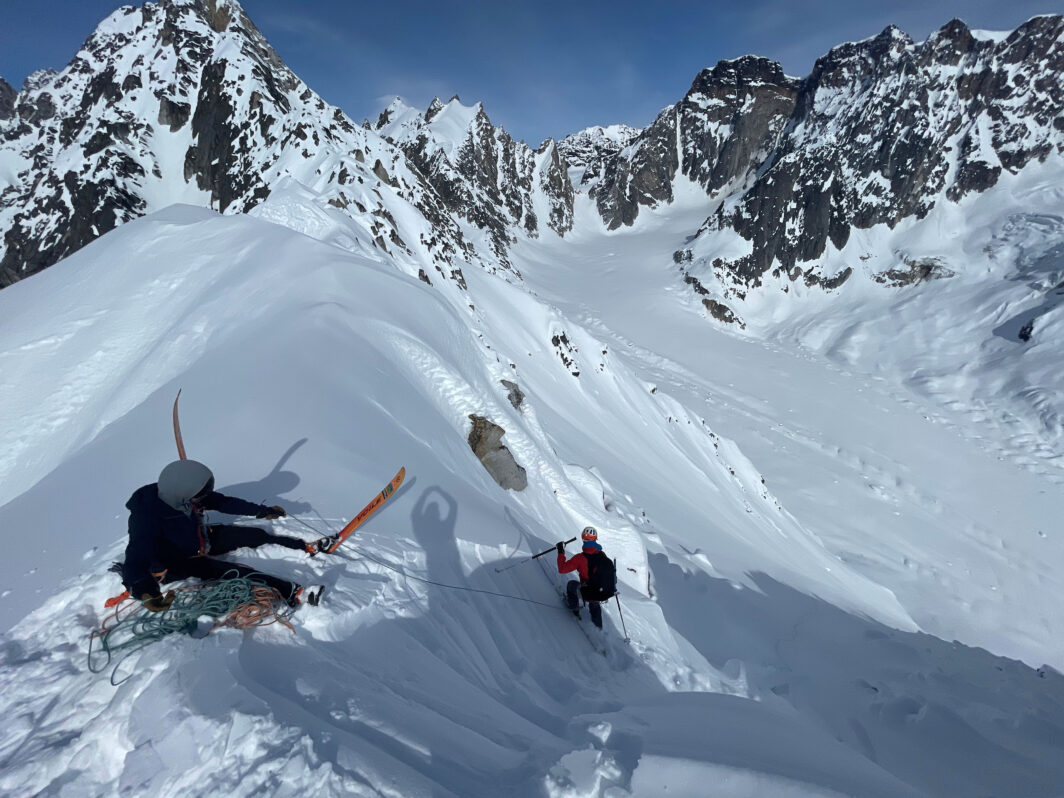 So you want to be a ski guide? Here's how it's done.
How to navigate the ski guide system
Somehow, at the ripe young age of 16, I was lucky enough to be exposed to professional mountain guiding. I remember the moment, 500' below the summit of Mt Lafayette in a whiteout when I resolved that a career in the mountains was to be the path of my life's work. Fortunately for me, I grew up in New Hampshire, where long-tenured professional guides have, and continue to, make a living full-time/year-round in all three of the professional guiding disciplines: Rock, Ski, and Alpine.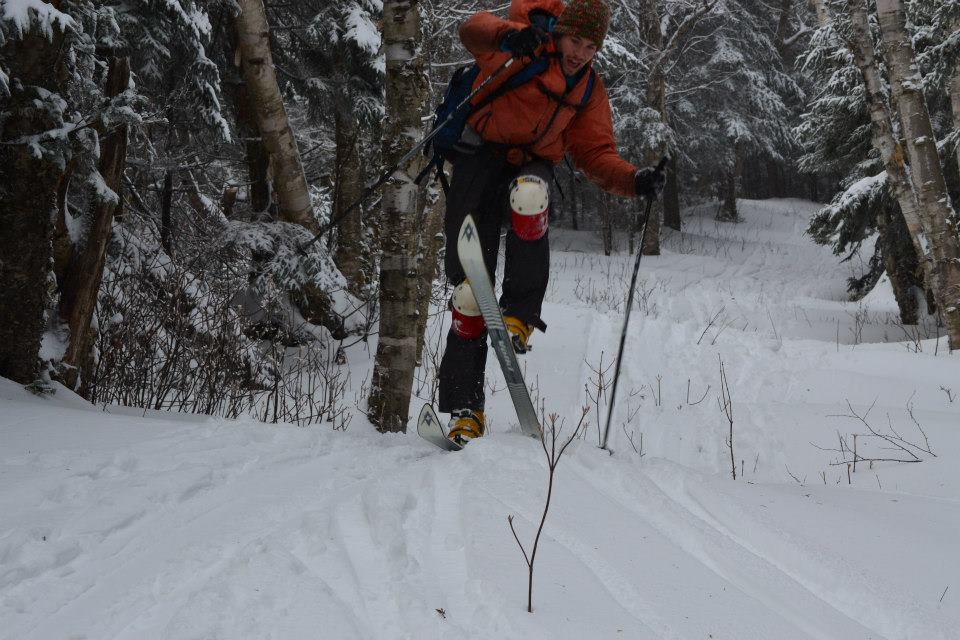 Now, 16 years later at the age of 32, I reflect back on the unique place where I grew up. I appreciate more than ever that I even knew this was a possible career path. Unlike other jobs, Mountain Guiding as a profession has a 'Golden Window' of time in your lifespan when you need to fully commit before you lose too much ground and are forced into other lines of work or professional pathways. Be it school, debt, injuries, housing challenges in mountain towns, or family obligations… the laundry list of reasons why you shouldn't become a Mountain Guide is longer than the many reasons why you should pursue something like Nursing or Firefighting (which are also really awesome jobs).
The "Typical" Ski Guide Origin Story
For most people who end up carving out a living as a mountain guide, their passion for skiing or climbing is what took them down that road. Most of my coworkers have a very similar back story.
They were interested in outdoor pursuits in college and became part of an outdoor club that included climbing or backcountry skiing.
They went on a big personal trip near the end of college that helped them decide what they wanted to do.
Then they lived out of their car until they either made it a reality or fell off the wagon.
Although the narrative above is exceptionally commonplace, I want to acknowledge the inherently high social-economic status this type of genesis story requires. In light of this, I felt compelled to write about how anyone with a skiing passion can, and should, find work as a Ski Guide.
Find your "IN"
In the world of professional mountain guiding, there are three disciplines recognized and overseen by the AMGA (American Mountain Guides Association). Although I want to focus on the ski discipline, the other two overlap enough to talk about all three together. Coincidentally, skiing is the most fun (obviously) and has the least number of professional opportunities (unfortunately). Therefore, jobs in the ski discipline are the most competitive. Below are a few ways to get "in" the professional world that eventually leads to work as a Ski Guide.
1) Find work in the Outdoor Education sector: Outward Bound, NOLS Etc.
I got my true start in guiding working for the Colorado Outward Bound School in the summer of 2011 just after I turned 21 (which is the youngest they'll take you). For four summers during and after college, I taught 2-3 week mountaineering courses for teenagers in the Colorado backcountry. Effectively working in the rock and alpine disciplines, I learned super important "bread and butter" skills and attributes of guiding. All of these attributes I carry with me to this day. Additionally, programs like these commonly have winter programs that inherently involve skiing. Winter 'ski and ride' courses for Outward Bound were my earliest jobs working as a ski guide.
2) Find work as a professional ski patroller at a mountain with a legitimate avalanche mitigation program.
It may take a few years to get to where you're using explosives, but since there are so few paid ski guiding jobs in the US where you have a snow safety meeting every morning, ski patrolling is about as good as it gets for entry-level jobs. Additionally, you have the advantage of learning about avalanches in a setting very few people are able to access. You get to test your avalanche hypothesis with explosives!
I started my Ski Patrol career to help subsidize my lack of consistent guiding work. Ultimately, I attribute my best learning opportunities to my jobs at Big Sky Ski Patrol, Porters Ski Patrol in New Zealand, and my current job at Bridger Bowl Ski Patrol. I also found out that I really like ski patrolling and, in some ways, it is better than guiding.
3) Find the internship.
Something that I never did but can see the merits of is doing the 'unpaid' internship. Not every operation out there has this type of program but there are certainly opportunities out there to mentor entry-level candidates into positions at guiding outfits with sustainable pathways to future work. One that comes to mind that many of my cohorts did was through Sun Valley Trekking in ID. Although this could be the right thing for you, I was never able to forgo an entire winter without pay. Because of this, I chose to get paid ski patrolling instead.
An alternative to committing to a full season of unpaid work is to find a friend who is a guide. You can then ask to tail guide them without pay. This one can be tricky and certainly depends on the employer. That said, I would say that this is a great option to maintain your current job and still gain mentorship.
Train to be a Ski Guide
In previous generations, Mountain Guides in the US did not have to have formal training or certifications. Most training and mentorship were passed down institutionally through employers, informally through mentors, or more informally through friends. Now, as of July 1st, 2022, the guiding industry is going through a historic change. Everything from here on out will be (sort of) regulated by the AMGA. The rules and regulations of how all of this will change are still a little grey and difficult to explain. The short of it is you now "really should" get professional training through the AMGA.
AMGA training is expensive and takes quite a bit of time, but you really don't have a choice. So, find a way to deal with it and get it done asap. AMGA courses are only going to become harder to get into and more expensive. This means the earlier you do it, the better. Additionally, look into applying for scholarships when applying for courses.
As of this spring, I passed my AMGA Ski Guide Exam which allows me to work uninhibited in the US and a variety of other countries with awesome skiing (like Canada). Being a certified ski guide also allows me to work under my own business LLC through the Certified Guides COOP which essentially provides affordable liability insurance to run my own private ski clients through. Although the hurdles of completing your guiding education through the AMGA are challenging, it's worth it. I learned a lot from every program and the money spent has been worthwhile.
*Visit https://amga.com/ski-guide/ for more information on the American Mountain Guides Association Ski Program.
Go Backcountry skiing. As much as possible.
The process of finding a job as a ski guide, and furthermore, a ski guiding job with enough work, can be exceptionally frustrating. The light at the end of the tunnel though is that I believe that it is becoming easier and easier to find a job as a professional ski guide. There are more people in the world willing to hire guides, there are more ski guiding companies looking for employees, and the Forest Service and public land agencies are issuing more permits for companies to operate backcountry skiing on. In the meantime, go skiing.
The best ski guides I know ski every day they possibly can regardless of if they have a day of guiding or not. Additionally, challenge yourself. Pursue ambitious personal ski trips that challenge you and your skill set. This will help you experience a variety of snowpack climates outside of your home mountain ranges.
To wrap it all up
In the end, Ski Guiding is an exceptionally rewarding job with some outstanding benefits. And, when you get work, the pay is usually really good for what you get to do. In fact, it's often twice as much as a day ski patrolling. If you don't figure it out the first time around, keep trying. I've been working as a Professional Guide for 11 years and no part of the process has been easy. If at first, you don't succeed, try again, and again, and again. In the meantime, go skiing.
---
About The Author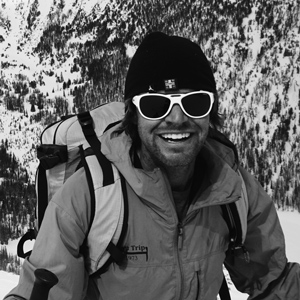 Ty Guarino
---
---
Ty is a career Mountain Guide and Ski Patroller currently working for Exum Mountain Guides, Mountain Trip, and Bridger Bowl Ski Patrol. He is a Certified Ski Guide through the AMGA, and continues to work towards his IFMGA accreditation. Originally from southern New Hampshire, Ty developed his passion for Backcountry skiing on the eastern flanks of Mt Washington in New Hampshire's Presidential range. Currently Residing in Bozeman Montana, Ty skis as much as possible in and around the greater Yellowstone ecosystem. Although Bridger Bowl is his home mountain, Ty likes to explore other skiing venues including Alaska, South America, New Zealand, and New England.