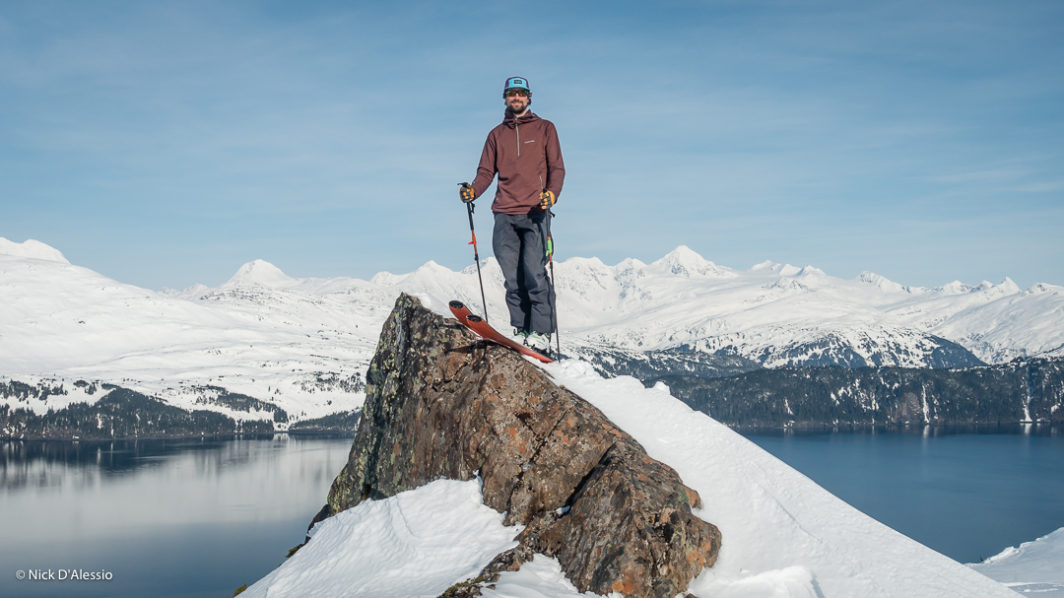 It's no secret that Alaska is famous for its skiing. When you visit, it is mind blowing how big this place is and how many different mountain ranges and diverse climates it offers. For me, living here for 13 years now I am committed to life in the last frontier. A common question I get from guests I guide is "what is your favorite peak to ski?" My answer is always "the one I've never been to before and there are lifetimes of those." This inspired our sea and ski experience in Alaska.
As of last year, I began teaming up with Babkin Charters to venture into Prince William Sound (PWS). PWS is a network of fjords, channels, passages, bays, islands and peninsula's resulting in a mountainous ocean playground. It's one of the most beautiful places in the world. Traveling by boat we access the Nellie Juan-College Fjord Wilderness Study Area of the Chugach National Forest. I'm grateful to have been able to experience several personal trips as well as guiding two ski trips so far into the sound.
My friend Nick and a typical view in PWS.
The Group
This March I was lucky to have a special group visit me for a sea and ski Alaska trip into PWS. My good friend from high-school, also named Nick, gathered family and friends together for a trip of a lifetime. Originally all from New England, the group flew into Alaska from their current homes of Boston, New Hampshire, Vermont, Jackson Hole and New Zealand. Once aboard the Babkin vessel we all quickly clicked with the born and raised Alaskan locals, Captain Alex and first-mate Maddy. So. Much. Fun!
Fit and healthy for 7 days of skiing in a row.
The group. Missing in the photo is Captain Alex and first-mate Maddy which where key components of the trip.
The Up
The ski touring was a total adventure. As we motored into a potential ski zone we scouted out our terrain options from the boat at different angles. We all pointed, picked and gave it a try. Most of the time it looks pretty straight forward. We landed at a beach or at a break in the cliffs. Often times, the hardest part of the day was getting up the vertical snow bank where the deep maritime snowpack hits high-tide line. Once moving up through the trees it continued to baffle me how challenging the terrain is in PWS. What you can't see from the water is the complexity of the lumpy terrain, cliffs, open tree wells and drainages. As a guide, I love the challenge, it's a never-ending game of route finding.
It's hard not to stop every single minute on the skin track to soak up the breathtaking views. With each step you gain a different perspective of the water below. The bay you ascended from opens up, new peaks pop into view, frozen alpine lakes, and as you gain elevation you can sometimes see across towards Valdez and Cordova to give you the awareness of how far away we really are from civilization. The views are remarkable.
Variable snow conditions was the theme of this trip. New Englanders are always happy skiing sastrugi, breakable crust, powder, and of course ice but we didn't have that.
Landing Bob to start our day. A two-meter vertical snow bank behind marks the high tide line.
Skinning up with our "hotel in the water" anchored in the bay below.
The Down
The sea and ski Alaska trip wasn't about maximizing vertical feet of skiing. Powder snobs would have been disappointed. Good thing the New Englanders could appreciate skiing the variable snow conditions we had. In the words of my friend Nick, after skiing breakable crust for a thousand feet, "that was the best ski tour I've ever done". PWS is not about the quality of snow, it's about the exploration, stunning views and enjoying the simple life out on the water. Each day had its own unique highlight, but by far the coolest day was viewing and listening to the blows from a pod of six Orcas (killer whales) moving through the bay as we were skiing down, 300 feet above the water. A speechless moment.
A beautiful day for a ski tour.
The Life
This was certainly a skiing trip but in reality, it's just one small part. The daily routine consisted of waking up at dawn to see the first light glistening on the water. Some boat yoga to get the body and mind fluid. Coffee with the captain to discuss the plan – not only is it about what ski slope we feel is appropriate for avalanche conditions but equally as important is where the boat will be anchored. If the winds shift and bring waves into the bay we must pre-emptively move to a bay without a wave fetch. Combining sea and ski in Alaska adds a whole other element to decision making that a backcountry skier isn't used to thinking about.
After breakfast we load up Bob (the dingy boat) and make a run to shore. Go for a ski and return to crack a cold beer strategically set in the snow. Back on our floating home we are welcomed with hors d'oeuvres, keg beer, and cocktails. Although, "Glacieritas" are the Sea and Ski Alaska drink of choice. Before getting a buzz though, a paddle in a kayak for solitude is a highlight. Watching sea otters, seals, black-tail deer and a plethora of bird life puts you in a state of meditation. Without the distraction of TV or phones, after dinner hours consisted of quality conversations, an abundance of laughter and good old-fashioned board-game tournaments.
When we began our trip the COVID-19 pandemic was beginning in the United States. It hadn't hit Alaska yet so I wasn't thinking much of it. Living in the backcountry without cell service we were able to focus on the moment, it was easy to forget about the reality of the outside world. Five days later we pulled into port on the mainland and it was an entirely different reality. It's amazing what can happen in five days, we had a completely new world we had to live in. That week was a turning point in the pandemic, life was all of a sudden very different. What I took away from this experience is that when you are in the backcountry, no matter what is happening in the world, everything is completely fine and normal. The natural world will continue as it is.
Sara and Sophie making sandwiches for a summit lunch.
Jeff pulling crab pots.
Sara getting fresh glacier ice fallen from a tidewater glacier for glacieritas.
Mia makes the move. Codenames was the trips board game of choice. We played until 3am one night and we still rallied for a ski the next day.
Guilty Pleasures
The current climate trend is no joke thanks to humans like us impacting Mother Nature. We all have mixed feelings about a trip like this. Burning jet fuel from Boston and New Zealand to the city of Anchorage, and using diesel fuel to travel within PWS to have this experience is certainly a guilty pleasure.
For me living in Alaska there is no question to the negative impacts of climate change. Anyone living near the arctic can see the physical change with open eyes and feel the reoccurring record-breaking high temperatures on their skin. Astonishingly there are still biases arguing these facts. The question in my mind is how many more years will we be able to ski to the sea? There is nothing like living in the moment and as of now I feel lucky to be living in the age where snow still meets the water.
What can we do about it? We all must do our best to take care of our planet and enjoy what the natural world can teach us. By far the most important thing we all must do is Pledge to vote for candidates that will act immediately on how serious our climate crisis truly is. Please get every single one of your outdoor loving friends to show up at the polls.
What can a business do about it? I hope that my small guiding business can be a mini model to being a responsible entity. One of the most powerful things I believe I do is share wild places with people who otherwise may not be able to experience them. When you experience wilderness, you connect with the natural world and thus you respect it. Human powered adventure is my passion but it still comes with a toll to our global carbon footprint. I've created an environmental initiative page that I share with all my guests after trips. Donating 1% for the Planet is one of our ways of giving back. Imagine a world where every business donated 1% of gross sales back to environmental organizations. It feels damn good and we hope there can be ski trips at sea level for many future generations.
Orca whale sightings on the move. We saw this pod of killer whales three different times.
Dan soaking up the view.
The Voile Hyper V8 was Nick's ski of choice for this trip.
V-Team member Nick D'Alessio lives in Girdwood, Alaska where he makes his living as an AMGA Ski Guide and runs his own guiding operation Remarkable Adventuress LLC and Alaska Guide Collective LLC. Of all the trips he offers, the Sea and Ski trip is currently his favorite experience to share with his guests.
All photos by Nick check out more photos on the Remarkable Adventures Blog- Sea and Ski Price William Sound.
About the Author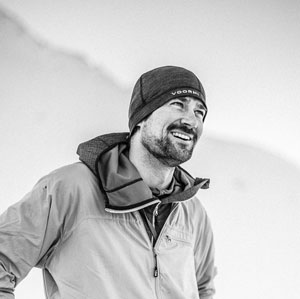 ---
---
Born and raised in New Hampshire, Nick began climbing and skiing mountains as soon as he could walk. His drive for wild places brought him to Alaska in 2007 and he never left. As an AMGA Certified Ski Guide, Nick teaches avalanche courses, guides backcountry skiing and ski mountaineering trips all over Alaska's great mountain ranges. His career has become his lifestyle and he wouldn't have it any other way. When not working, Nick is taking his enthusiasm deeper into the hills and rivers on personal trips. Nick loves to share his knowledge about safe mountain travel and looks forward to sharing his passion for the mountains with you.