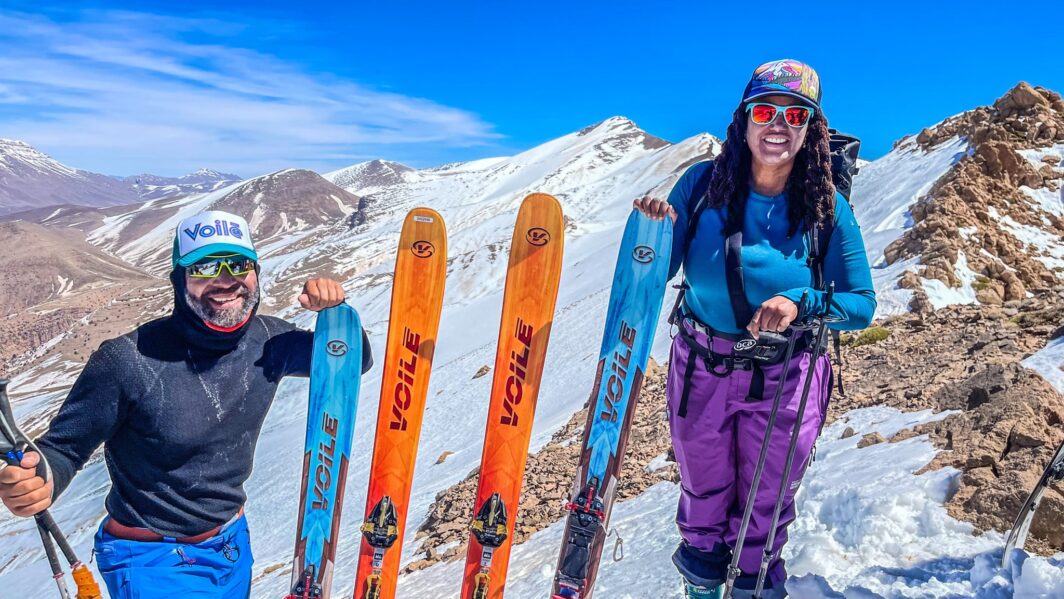 Project Ski Africa: Chicken Jousting in the Atlas Mountains of Morocco
Location: ZAWIYA AHANSAL Village, Morocco
Big Mountain Objective 1: JBEL AZOURKI, 12,070 feet
Equipment: Voile V8s (Telemark) and SuperChargers (AT)
---
Project Ski Africa
Cafe, sparkling water, and heat are the essential staples as we drive to our first ski destination of Jbel AZOURKI. Jbel means Mount and AZOURKI is the name of the mountain that we will ski for our first-day ski mountaineering in the Central Atlas Mountains in Morocco.
The land on the drive towards Jbel AZOURKI is what one might expect out of a desert. It's dry, aired, and very warm, contrasting to the Marrakesh morning nip and gentle frost in the breeze. Some of the lands are terraformed into sustainable farms and ranches. They're complete with donkeys and horses that clip-clop, burdened with work, through the occasional town we pass. The trees are Crayola crayon green and well-lushed for such a dry region. As happy as a Bob Ross-painted tree, they are stunted in their growth and present more like nappy-haired bushes which give little to nothing in the way of shade from the heavy sun that sits with its arm flung over your shoulder like a frienemy with ambiguous intentions.
The Approach to Jbel AZOURKI
For most of the car ride, I have been dozing in and out of sleep. Last night's sleep was restless, saturated in hot-bellied anxious energy in anticipation of tomorrow's first day of skiing. The anxiousness was that of my childhood experience of Xmas Eve. I would become so overwhelmed with excitement that I would often vomit in my bed. On this occasion, I could contain the vomiting episode and fall into an uneasy sleep dreaming about what my mind premeditated to come on the mountain.
Our driver, Ali, winds us up a narrow cliff-sided road where the rails are guardless. Only 1.5 cars can fit the width of the street which is more like a sidewalk-sized paved path that serves as a jousting runway to play a game of chicken with oncoming cars…
---
About The Author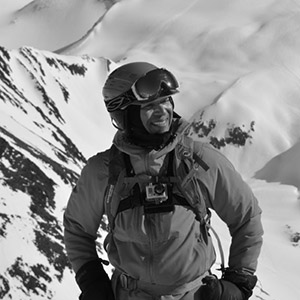 Mike Russell ("Tele Mike")
---
---
"Tele Mike" Russell has never seen a snowcapped mountain that he did not want to climb and ski. Fierce and soulful, Tele Mike is a big mountain Telemark Skier who is passionate about climbing technical routes and skiing exposed backcountry mountain descents on a global scale.

Tele Mike finds gratitude in guiding and showing anyone how to access the beauty of the mountain in a way that is safe, connected, empowering, and accessible, regardless of ability levels. His ultimate motivation is to amplify ALL voices in the backcountry ski community regardless of an individual's labels or demographics. And due to his African and Native American heritage, Tele Mike has meticulously curated countless mountain experiences for BIPOC communities which provides positive mountain experiences to underrepresented groups, in an effort to bring about sustained physical and mental wellbeing, and inner peace, while overcoming generational fears of open spaces.

Tele Mike also loves to use his artistry to create short cinematic heartfelt mountain adventure films to show people of color that there are other people adventuring in the mountains who look like them, enjoying safe open spaces.