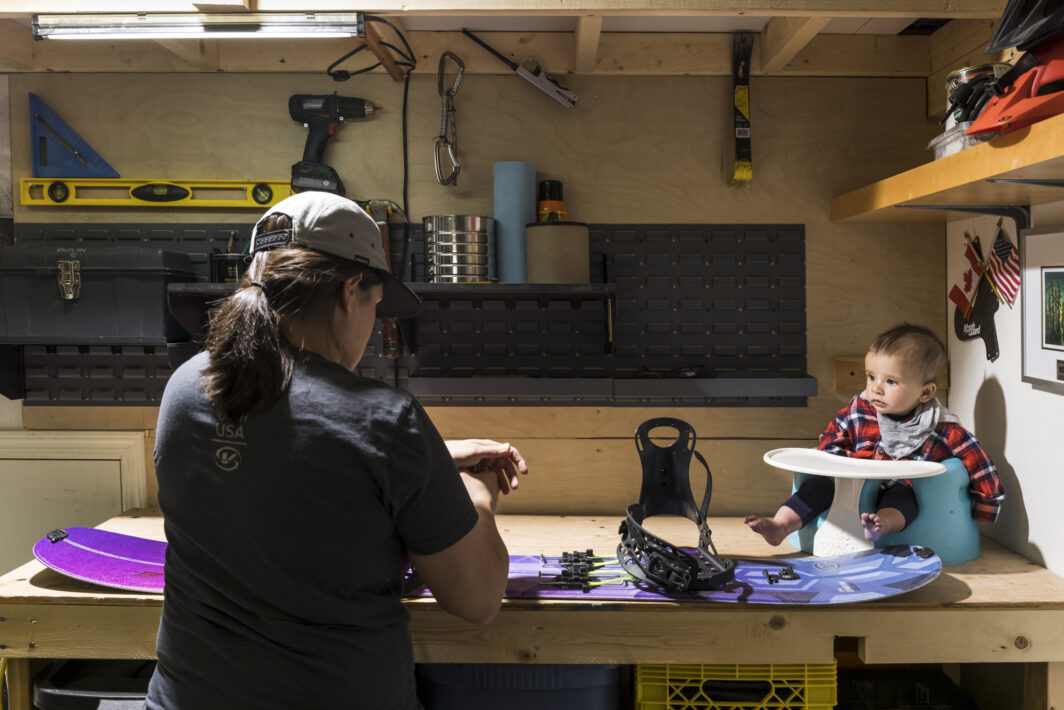 5 Tips for Motherhood in the Mountains
Motherhood in the Mountains photos courtesy of Ben Girardi.
This winter, I found myself consistently waking up at 4 a.m. Instead of alpine starts answering the call of the mountains, I was responding to the cries of my infant son. As I approached motherhood, part of me worried that I would lose my drive for splitboarding instead of adventures in the alpine, settling into the slower pace found in the valley. Thankfully, I have found that becoming a mom has ignited a new fire to pursue my passions.
I have been lucky to grow up surrounded by the Coast Mountains of British Columbia. From a young age, I found myself drawn to explore the mountains, seeking the feeling of being small surrounded by the vast landscape. Every time I go in the mountains I appreciate their beauty and power. Since becoming a mom, I have spent less time in the mountains, but my appreciation for them has grown. The feeling of awe I get from standing on top of a line is much like looking into my little guy's big eyes.
Here are a few tips that I learned as I navigated getting back on my splitboard as a new mom. Note that while I identify as a cisgender woman, becoming a new parent is not limited to this identification. I hope that these tips can help any new parent get back to the backcountry, regardless of how your child came into your lives.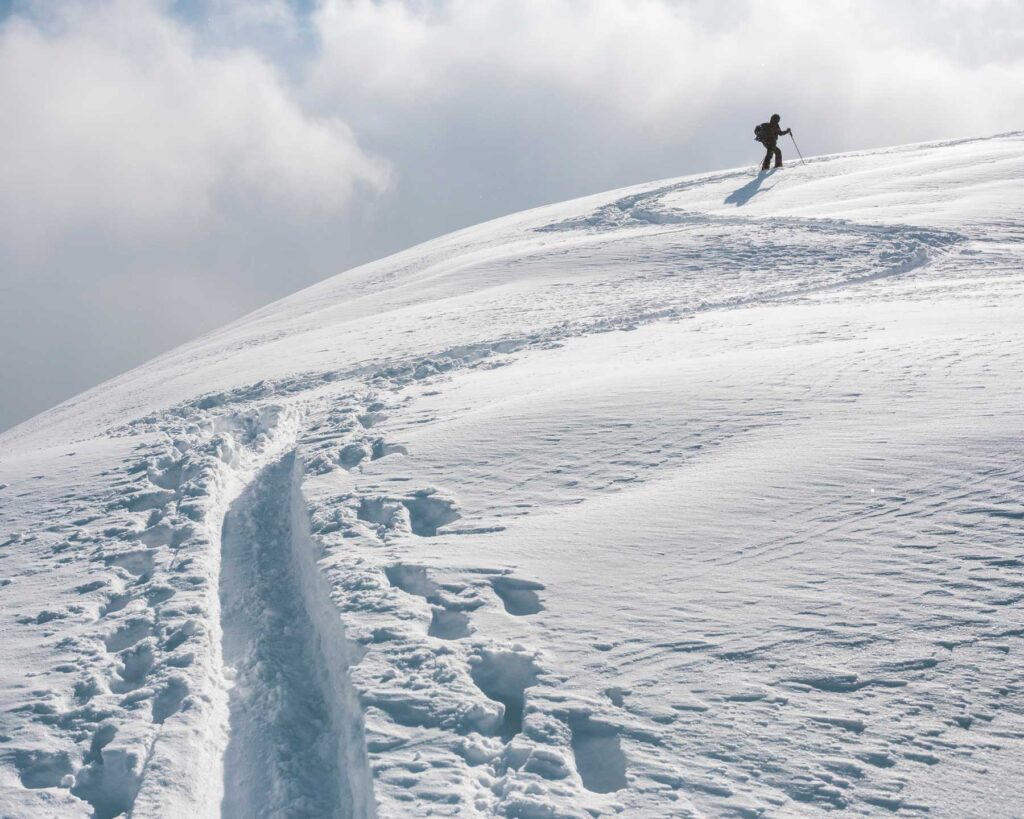 1. Build a strong foundation
After carrying and delivering a baby, your body might feel like it got hit by a train. Even if you did not physically carry the baby, holding, picking up and feeding an 8-10 pound bundle of joy can make you sore if you're not used to it! Everyone is different, and like many other situations in life, you need to listen to your body. Once you are cleared to get back to exercise, usually around six weeks, find a good postpartum specific fitness program to rebuild your strength and connect to your core muscles again. Ease back into exercise and honour where you are each day. Even if you did not carry a child for nine months, you are about to carry them for the rest of their lives, and a little daily exercise goes a long way for any new parent. Short walks around the block or 10 minutes of bodyweight exercises can feel like a big win with a newborn.
2. Get help
You have probably heard the saying, "it takes a village to raise a child". New parents also need a village to support them. This support might look a little different in our current COVID world. Thankfully things are starting to get back to normal, so once you feel ready, start saying yes to help! This might be simply a meal dropped off, so you don't have to think about dinner. When you are ready to get back out in the mountains, a family member, friend or partner can support you to provide childcare.
3. Set realistic expectations
Your first day out probably won't involve summiting a 14'er, and that's okay. Try to choose a short, easily accessible zone that you are familiar with. The first couple days out might only involve one or two laps, and that's okay too! Maybe you choose some lift-accessed splitboard terrain to get a bump into the alpine or play in some lower mountain pillows or glades instead of the high alpine. Small wins will make you more confident to push yourself a little more the next day.
4. Get the kids involved
Kids are always watching what is going on around them. Sharing your stoke with them will get them interested from an early age. While I can't bring my son out splitboarding yet, I did involve him by showing him my gear, having him watch me scraping wax and exploring the textures of my skins and temperature of my cold bindings after a day out. Hopefully, once he is big enough, he will be excited to come out and explore the mountains with his parents.
5. Communication is key
As with any backcountry activity, communication is key. Being in cell phone reception was a must for me this winter, in addition to leaving a detailed trip plan. Knowing that my partner could contact me if needed was necessary, so that ruled out a few backcountry areas this winter. While we have a SPOT device now, next winter, we will upgrade to the inReach to have two-way communication and go out of reception but still check-in at home.
While communication on where I was going, when I was expected home and being reached was important, I let my partner know when I needed a day on my splitboard. Being able to communicate my needs as a mom and as an individual allowed me to get back out on my splitboard and get my stoke back. Being a mom has been the adventure of a lifetime. Continuing to pursue my passions and live a balanced lifestyle makes me a better mom.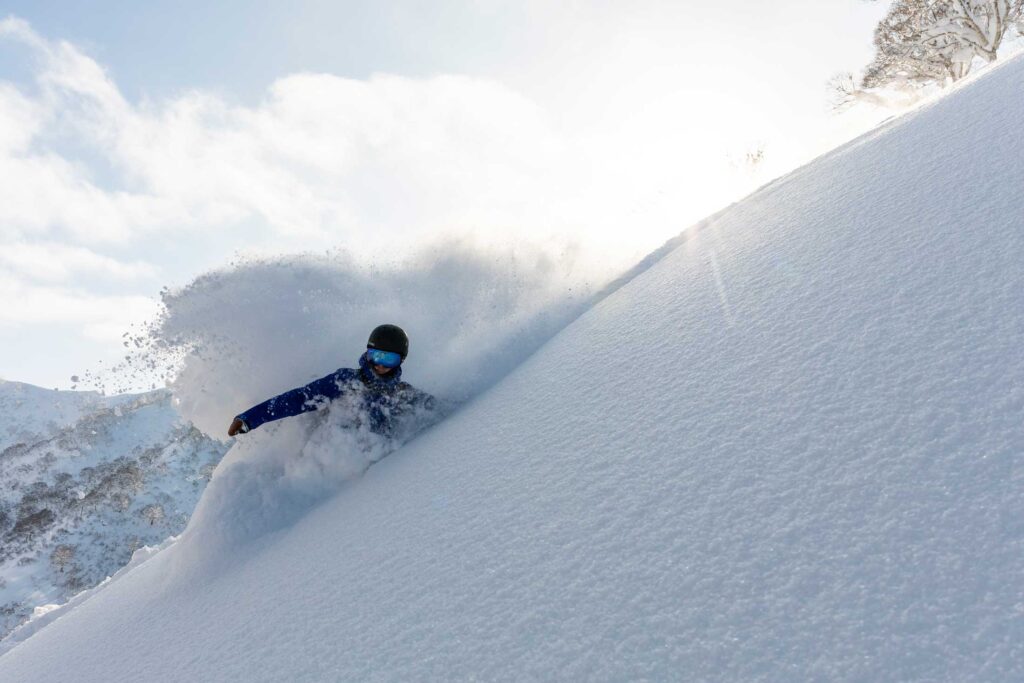 Hopefully, these five tips will help inspire you to get back out in the mountains but if you need more inspiration, here are quotes from two backcountry momma's who inspire me to explore motherhood in the mountains.
Other Tips for Motherhood in the Mountains
Tips from Cindi
"Listen to your body. Does it ask to move? Does it desire a walk up the mountain? Do fresh air, snow, and sunshine light your being up? Until that answer is a resounding Hell Yes; rest, trust your body. Soak up that skin to skin, get lost in your babies eyes, kiss those cheeks. Nothing else matters. The mountains aren't going anywhere. When that answer was a yes for me, I found it was a yes for my daughter as well. I wore her in a baby carrier, and we both enjoyed the skin track. It turns out she loves coming splitboarding too!" – Cindi Grant
Tips from Sara
"Getting back into the mountains was a priority of mine, not just because I love snowboarding, but because I knew the time outdoors was therapeutic for me. Being in the mountains gives me time to clear my mind and just be me. For a brief moment, I can let go of all the responsibilities of being a mom. This time away is needed for my sanity. Being out in the mountains is what fills my cup. I come home a better wife and mother. It's a win-win." –Sara Niblock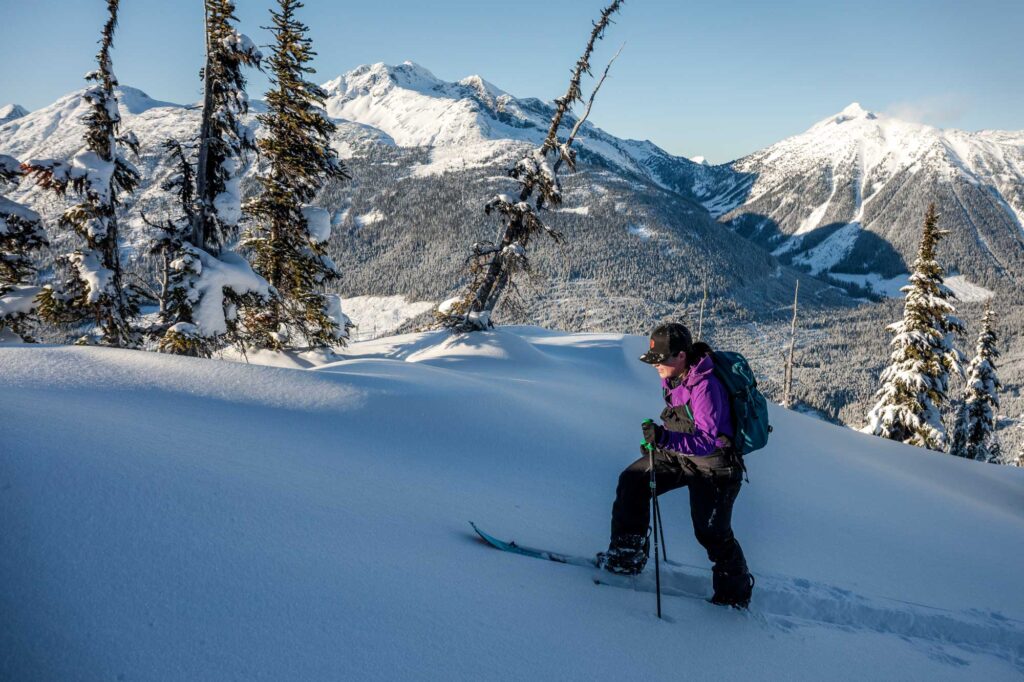 Getting back out there was a journey; it took time to heal along with persistency and consistency with my exercises to get my pelvic floor, core and full-body strength back. It's not something you can just rush back into. Pregnancy should be treated like rehabbing from any other major injury, it's a significant event, and there are so many changes to your body. You need to correct these dysfunctions to avoid injury in the future.
About the Author
---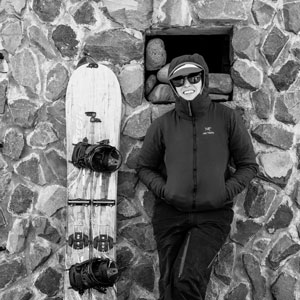 Jen Girardi
---
---
Jen grew up in the shadows of the Coast Mountain Range in Vancouver, Canada, and fell in love with exploring in the backyard mountains at an early age. It wasn't long before she was found herself traveling in the mountains on a splitboard. Now based in Whistler, B.C. Jen can be found discovering new lines or sharing her passion for the mountains as a coach. In the summer months, Jen can be found hanging out in the mountains rock climbing or flying south, chasing snow and adventures in Chile and Argentina.