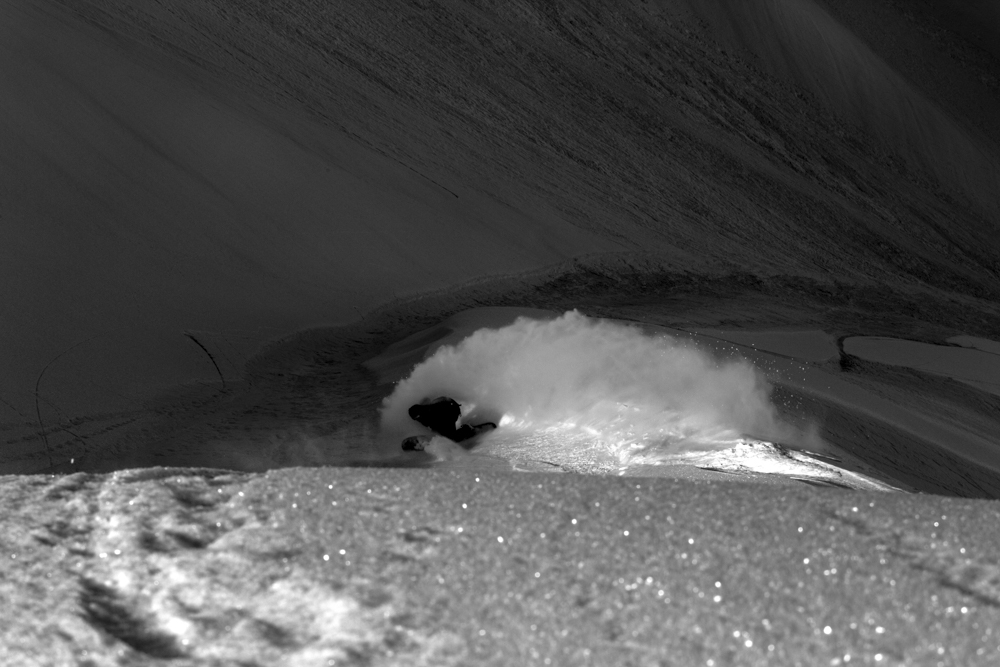 Weathering the Storm – Splitboarding the Tordrillos, AK: part 2
"Weathering the Storm" is a continuation of "Splitboarding the Tordrillos: part 1"
Feature photo by Zach Clanton.
That evening we got a weather report. Partly cloudy – scattered storms. The weather moves in off the Cook, 60 miles away and the closest place that had a forecast. We decided to start building a snow cave to move our camp kitchen into just in case scattered storms morphed into a Tordrillos storm. We were on a flat glacier and wouldn't put camp under any avalanche terrain. Being flat required us to dig down, in, and then up to build it properly. Verses our usual snow cave design, digging into a hillside. Our backs were sore when the sky went dark with milky clouds overhead. We made enough room to protect our stove and food, then we went to sleep.
In the dark am hours, I awoke to the tent wall slapping me in the face from the howling wind. We had built a wind wall for the typical down glacier winds but this storm was violently moving up glacier. Franticly we got out and attempted to build a wall before we lost our tent. At one point I had my heals planted into the snow against the wind and I was pulling the guy lines with all my body weight to counter the force. Zach tried to build blocks that would instantly get annihilated and blown away. After awhile of this seemingly hopeless chaos an idea popped into my mind. We dumped everything out of the plastic totes we had brought to transport our food. Leaving it all in the cave, we shoveled snow and packed it into blocks forms like I had done while building an igloo back home. Our solid block wind wall went up quickly and became a huge morale boost. A 360 degree, five-foot wall went all the way around our tent as a result.
Dining in the cave kitchen was peaceful and the shelter from the storm was welcome. It was so quiet inside that it would mess with my mind. The light coming down the entry tunnel almost looked like sunshine and I would go to check only to find the storm still raging. Our primary two-burner stove had sprung a leak and we were fully reliant on our only single-burner back up stove for making food and water melting, a tedious task.
I lost track of the back to back survival shoveling days and although we were sore, after a time, the pain blended into it all. It was snowing up to 5 inches an hour when the snowing would peak, a rate we didn't know existed. At that point we would get up in 3 hour intervals during the night to shovel so that our tent wouldn't collapse from the pile up. We even built a half igloo we deemed the shit-gloo after too many occurrences of frozen asses and snow filled pants. The wind wall we were so proud of soon became an endless pit to huck snow out of.
There were a couple of nights that I will never forget and none of us slept. We could feel the vibration as a natural avalanche cycle poured off the peaks around us. We heard over 20 large natural avalanches in every direction. Although we had picked a safe camp spot, it all came into question when the entire drainage started ripping loose. The thought of sleeping with my beacon on occurred to me but would have only been useful in body recovery had we been buried.
One morning I awoke in a puddle, my inflatable sleeping pad had gotten progressively worse through out the trip and now it was simply flat. A minimal closed cell pad was the only thing stopping my sleeping bag from being soaked with the melted snow we had tried to keep out. I started to pack my gear so that I could transfer it to the cave and get the water out of the tent.
But wait? A puddle, not ice? It took me a minute to realize the sun had poked through the white abyss. The more I packed the more the clouds cleared and we got a satellite call out to our pilot promptly. He was leery of bringing the big beaver plane that would fit us all because the snow was so deep. His decision was to fly the beaver into the Tordrillo Mountain Lodge 60 miles away. From there he would fly a small one-passenger cub that was lighter and had less of a chance at getting stuck in the deepness.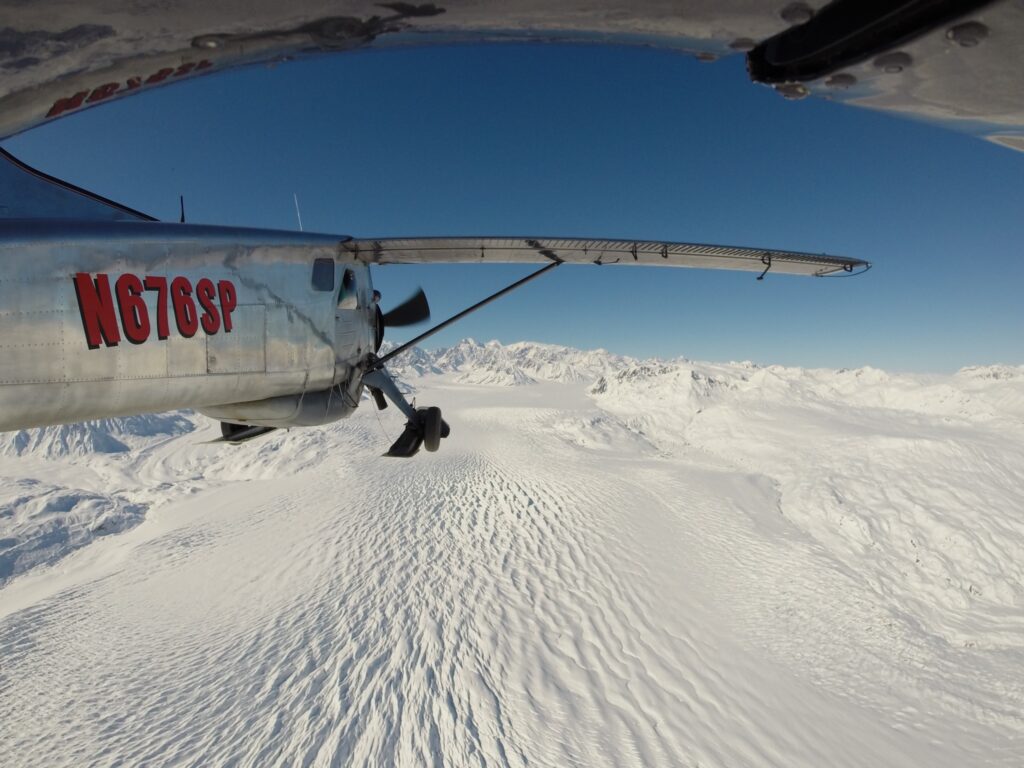 As a side note, he informed that a climbing team had been in the same storm but all their gear was blown away. They survived on one stove to melt water and one meal for 3.5 people (turns out she was pregnant) for 3 days when the military finally extracted them with a flight-by-instrument (no sight) helicopter. Our scenario wasn't so bad, but the storm caught a lot of people off guard.
Our trip ended up being 3 days of glory and 6 days of surviving. A pretty good Alaskan ratio if you consider all the stories of people getting skunked with only storm days.
Ben flew in and wanted to extract us one at a time with our gear. After some argument I refused to leave Zach alone and so Kelly went first. As soon as they flew away the clouds rolled back in. Zach and I prepared to sleep inside the cave for the night. An hour later we heard the buzz of the engine! He landed with little visibility.
In a big hurry to take off he wanted to take me out. Again, I refused to leave Zach alone. The storm was building and I was worried he couldn't get back in. Instead we pilled our gear up in the snow, put a GPS waypoint on it, and ditched it all for a later recovery mission. Zach climbed into the passenger seat and I crawled into the cargo compartment to sit facing the back of the plane. With a sigh of relief, we flew off into a cloud shrouded pink sunset.
Throwback: splitboarding adventures with the Grants.
---
About the Author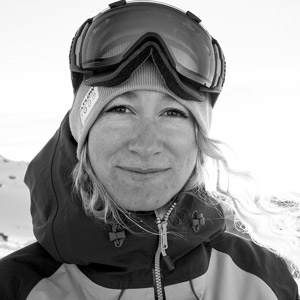 ---
---
Cindi is a professional splitboarder, mountain guide, writer, yoga teacher, and Wasatch native with a feverish passion for connecting with nature. As a young girl, Cindi Lou met her life partner Zach and dedicated her life to living fully through snowboarding. With a couple decades of backcountry experience and various guiding certifications her passion is to inspire others to experience a reconnection with the natural world. She resides in a ride in/out backcountry cabin, she and her husband Zach built. It is a simple shed roof home that is completely snowbound, has world class touring from the doorstep, a yoga studio, mountain spring water system, and is filled with natural light. When she is not at home, she loves splitboard expeditions and exploring remote mountain ranges.