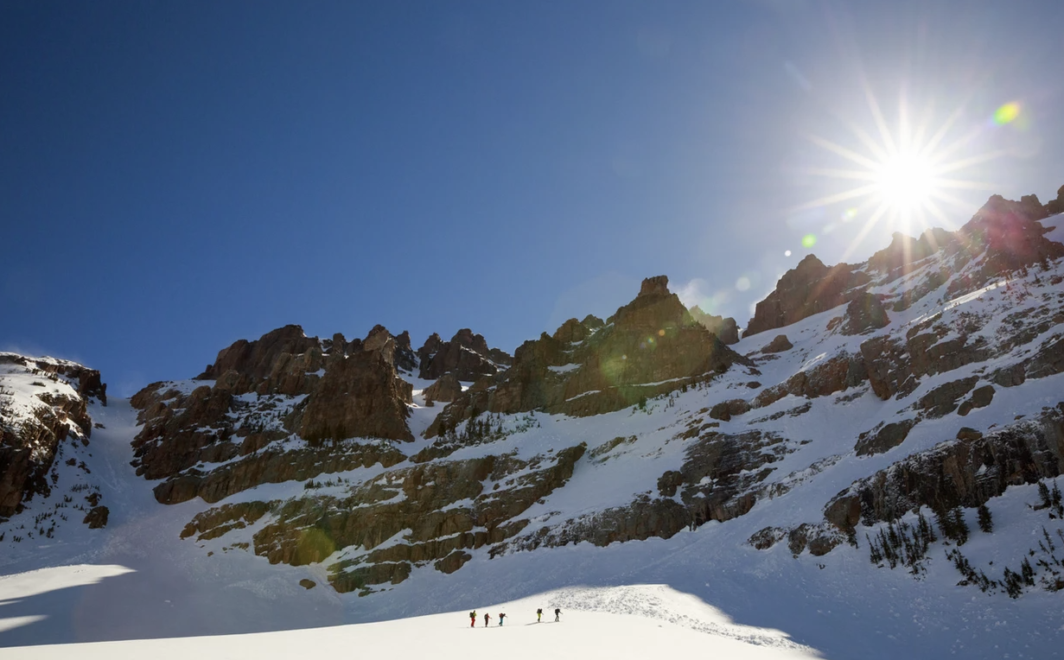 Guided Ski Tours in Utah with Inspired Summit Adventures
GUIDED YURT TRIPS
V: In addition to providing avalanche education for White Pine Touring (based out of Park City, Utah) Inspired Summit Adventures also has exclusive rights to guide out of their Castle Peak Yurt.

S: Castle Peak Yurt is up at 10,000 ft on the western slopes of the Uintas. We do guided and catered yurt trips out of there. And this year, we've been booking those trips like crazy!
V: It's a bit of a slog to get out to the Castle Peak Yurt. Do you access it with snowmobiles?

S: Yeah totally! We have sleds with toboggans. So all the gear goes in the toboggans and all the humans ride on the machines. We get up there in 30 minutes versus the 5 hour slog.

W: Mother nature willing.
S: We've only had to change plans once for a yurt trip. It was last year during the huge avalanche cycle. We couldn't get up to the yurt and the reality was the terrain we wanted to ski would not be available to us anyway. So we just punted and were able to do a kick-ass, three-day, sled access ski touring trip with this couple of ladies. It was awesome! They were psyched!
W: There's good skiing, but then to get to really, really good skiing, if you have a sled and bump it just a little bit further, then it makes the access insane!
S: Yeah last year we had a couple of guys we were guiding and we were both hellbent last season, "Like I know there's this lichkin piece of terrain that we are missing accessed via the yurt." We had the right group to be able to push into some new terrain with them and we found the Holy Grail of terrain!
W: And it's like a couple-mile sled ride from the yurt. So you wake up, you get on the sled, and then you're there.
W: We also offer a Yurt Mentorship Program. So that's another one where people can be intimidated by the idea of winter camping, even though it's not quite camping. But it can be a little bit more immersive of a program doing it at the yurt. We take all the materials up there and what not.
S: We don't upcharge for the mentorship program. People pay the guided yurt pricing and then you get the mentorship as a good service add on.
V: And the yurt trips are three-day programs as well?

W & S: Yup!
V: You mentioned having a covid-free summer of guiding. Will yurt trips be offered this winter?

S: Yeah, we had a really successful summer with overnight trips where we got to practice protocols and things like when to wear face coverings, personal hygiene, and stuff like that. This makes us feel good about opening that yurt up as far as guided groups go. And since all of our yurt trips are private, that also makes us feel confident moving forward.
Learn more about their Guided and Catered Yurt Trips here.