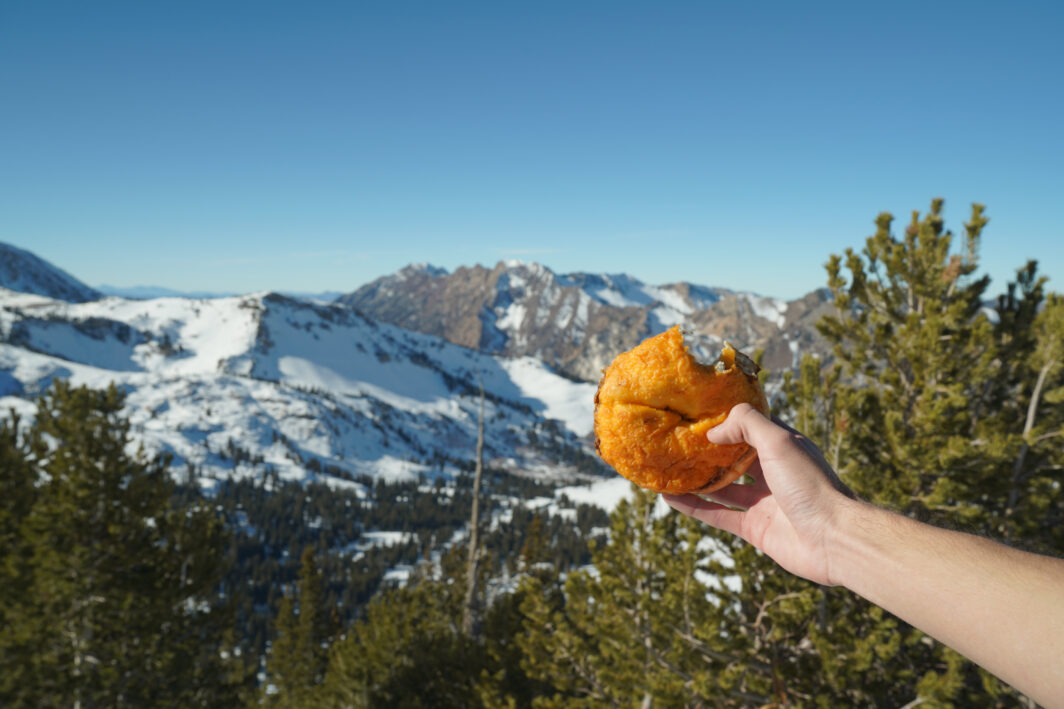 Snack Time! Our favorite backcountry meals, and why.
Unless you're a modern-day Davy Crockett, odds are you're deciding what food you're going to bring into the backcountry from the comfort of your home, tent, or van. And that's ok! As a matter of fact, this opens the door for many unique backcountry meal opportunities. From a protein bar to a "charcuteski" board, sardines to a sandwich, last night's leftovers to a gas-station burrito, anything is possible.
We decided to ask some Voile Staff and members of the V-Team "What are your favorite backcountry meals and why?". Some of the answers make sense, some are plain ridiculous, and some may level up your snack time. Just remember, if you can carry it up, you can eat it on the summit.
What Voile staff have to say…
Luke, Video Guru
"My go-to skin track snack is either a cold Albertsons sandwich with a ginger beer or a homemade breakfast sandwich on a cheese bagel. I also like to carry a Nalgene of hot country time lemonade."
Hayley, Customer Service Sensei
"Long tours, my bag is loaded with the necessities… PB&J (preferably smushed and chilled), Gummy Fruit Snacks (Dinosaur shaped, Kroger brand), Bread, Cheese, and Salted meats. Speed might be slower than normal on Strava due to the snack weight, can of whoop-ass, and celebratory Miller High Lifes."
Shane, Wax Wizard
"Back in college, my buddies and I would get Taco Bell 12 packs and cram as many as we could in our pockets. I would also mix top-ramen flavor packets into small bags of tortilla chips for an "on the go" snack. Once I realized my sodium intake was absolutely through the roof I began to switch it up. Now, one of my favorite backcountry meals is those little squeeze pouches of apple sauce made for toddlers with the occasional Jolly Rancher to keep my mouth from drying up."
Ian, Ski-Tech Extraordinaire
"Fig bars on the skin track. Always rolling with fig bars. For the summit, I like to have overnight oats mixed in peanut butter for the sugar boost, sustenance, and taste!"
What our ambassadors have to say…
Aidan Goldie
"I strongly believe that the Empanada is the perfect summit snack. They hit a nostalgic note for me as Empanadas have deep cultural value in Chile. I grew up eating them. In terms of calorie and nutrient recovery, they have everything you may need: fats, salt, proteins, and carbs all wrapped up in a delicious package. By design, they are enveloped in a tasty pocket of dough so they can survive the journey to the summit. All in all, Empanadas hit everything I look for in a summit snack. They give a cultural reminder of the people attached to that food."
Ann Driggers
"My favorite skin track/summit snack is a Gingerbread RX bar and a thermos of Mighty Leaf African Sunset tea. My favorite apres is at a hut: fondue made from scratch with fresh baguette and apples (include fondue pot hauled in a pack) accompanied with bacon-infused maple Old Fashioneds."
Iain Kuo
"Honestly, my favorite summit snack is whatever happens to be available to grab when I run out the door. I like to do a lot of things, but grocery shopping and cooking really are not among them. My go-to is dark chocolate-covered almonds, chocolate peanut butter cups, and dried mango. I love that ski touring all day allows me to eat as much of those snacks as I want with impunity. Salami and cheese really hit the spot too – low effort, maximum yumminess, and caloric density!"
Jen Girardi
"The best backcountry snack I've had was when my friend pulled out a bag of bacon and passed it around. Can't go wrong with bacon! For a less indulgent snack, my go-to is peanut butter, honey and banana spread on a tortilla and rolled up. Quick, easy, and nutritious."
'Tele Mike'
"I love to eat these Coconut bars from the Butterhorn Cafe in Frisco, Colorado. Easily one of my favorite backcountry meals. The decadent taste of these bars' motivate me to get to the summit just to have my snack. Each bite is a mouth-melting combination of coconut, milk, sugar, butter, flour, sugar, vanilla, sugar, cinnamon, and salt. Butterhorn also makes excellent lemon bars and pecan bars. After having any of those sugar quenching bars, one has likely eaten more calories than burned on the skin up!"
As you can see, backcountry snacks can vary greatly from one person to another. Our advice would be to take a little inspiration from each of these. Maybe find something to help push you through tough ascents and something ridiculous to treat yourself with at the top. If you have a backcountry snack you're particularly proud of, let us know and we might give it a go.