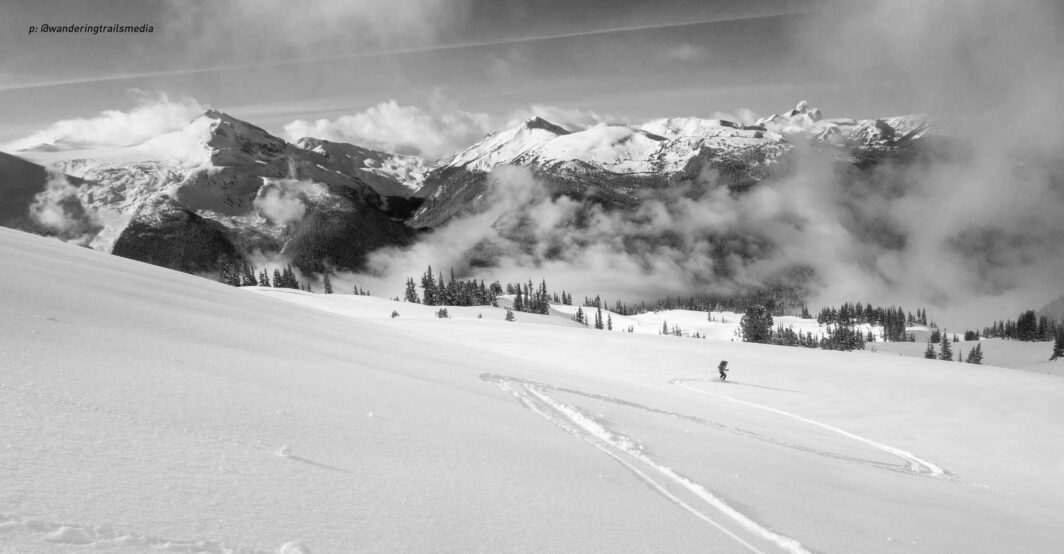 BIPOC Backcountry Scholarship Recipients
We want to applaud all who shared their dreams and passionate essays with us. Thank you for allowing us the space to work towards helping promote diversity in our niche industry. Reading your applications further illuminated just how much work needs to be done, both systemically and within local communities. We know this scholarship is not a solution, but rather a step towards providing access and representation on a small scale. Furthermore, we did not want this scholarship opportunity to be a one-time gesture. As such, we plan to offer this scholarship annually to continue these efforts.

We received so many incredible entries and are excited to announce the Voile BIPOC Backcountry Scholarship recipients, Jade Begay (Grand Prize) and Layla Anane (Runner-Up Prize). We are thrilled to help you pursue your backcountry goals in the mountains and in your communities.
Continue to read the BIPOC Backcountry Scholarship Recipients essays…
---
Grand Prize: Jade Begay (She/her/hers)
Tesuque, NM • Native American / Diné / Tesuque • Skier
I began skiing when I was five years old. My mother had a love and passion for downhill skiing and as a single mother, of course, she wanted to be able to bring me with her on as many adventures as possible, so she started me young. In the early days, my ski adventures were made possible by a ski program that existed within my tribe's day school. Interestingly enough, my mother now helps run that same program within my tribe so that youth have access to skiing and snowboarding.
Since I was a child, skiing has been an activity and passion that brings me joy and a sense of strength and confidence. It has also been an activity that has helped me embrace problem-solving, strategy, and face self-doubt and fear. I consider myself a strong spirited person; someone who rises when things get complex or chaotic, and while I believe many life circumstances have shaped me to be that type of person, I do believe that skiing has contributed to my sense of determination, patience, and excitement to navigate challenges.
After 25 years of mostly downhill skiing, I feel like it is the natural and most exciting next step to take my love for skiing into the backcountry. On some level I feel as though I have reached a sense of completion with downhill skiing and now I want to venture into new terrain both literally and figuratively, of knowledge, adventure, challenge.
What excites me about diving into the world of backcountry skiing is being able to access mountains and places on my own terms without feeling the conflict of buying into the resort setting. Here in Santa Fe, the local ski resort is located on my ancestral lands and for decades it has felt very conflicting to have to pay a fee to access this Mountain that is sacred to my people and my ancestors. With the support of Voile, I'll be more equipped to ski through these lands without this conflicting feeling and with more liberty and integrity. What's more, is that I think about being able to hike and ski other sacred places and mountains, which have been climbed by my ancestors and by my family for generations. For example, I look to Blanca Peak in Southern Colorado where my grandfather would climb throughout the year to make offerings to our holy people. I think of being able to continue this tradition and being able to bring ritual and ceremony to my skiing practice. Ultimately what feels exciting about building my knowledge and practice of backcountry skiing, is the opportunity to make it my own, to bring my story and my culture to this activity and reclaim spaces as I climb, traverse, and ski.
I should also mention that my career and life is oriented around the protection of land, water, and the climate. I also work professionally to advocate and advance Indigenous rights, therefore those themes and issues, will organically emerge as I backcountry ski and find myself in places throughout the West like New Mexico, Colorado, Montana, California, and Alaska, all of which are so greatly impacted by the shifts in climate and that could benefit from more Indigenous stewardship and land management. I have yet to do much storytelling as a skier around the intersections of protecting winter seasons, climate justice and Indigenous sovereignty, so that is something I look forward to doing more with this opportunity.
---
Runner-Up: Layla Anane (She/her/hers)
Seattle, WA • Mixed Race (Filipina & Black) • Snowboarder
I grew up with very little knowledge of the outdoors. The child of an immigrant Filipina mother and a very traditional black and native father, my family had little experience and placed little value in spending time outside. They were too busy trying to survive. On top of that, I was a girl – in my family's eyes that meant there were certain things I just should not do because it was not ladylike. However when I was 16, I received an opportunity to take part in a youth program, which not only introduced me to snowboarding, but also provided everything I needed to get started. I begged my parents to let me participate – they eventually consented, though they warned me they could not provide financial support for my new interest. I received a scholarship for gear, lessons from supportive instructors, transportation, lift tickets and food over the course of two seasons. Despite my disappointment in finding few role models in the industry who looked like me, It was life-changing to be able to access a sport with such high barriers.
It was also an incredibly healing experience to be in the mountains – the sheer joy I felt snowboarding helped to ease whatever personal turmoil I was experiencing, and bolstered my resilience over time. The confidence I gained on the mountain during those early years cemented my love for the sport and propelled me toward other endeavors which I previously thought were unattainable for me. As my skills in snowboarding grew, and I explored terrain in and around my home resorts, it only made me want to explore more, to keep pushing my boundaries, to keep learning and growing.
Now, more than a decade later, my personal and professional goals revolve around increasing access to the same resources and experiences that I was fortunate enough to receive. I work for the same organization that once gave me my start. I get to share my passion for facilitating education and opportunity in the outdoors as a role model, mentor, and snowboard instructor, especially to young BIPOC women who have trouble seeing themselves as capable of snowboarding or belonging in the outdoors. As I've worked to educate and engage youth, and even adults, I've realized that I want to keep pushing my own skills further.
This scholarship would support my goals to operate in the backcountry safely during this and future seasons, by removing a major barrier to my progress – cost-prohibitive gear. I would like to begin splitboarding and I will also be training to be a mountaineer through a course starting in January. I will receive backcountry training and AIARE Level 1 this season, but gear is not provided, and I work for a nonprofit, which limits my budget significantly. This scholarship would support gear that I will use not only to complete these courses, but also undoubtedly over the long term as I work to become a skilled splitboarder and eventually climb peaks all over the world.
In closing – much of my family and community still thinks I'm crazy to want to do the things that I do, which can be lonely, but nothing can take away the joy of being in the mountains. And by developing my own deep relationship with the outdoors, I've become that rare thing I never really had growing up – a role model for the youth in my programs (which is just awesome!). This scholarship would allow me to embrace new challenges in the backcountry and continue to inspire others, simply by easing a barrier to what I already love to do. I hope you will consider me!
---
The Voile BIPOC Backcountry Scholarship Recipients were selected by the sum scores from the volunteer judge panel. The Voile BIPOC Backcountry Scholarship Recipients consent to sharing their stories on the V Team blog and @voilemfg Instagram and Facebook. This scholarship is not endorsed or affiliated with Instagram.