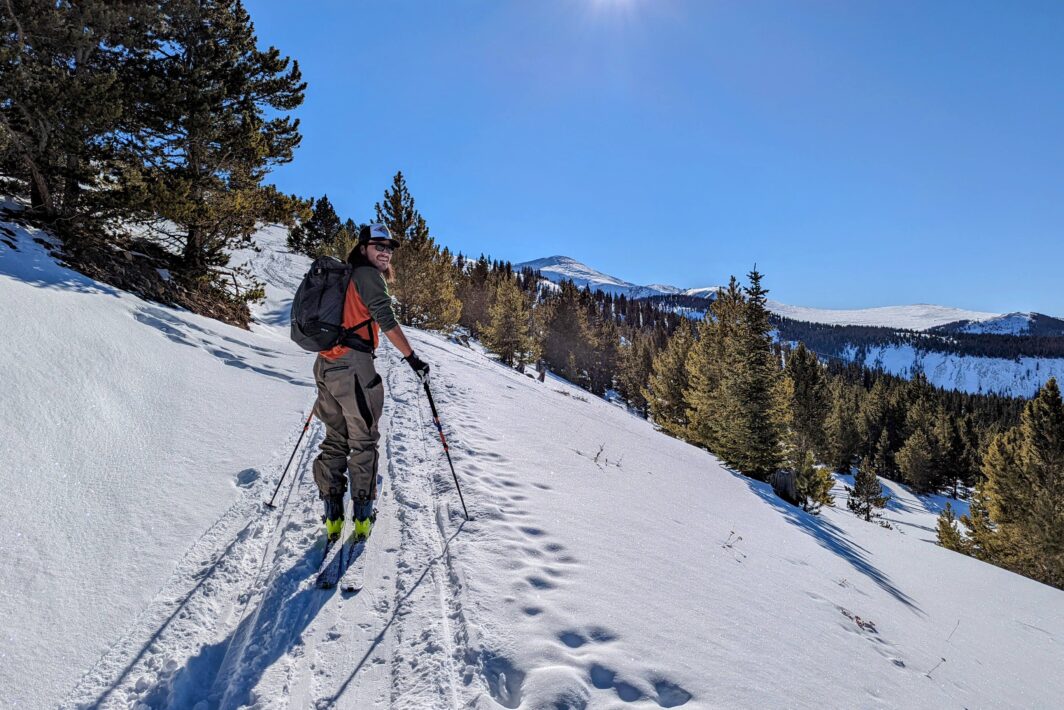 An Ode To Low-Angle Terrain
SKIING LOW-ANGLE TERRAIN IS STILL SKIING, AND SKIING IS THE BEST. PERIOD.
Many avalanche classes and backcountry riding communities stress that "the decision to not go is never wrong," or some other such quip that values the ability to ski another day over the risk of life or serious injury in the event of an avalanche. In a world where there exists inherent allure to ski steeper, deeper, bigger, gnarlier avalanche terrain, and, in some circles, a competitive pressure to "conquer," "slay," "dominate" lines for reasons internal and external, it is important to vocalize that skiing low-angle terrain is still skiing, and skiing is the best, period. While skiing lines in avalanche terrain can be gratifying, intentionally not skiing in avalanche terrain offers gratification of its own.
This is an appreciation for low-angle terrain; Places where the gnarliest, experienced backcountry users can slow down and rest their decision-making brains. For newer users to practice gear use and make snowpack observations. A place where users of all levels can share space, knowledge, and community.
My avalanche classes taught me that around 95% of avalanches occur in terrain that is 30-45 degrees. So, the lower the slope angle below 30 degrees, the closer the risk for avalanche danger is, even in unstable conditions. Of course, "low danger ain't no danger", but we can get pretty darn close. By bringing the slope risk factor closer to zero, you are freer to focus on human factors and to connect with the humans and ecological communities around you. You may find, like me, that doing this doesn't have to change the fun factor an iota. 
PERKS IN PRACTICE
Most of the skiing I do is with friends who have varied levels of avalanche education and rescue practice. I'm sure this is the case for many more backcountry users given the increase of interest in winter backcountry access in the mid-pandemic USA. We also live in central Colorado where the snowpack is frequently unstable and there's a higher probability for avalanches throughout the winter.
The beauty of low-angle terrain is that you can still observe cracking, whumphing, wind loading, and other visual indicators of avalanche red flags in a snowpack with virtually no danger of being caught in an avalanche. This is helpful for someone just getting their chops as a backcountry traveler and for folks moving into roles of backcountry mentorship. Because we love a nearly 100% probability of not being caught in an avalanche, my group and I have used slope shading tools in CalTopo, in addition to careful real-life observations, to identify several zones near the town where the terrain slope angle is never greater than 25 degrees and we never travel beneath slopes greater than 27 degrees.
No Two Zones Are The Same
Once in these zones, you realize that the slope is not as uniform as the contour lines on the map appear. There are small mine tailings piles that sit undetected between contour lines on the map. Limestone pour-overs built to passively neutralize acid mine drainage in the summer provide hidden drops for the adventurous pillow-hopper. Green shading on USGS maps indicates vegetation dense enough to conceal a platoon of 40 soldiers, but what you find there, in reality, may be different. At my low-angle trees, there are gaps where silver rush miners felled lodgepole pines for structures and firewood. Now the stumps sit, slowly decomposing, exposed just above the surface of the snowpack.
These zones become the go-to slopes when time is of the essence and you want to get in a quick ski without thinking too hard about avalanche hazards. They're where I go to bang out an effort to meet the vert quota in my training plan. It's common to run into friends from town here who are also more concerned with connecting through conversation on the skin track than any physical feat or even the skiing conditions. In fact, conditions in some of these zones are rarely ideal for skiing. The low-angle terrain is instead ideal for focusing wholly on the little things. The content of your conversations with your skiing partner, the wind through the trees, or whatever skiing-related ritual you're practicing.
An Ode To Low-Angle Terrain
I have seen you
wind-buffed and faceted
crusty and sun-affected
shooting cracks, whumpfing
thinner than paper, covered in powder
with depth to the chest
tapered and melting
with corn ripe for harvest
and loved you.
You have seen me
wiping tears of joy and of sadness
a toast to those passed
in awe of the Arkansas
a birthday tradition
at sunrise with nosedives
community strolls
to process this distancing
bike approach, solstices
tailgates for apres
the start of these friendships
and their solidification
and not slid.
These are my low-angle trees.
When I look at the shape of the slope…
…the trees, the silver mining ruins, the critter tracks in the snow, the birds overhead and remember:
This is where they took their first backcountry tele turns. This is the trailhead where we tailgated, socialized, and said long goodbyes. This is where we took that selfie after excitedly making a bike approach last spring. This is the hairpin turn on the skin track where those conversations got really good. This is where we dove to avoid that mine and our friendship really solidified. This is where we went, in separate cars, to process another day of a global pandemic. This is where we stood in a circle to celebrate her birthday and he skied away holding champagne bottles instead of poles (also the only time the snow here was actually decent). This is where we toasted to our dead homies and looked across at the Sawatch at dusk, crying because it was so beautiful. This is where I came to get a nice look at home.
When I look at the shape of the slope I remember a community with a myriad of shared experiences in these zones–a community built around deep connections while skiing, but not because of skiing.
What do you notice about yours?
---
About The Author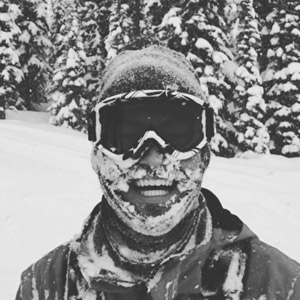 Location: Traditional Land of the Coast Salish, Duwamish people (Seattle, WA)
---
---
Garry's skiing career contains competitive moguls and big mountain skiing, filming park edits, alpine touring, ski joring, outdoor education expedition leading, ski patrolling, telemark skiing, and shop tech. They are eager to interact with volcanoes in, and get to know the Pacific Northwest after a lifetime of skiing in the American southwest.
In addition to skiing, Garry loves science education, the Grateful Dead extended universe, riding bikes, playing guitar, whitewater, and their cat Gnome.