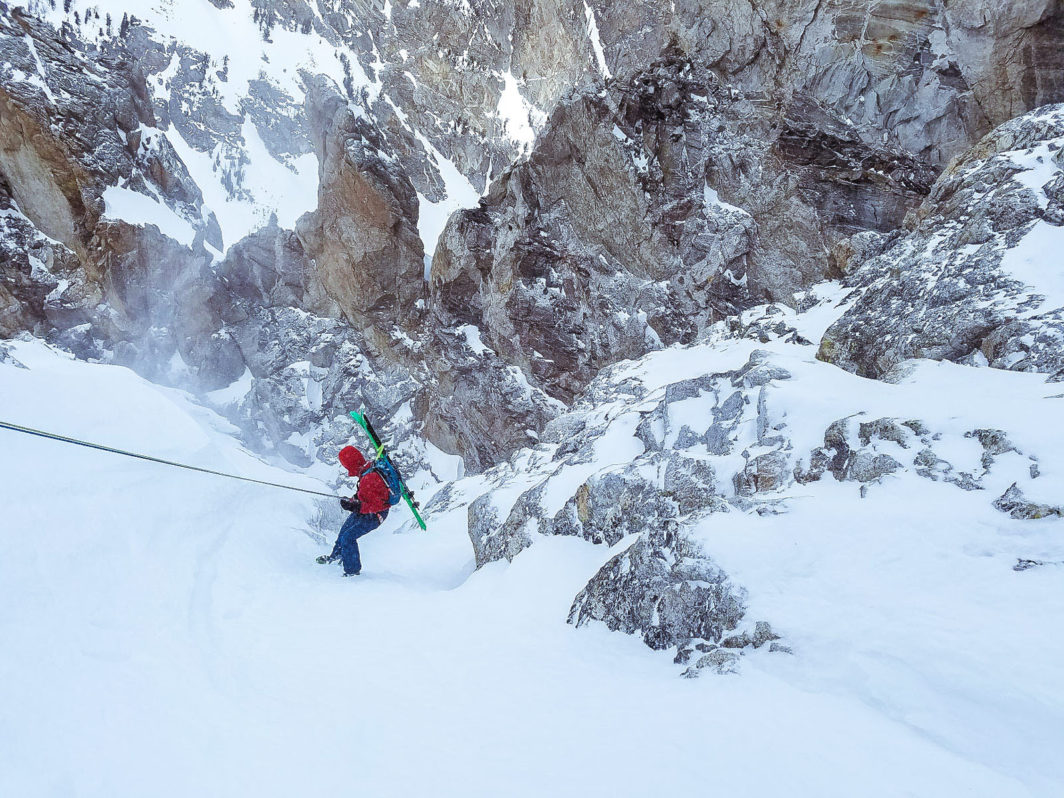 Spooky Face: A Tough Trip Through Paradise
It was the spring of 2012, my senior year of College at Montana State University. I was just starting to cut my teeth as a serious ski mountaineer, and I was becoming eager for something more meaningful than continually pounding out ridge laps at Bridger Bowl. My Friend had a copy of Turiano's ageing guidebook to skiing in the Tetons, which contained and documented the 1990s golden age of extreme ski mountaineering in the high peaks. It was then that I first started dreaming about the Spooky Face, an ominous and virtually untouched line that was first skied in 1995 by Stephen Koch, Hans Johnstone and Mark Newcomb.
The allure of the Spooky Face is much different than that of other classic ski lines in the Tetons. Unlike many of the trade routes and couloirs in a range that is recognized for its offering of splitter walls and large fall lines, Spooky Face is a sleeper pick. It's difficult to access, relatively short, wickedly exposed, and requires confidence in many different skiing and mountaineering techniques seldom needed in less committing lines. All of these "undesirable" characteristics that define the Spooky Face made it exactly the type of skiing that I aspired to be comfortable with. But there was very little public information – or even local knowledge – on how and when to ski it.
I have fallen more and more in love with the Tetons since my college days, and have also grown closer and closer to the few partners I trust to take care of themselves – or me, should the need arise – in the high peaks. In the timeframe that I actually became a real ski mountaineer, The Park "hit-list" was filling up. The lines I was skiing with friends were becoming bolder and more complex. With each trip through Garnet Canyon we would look at, joke about, or discuss the Spooky Face. But still, few of us could actually imagine what it would take for everything to line up to ski it, let alone in good conditions.
Now, in 2017, life has taken away more and more of our personal skiing time. It has become exceptionally rare to find an extended week to reserve specifically for the Tetons; something I would do frequently in my four years after college when I would sacrifice almost anything for the pursuit of skiing. From the spring of 2012 until the spring of 2016 I did whatever I could to make ends meet and to ski as much as possible. I spent the majority of my life homeless, dirt poor, and hunting weather windows to fulfill my addiction to skiing and ski mountaineering.
It seems that when you are on the correct path, that events unfold in a way that is too peculiar to be summed up as just coincidence. This past winter I gave up my life as a full-on ski bum and became a "working man": a joke amongst my friends to describe my full-time position as a ski patroller and backcountry skiing guide. I love the work that I do, but turning my deep-seated passion into employment has also changed my relationship with skiing. Tough Trip Through Paradise is the name of a book about early Montana's wild frontier, a book which cleverly describes my attitude towards turning play into work. Ironically, the same winter that I started working 50-60 hours a week, my dream lines finally presented themselves.
On a Friday in the middle of February, four partners and I took a late start from the Taggert Lake parking lot. We skinned to the bottom of the west hourglass couloir, and booted up steep snow to the north-western shoulder of Nez Perce. We climbed 4-5 pitches of rock in our ski boots, skis strapped to our packs. With inclement weather approaching, visibility diminishing, and the wind increasing, we gingerly worked our way off the summit of Nez Perce.
We took turns putting our skis on in the 50-degree pocket of snow that entered the route proper. We proceeded by threading in and out of the "eyes of the face," calling through the fog when we reached islands of safety. We skied to the bottom of the snowfield in perfect snow, and then worked quickly to piece together a rock-anchor; our exit plan required us to make a 60m overhanging rappel into the east hourglass couloir.
In a mixed group of people, some of whom had never met before, we'd finally completed one of the Teton Range's most sought after ski lines. A line we had been eyeing for years. We skied the route in what my friend Adam calls "Gentleman Style." Ski as much as possible. Rappel as little as necessary. Build anchors in logical locations. And leave behind the minimum amount of gear required, while still allowing safe passage.
"One of the finest," my close friend Aaron said to me with a smile as he split-skied out of Garnet Canyon, enroute to our destination of Dornan's for an après beer.
What I like most about the pursuit of ski-mountaineering is not so much testing my limits, but the evolution and growth of confidence in objectively high-hazard situations. I have learned that there is no gear in the world that can match the usefulness of intentional skiing. The Spooky Face encapsulated every aspect of my favorite experiences in the mountains; intentional movement, exposed skiing, close friends, and the element of mystery. The "tough trip through paradise" continues. But I can go on knowing that I am in the right place, at the right time, doing what I should be doing.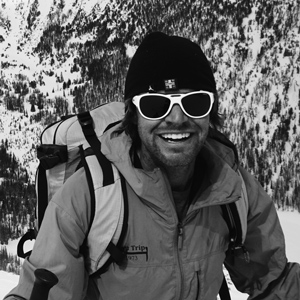 Ty Guarino
---
---
Ty is a career Outdoor Educator, Mountain Guide, and Ski Patroller currently working for Montana Alpine Guides, the Colorado Outward Bound School, and Bigsky ski resort. Originally from southern New Hampshire, Ty developed his passion for Backcountry skiing on the eastern flanks of Mt Washington in New Hampshire's Presidential range. Currently Residing in Bozeman Montana, Ty skis as much as possible in and around the greater Yellowstone ecosystem. Although Bridger Bowl is his home mountain, Ty likes to explore other skiing venues including Alaska, South America, New Zealand, and New England.