Before this past October, I had never actually skied with Beau Fredlund. There were many times we would say hi and agree to find time to get out together. Unfortunately the timing never seemed to work out. The closest we had come to making turns together was teaching an avalanche awareness course. But alas, one ski-run on the ungroomed blue trails at Bridger Bowl could hardly count.
Quiet and soft-spoken, Beau is commonly regarded as THE resource for Beartooth range skiing. He spends almost every day skiing in the backcountry, surfing the finest powder. Beau skis from the first snowfalls in early fall, to the late-season spring squalls. He has established first descents all over his home mountain range, as well as all over the world.
When I was working in New Zealand as the Snow Safety Director at Porters ski field, I received an email from Beau. I had essentially taken the job to finagle a way to ski in the famed Aoraki/Mt Cook National Park. It just so happened that Beau was heading to the South Island for his ninth ski trip. Having completed as many descents as most Kiwis hope to accomplish in a lifetime, Beau simply couldn't get enough. Needless to say, I was ecstatic that Beau was interested in skiing with me. So I took the initiative to make sure I was available to be his partner.
Cool As A Boil
After months of vague plans and broken phone calls, my girlfriend Amy and I puttered our '96 Toyota campervan north to Twizel to meet Beau. On our trip north from the Fjord Land National Park, Mt Cook/Aoraki National Park received 1 meter of kiwi powder before a strong high pressure immediately took hold and dominated the region.
When we arrived, we quickly exchanged hugs, introductions and loaded my gear into Beau's borrowed car. Beau cheerfully declared he was psyched to give the south peak of Aoraki a shot. "With good weather, good stability, and a strong partner, I think we should give it a go!" he explained. "Okay, right on man!" I nodded my head as I digested his statement and tried to maintain my cool as a boil of excitement welled in my stomach.
Conditions were fat and all signs pointed to a good platform for Beau and I. Our plan was to travel up the Hooker valley to the Empress hut and ski the SW Couloir/West Ridge route of the south peak.
The Vanguard
Perched on an island of rock in a sea of ancient glaciers, the Empress had once been at the vanguard of some of the most prolific climbing and skiing adventures in the Region. Unlike other huts in the park, the Empress is in a designated no fly zone. It's an effort to preserve the remoteness and exposure that was once normal for early explorers.
Two additional huts used to be available for the approach to Empress. It made access more feasible. But now, with the current rate of climate change and glacial recession, the Empress hut had become especially difficult and dangerous to access. The Legacy club cabin, that has so proudly stood the test of time, has become all but a retired monument. The cabin pays tribute to the hardy bunch of mountaineers motivated enough to make effort. 10 miles of unstable moraine, massive avalanche paths, and broken glacier now separated the trailhead from the high mountain beacon of safety.
Route Finding
After about 6-7 hours of tiptoeing around dangerous ice and imminent rock-fall, Beau and I retired to a lightweight tarp shelter on the lower Hooker Glacier. That evening we cooked up Raman and dried veggies while laying in our sleeping bags. The following day, Beau and I gingerly navigated the upper Hooker Glacier and eventually arrived at the royal quarters of the Empress hut.
Although the approach went incredibly smooth, I remember feeling how exceptionally remote we were. I could feel the burden of exposure weighing on our every step. As cliché as any proper mountain adventure would claim, "a mistake out here, deep in the massive mountains of the southern NZ Alps, would be swiftly answered with severe consequences." Fortunately the weather continued to hold, and Beau and I seemed to be working very well together.
Before the sun set and lay to bed another days' work, Beau and I made the most of the evening light. We put in the skin track to the bottom of the NW couloir. It made our early morning route finding much faster with a trail clearly marking our entrance to the technical portion of the route.
At 5am, Beau and I skinned to the bottom of the couloir. We steadily started to make our way up the 3,500 feet of mountain that guarded the South summit. Continuous French steps, front pointing, swings of ice tools, and the wiggles of crampons finding purchase in hidden rock seams ended with a ramp of soft chalk snow. 6 hours after our departure, Beau and I had overcome the bergschrund at the glacier's end. Multiple pitches of 5th class rock, blue water ice, and thousands of feet of new snow. It felt unworldly standing on the west ridge ascending above the glacier and valleys below.
There Will Be Days Like This
The ground soon began to shape-shift from soft chalk-snow into firmer and a cooler shade of blue. "There will be days like this," I whispered to myself with Van Morrison's soothing words stuck in my head. The change of medium signaled to me that Beau and I were approaching the wind-scoured slope marking the summit above. I could sense the proximity of the peak without even taking my eyes of the front point of my crampons.
Predictably, the wind was coming out of the prevailing westerly direction. It reinforced my intuition to be careful looking down the potentially corniced far side of the mountain. I crouched, swung an ice tool into the slope, and peered down the heavily glaciated Caroline face on the eastern flank of the south peak. Examining my position, I watched as snow turned to glacier, glacier turned to talus, and talus turned into the fertile valleys and rolling grasslands. Eventually leading to the ocean 11,000 vertical feet below.
Like the flick of a switch, Aoraki came together serendipitously enough to be borderline unbelievable. Beau Fredlund and I had never actually skied together. I had gone ski touring less than four times in the past five months. I had spent the last two weeks living in a van following waves and exploring surf breaks. During the month that my girlfriend and I had after our employment as ski patrollers ended, I had seven days vaguely set aside to make this happen. Three days after saying bye to Amy in the parking lot in Twizel, I was standing on the crown of the kiwi Alps with a trusted partner I barely knew.
Our Exit
A handful of turns off the top, some down climbing, five rappels, and perfect corn skiing below brought us back down to the Empress hut by 5 pm. Our exit the following day from our royal palace perched high above the Hooker valley was regretful, but somewhat of a relief. The climb had been challenging, but manageable. The skiing was complex but doable. In the end, we both felt like we were the guests of honor to "cloud splitter." As manners dictate, we never intended to overstay our welcome.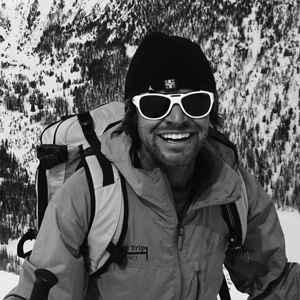 Ty Guarino
---
---
Ty is a career Outdoor Educator, Mountain Guide, and Ski Patroller currently working for Montana Alpine Guides, the Colorado Outward Bound School, Bigsky ski resort, and Porters ski field NZ. Originally from southern New Hampshire, Ty developed his passion for Backcountry skiing on the eastern flanks of Mt Washington in New Hampshire's Presidential range. Currently Residing in Bozeman Montana, Ty skis as much as possible in and around the greater Yellowstone ecosystem. Although Bridger Bowl is his home mountain, Ty likes to explore other skiing venues including Alaska, South America, New Zealand, and New England.