Dynamic. That's the word I would use to describe my job as a ski and splitboard guide. No two days are exactly the same. Everything from the snow conditions, routes, weather, and client goals change from day to day. The only constant in the whole thing is that everyone there, including myself, is there for one reason; we're there to have fun sliding on snow.
On some days this means that we go looking for the deepest snow we can find, other days that means skiing the steeps off a major Teton summit. Either way, guiding is as rewarding a job as I could have ever hoped to find.
As varied as the day's touring may be, the mornings usually start in a familiar way: coffee, followed by a weather check, the forecast, and a review of my client's info. Once the coffee is finished I pack my bag, meet my clients, and go skiing. As the skintrack winds its way upward the group begins to chat, banter and tell jokes. (Do you know the difference between tele skis and a vacuum?) I probably learn more from my clients about subjects such as economics, medicine or law, than I teach them about ski touring and climbing.
The excitement builds as we reach the top and transition for the down. For most, this is why they came out. 3000ft of snow lies between the parking lot and us. It's soft and untracked. We all hoot and holler as we ski pitch after pitch to the valley bottom. High fives are exchanged, smiles are plentiful, and the reward for the uphill effort is obvious. Skins on, we head up another peak for more fun. This one takes us down a north facing couloir into Avalanche Canyon. The snow sluffs off as we ski the steeps one at a time. Once again, we've run out of mountain. Time we find ourselves sliding out the luge track towards our cars and an après beer. We say goodbye at the car, and just like all good things in life it's over all too soon.
Except for me… I'm fortunate, because I get to do it again tomorrow.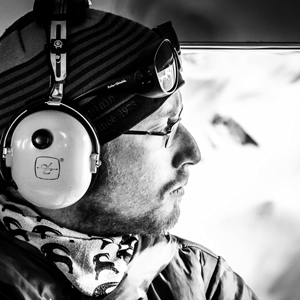 Aaron Diamond
---
---
Aaron learned how to snowboard on an icy hill in Northeastern Pennsylvania. After high school and a brief stint in British Columbia, he found a home in Jackson Wyoming where he currently lives and works year round as a guide and avalanche educator for for Exum Mountain Guides and The American Avalanche Institute. Aaron has splitboard descents all across the western hemisphere including unrepeated splitboard descents on Mount Foraker (17,402' Alaska Range), Mount Hunter (14,573' Alaska Range), The Gilkey Tower (12,360' Tetons), and Pico Polaco (5,995m, Andes).

In the future, Aaron hopes to explore the lesser traveled peaks of Asia, Antarctica, and areas above the Arctic Circle with his splitboard and is, as one of his friends put it, "on a mission to splitboard in all the best alpine climbing venues". He is currently pursuing IFMGA certification.

When not in the snow Aaron enjoys long, adventurous alpine rock routes with short approaches and JRR Tolkien books. He is in the process of writing a guidebook titled "Aaron's Super Sarcastic Spot-on Book of Directions". Look for it in your local gearshop sometime in the next 20 years.