Backcountry Ski Guiding with Aaron Diamond
April 21, 2017 by: Aaron Diamond
Share this story:
---
Dynamic. That's the word I would use to describe my job as a ski and splitboard guide. No two days are exactly the same. Everything from the snow conditions, routes, weather, and client goals change from day to day. The only constant in the whole thing is that everyone there, including myself, is there for one reason; we're there to have fun sliding on snow.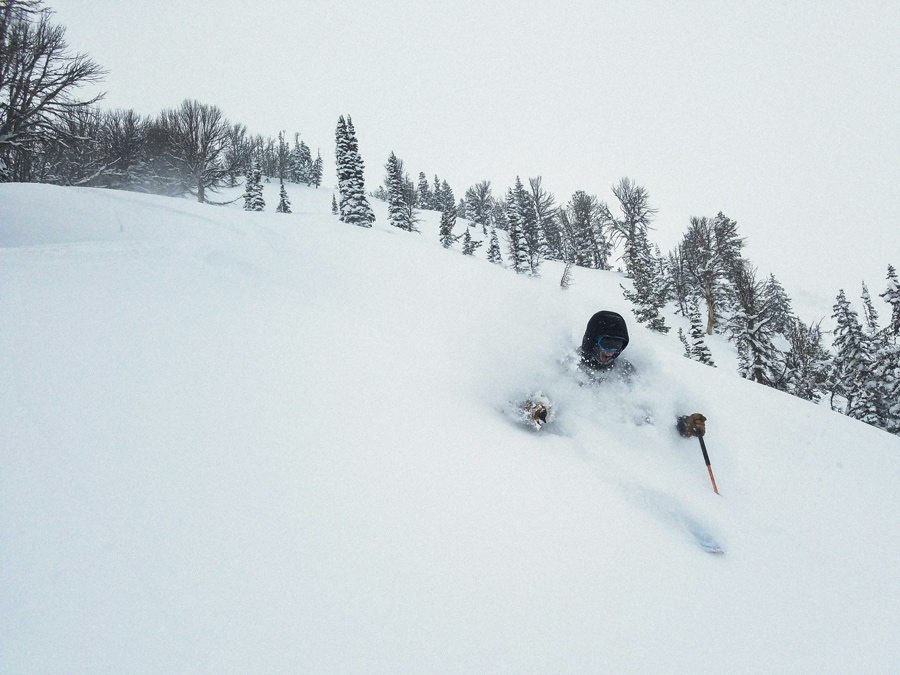 Work doesn't feel much like work on days like this.
Big smiles and faceshots all around.

On some days this means that we go looking for the deepest snow we can find, other days that means skiing the steeps off a major Teton summit. Either way, guiding is as rewarding a job as I could have ever hoped to find.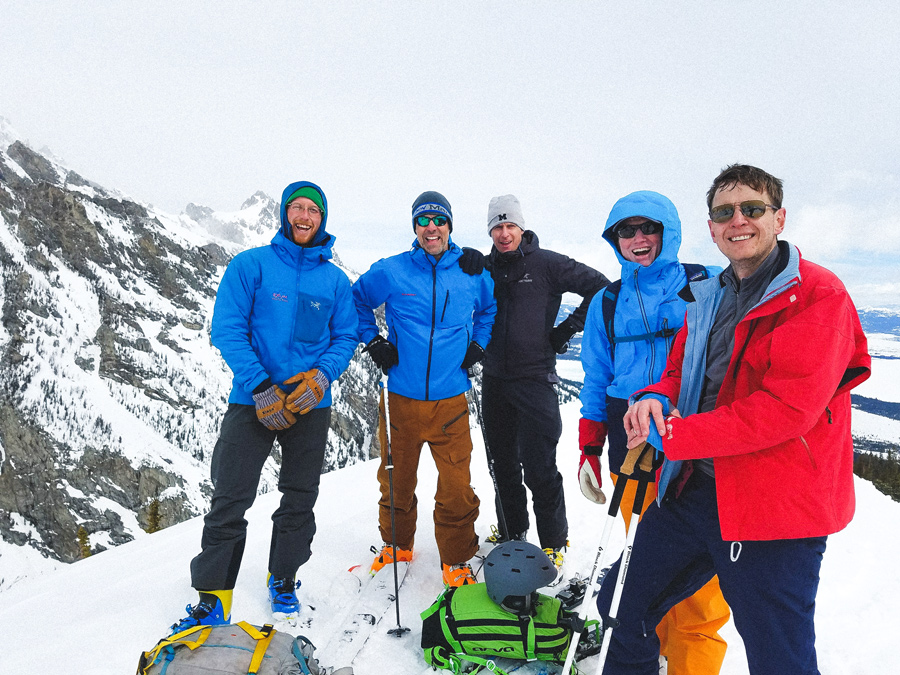 One of the best parts of guiding is introducing others to a sport that has given me so much joy.
Here a group enjoys the summit on their first day backcounty skiing.

As varied as the day's touring may be, the mornings usually start in a familiar way: coffee, followed by a weather check, the forecast, and a review of my client's info. Once the coffee is finished I pack my bag, meet my clients, and go skiing. As the skintrack winds its way upward the group begins to chat, banter and tell jokes. (Do you know the difference between tele skis and a vacuum?) I probably learn more from my clients about subjects such as economics, medicine or law, than I teach them about ski touring and climbing.



Skiing the steeps in Grand Teton National Park requires all the skills of a ski mountaineer. Alex is one of the few clients with the full set.
Here he follows a mixed pitch on the way to the summit of Nez Perce.



The reward for rock climbing with skis on your back: an untracked canvas.
A few minutes later we began the first guided ski descent of this route. The Spooky Face on Nez Perce.


The excitement builds as we reach the top and transition for the down. For most, this is why they came out. 3000ft of snow lies between the parking lot and us. It's soft and untracked. We all hoot and holler as we ski pitch after pitch to the valley bottom. High fives are exchanged, smiles are plentiful, and the reward for the uphill effort is obvious. Skins on, we head up another peak for more fun. This one takes us down a north facing couloir into Avalanche Canyon. The snow sluffs off as we ski the steeps one at a time. Once again, we've run out of mountain. Time we find ourselves sliding out the luge track towards our cars and an après beer. We say goodbye at the car, and just like all good things in life it's over all too soon.

Except for me... I'm fortunate, because I get to do it again tomorrow.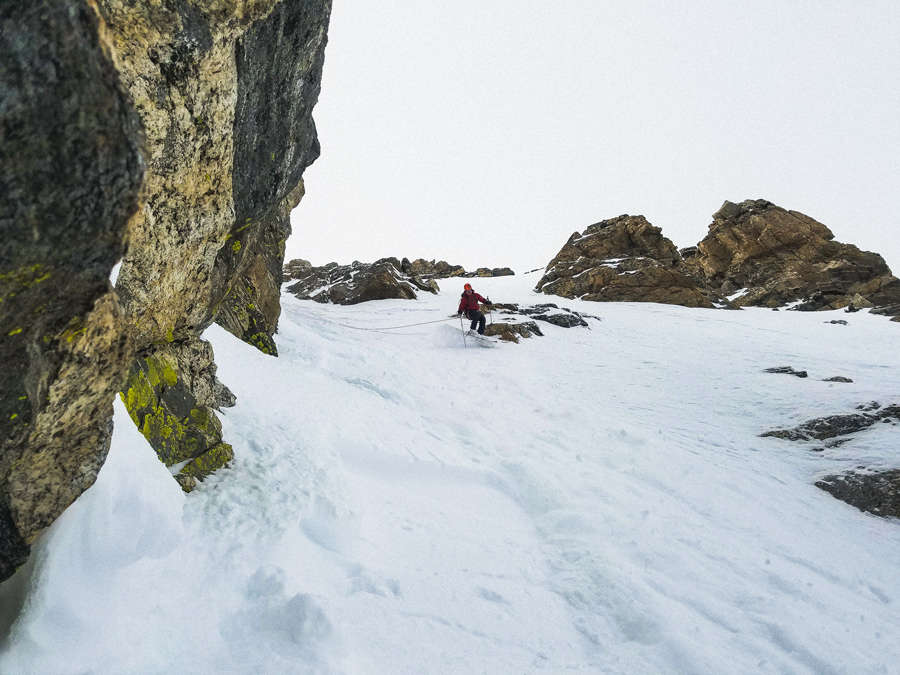 Alex skiing on belay and channeling his inner Coombs on the first guided descent of the Spooky Face in Grand Teton National Park.