This season we spent some time focusing on the foundational elements of our splitboard program. The result is one recall, and one update that will completely transform the gear you already own (and for less than $10)…
• Remolded Gaskets – Easier Installation.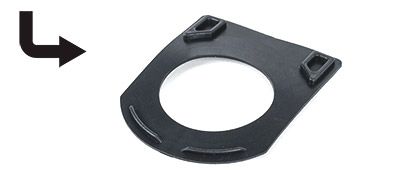 Upon discovering that some of our Puck Gaskets took a force of will to install, we realized that it was past time to forge new moulds. We took this as an opportunity to narrow and taper the gasket's insertion points. This allows more tolerance on installation.
This small-yet-crucial piece of your binding setup should be a breeze to install, not an extreme test in patience. Contact us for free replacement of difficult-to-install puck gaskets.
*Includes puck gaskets purchased as part of Voile Hardware Puck Set and Voile Hardware Puck Set Canted
• Re-Imagined T-Nuts – More Compatibility.
The new T-Nuts for Voile Splitboard Channel Puck System allow you to make stance adjustments faster and easier. They create a more secure mount for Voile splitboard bindings. AND they extend the system's compatibility with third-party bindings. (Ahem… Phantom? Karakoram?)
Unflinching stability, effortless adjustment, and versatility that reigns supreme. You'd expect nothing less from the veritable Edisons of splitboarding. Simple. Solid. Backcountry. That is to say, "Voile."