Voile Hardwire 3-Pin Telemark Binding
608-21
$239.00
Description
---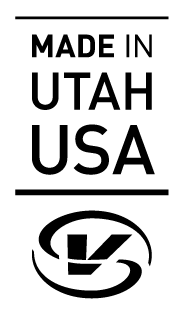 The
Voilé Hardware 3-Pin Telemark Binding
is a unique mix of time-honored, Nordic functionality and modern, made-in-Utah performance. And the veritable Swiss Army Knife of telemark bindings.
Based on the 1927 brainchild of Norwegian (of course), Bror With, the Hardware 3-Pin's toe piece accepts any telemark boot with a standard 75mm "duckbill." Unlike the "rat trap" bindings of yesteryear, the binding's bail is a tempered, embossed, steel plate that locks down in any of three levels to accommodate varying boot sole thicknesses. The binding's toe box is massively built of 6061-T6 aluminum and mounts to a 20mm nylon riser that ramps slightly upward to accommodate the rocker of many telemark boots.
The thing that really curls toes is the addition of our own brainchild, the Hardwire part, a "non-cable," rod-and-cartridge-spring assembly that provides amazing torsional rigidity when making turns. This technology burst on the scene in 2002 in the form of the Voilé Hardwire Binding and has become a hallmark of Voilé's modern tele bindings. Five years later, the Voilé Hardwire gave way to the now-beloved Voilé Switchback.
These days, cartridges springs are commonplace in the telemark binding category, but what still sets our Hardwire design apart is the accompanying use of threaded steel rods and heel assemblies—rather than braided cable—at each end of the cartridge. This eliminates the need for any sort of crimping weirdness or other gizmos that would otherwise be necessary to complete a toe-to-heel loop.
In the case of the Hardwire 3-Pin binding, the entire Hardwire assembly easily detaches from the toe piece to provide the utmost in touring and climbing efficiency, as well as a Plan B for getting you home, in the unlikely event that the mechanism suffers trauma or is lost. And speaking of upward travel, the Hardwire 3-Pin features the same heel pad and dual-height climbing elevators as the Switchback and X2.
So whether you're dropping into the Nordic curtsy, cranking parallel turns, or kicking and gliding, the Voilé Hardwire 3-Pin is about as versatile as it gets.
Benefits
---
Suited for large boots / aggressive skiers

Zero heel resistance for ascent / use heel assembly for descent

3-pins as backup

Ideal for Off-Piste


Specs
Part Number: Short Rod 608-21-10

| | |
| --- | --- |
| Color | Blue |
| Boot Size (Mondo Point) | 24-26.5 |
| Boot Sole Length (mm) | 273-322 |
| Boot Size (US) | 5-8.5 |
| Weight (lbs/kg) | 2 lbs. 13oz./1.29kg/pr. |
| Riser Height | 20mm |
| Flex/Performance | Active |
| Material | 6061-T6 Tempered Alum |
Part Number: Standard Rod 608-21-20

| | |
| --- | --- |
| Color | Blue |
| Boot Size (Mondo Point) | 27-31 |
| Boot Sole Length (mm) | 305-350 |
| Boot Size (US) | 9-13 |
| Weight (lbs/kg) | 2 lbs. 13oz./1.29kg/pr. |
| Riser Height | 20mm |
| Flex/Performance | Active |
| Material | 6061-T6 Tempered Alum |
Product Reviews
3 pin hardwire binder
daleboots
12/02/2020
Verified Buyer
Simple, Solid, fantastic company to deal with. Been skiing on the hardwire since it was first introduced. East coast ice bumps, trees, and powder out west or just wondering off in the woods this binding works. The best way to sum up this binding is, once I'm in I never have to think about them. Trust they work and go have silly fun.
Was this helpful?
Freeheal2
David Parrish
11/04/2020
Verified Buyer
This upcoming season will be my 57th year cross country , telemarking , free heeling . I have been a voile customer for quite a while. When the hardwire bindings came out I got a pair now have them on 6 pair of skiis, line Prophets, sick day, head monsters, Kore , etc. I sometimes get a bit of flack for being old school tele guy.... but if I happen to break a cartridge I've still can ski home with my pins. Just like back in the 60's with wood and rottenfellas! I like them, they work good and are reliable . Cheers and Skiya Later
Was this helpful?
Simple, reliable, and effective
I've owned most Voile bindings now or in the past, the Mountaineer, Hardwire, 3-pin cable, Switchback, and a number of their earlier release tele bindings. This has been a bomber binding for my medium touring setup with Excursion or Garmont Veloce boots. I do miss the release feature and ski brakes, and wish they had kept making those, as my knees never feel as safe without them.
Was this helpful?
UPC
---
Short Rod: Part No: 608-21-10-BK UPC: 759948914923
Standard Rod: Part No: 608-21-20-BK UPC: 759948914930