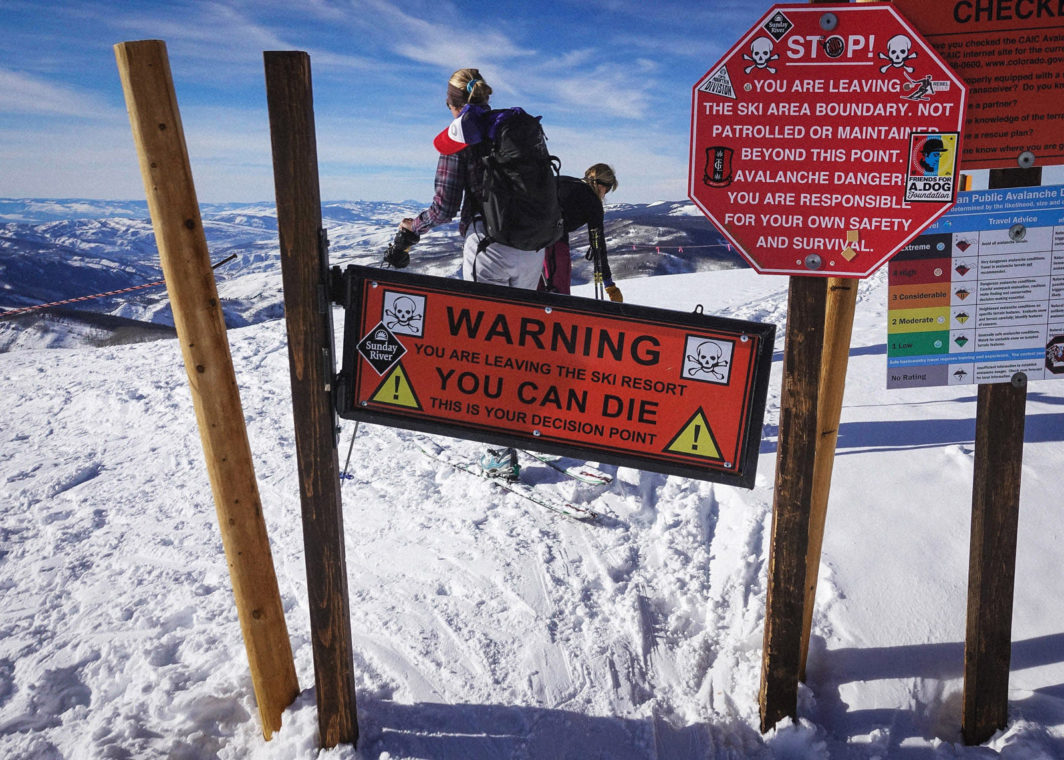 Weekend Warriors: The Commando Run
The Commando Run
. It's a ski tour from Vail Pass to Vail which is named for the U.S. Army's 10th Mountain Division soldiers who used the route for training in high altitude skiing combat and commando raids during World War II. From a base in nearby Camp Hale, over 10,000 men traveled the mountains in west-central Colorado from 1942 to 1944 to learn the skills necessary for winter and mountain warfare.
For us, the Commando Run was an opportunity to spend a big day out on what is considered to be one of the most challenging ski tours in Colorado, crossing through the terrain which gave birth to the renowned troopers. Pegged at 18 miles with 2,800 feet of ascent and 5,000 feet of descent, it's a fairly stiff ski tour. We decided to switch it up and swapped out the prescribed descent (down the Vail ski area) with the more adventurous Minturn Mile. The additional distance provided two benefits: more backcountry terrain, and the Minturn Saloon – which functioned as a big fat carrot throughout the day.
Our small troop of three departed Vail Pass shortly after 0800 hours on a brisk late-January morning, skinning under cold bluebird skies. Coming out of a significant storm cycle, there was a good amount of fresh snow under ski.
Thankfully a crew had been through a couple of days earlier and had laid down a good track, so we could just soak in the beautiful scenery without much effort. The first half the route is a combination of cross country ski trails, forest roads, and backcountry ski routes with gentle uphills and descents through old growth forests and open glades, with occasional glimpses of distant peaks.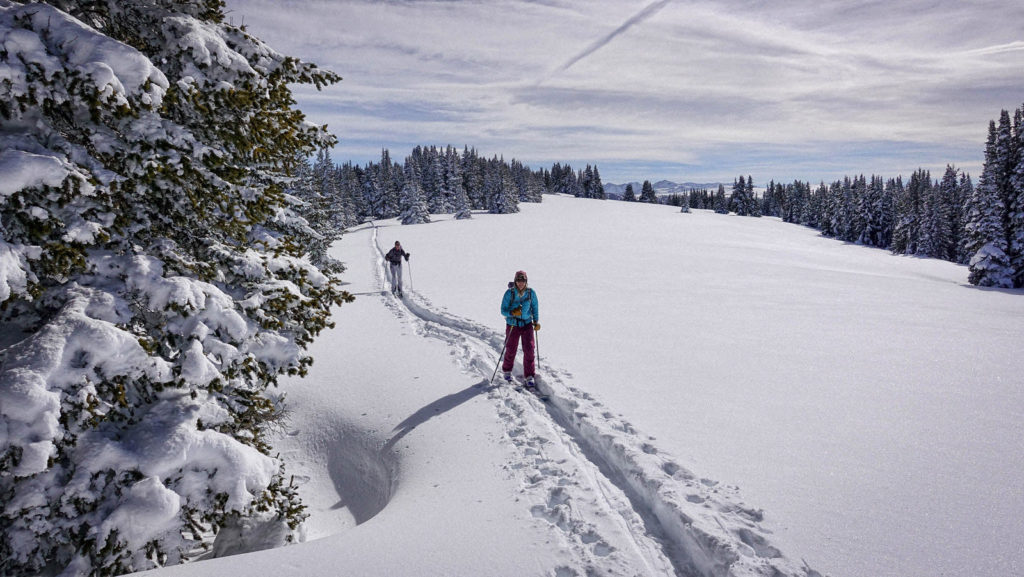 Eight miles in we reached the ridge of Battle Mountain, which gave us panoramic views of the Gore Range to the north and the lofty "fourteener" Mount of the Holy Cross to the south. We decided this was a good place to stop for a snack before finishing the traverse of Battle Mountain and embarking on the second half of the tour.
After our peaceful time wandering in the woods, we began our traverse of the Vail ski area in pursuit of a backcountry gate. Slogging along an undulating ridge of corduroy and dodging punters for a couple of miles, I became disoriented by the lifts, runs, ropes and signs which bore no relationship to my map. I made a
navigation error
in my eagerness to escape, leading us down the wrong ridge. I quickly realized the mistake, so we slapped our skins back on and plowed upwards through the mass of seething humanity, beating a hasty exit into the Minturn Mile.
Although a popular 'backcountry' run, we found some nice lightly tracked snow and a dearth of crowds. Hooray! Back in heaven, we laid sweet powdery turns into the Game Creek drainage.
We traveled all the way down this valley with the evergreens on the left and aspens on the right until its end in Minturn (high left of picture center). After 7 and a half hours and approximately 19 miles, we reached the end of our Commando Run.
Skis off, the rite of passage for this renowned mountain tour are celebratory beers at the Minturn Saloon, a historic building that was established half a century before the first soldiers set foot, or ski, in this valley.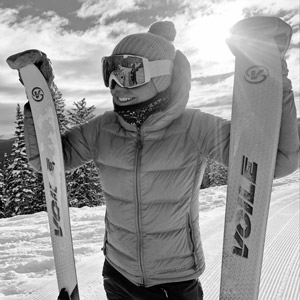 ---
---
A Jill of all trades and a master at none, Ann is a weekend warrior and backcountry bon vivant who lives to hike, run, ride, paddle but mostly ski in the mountains of western Colorado.
Ann lives in Carbondale, Colorado, from which she aims to explore as much of the wild and beautiful places of her local geography as possible. She loves to begin her day with a backcountry dawn patrol, watching the sunrise from a local summit and then sliding into work wiping the powder from her grinning face. The weekends are spent skiing deep into the Elk Mountains, where devising new routes and truly connecting with nature, returning with memories, pictures and words with which to inspire others, are what makes her tick.